Polarteknik Awarded SCM Partner of the Year 2018 by Hitachi Rail
On July 3rd at the Hitachi Rail Supplier meeting in Firenze Palazzo Vecchio, Polarteknik was awarded SCM partner of the year 2018 in recognition of excellent supplier performance.
The award was handed out by CEO Alistair Dormer. The award was received on behalf of Polarteknik by Business Development Director Mika Korhonen.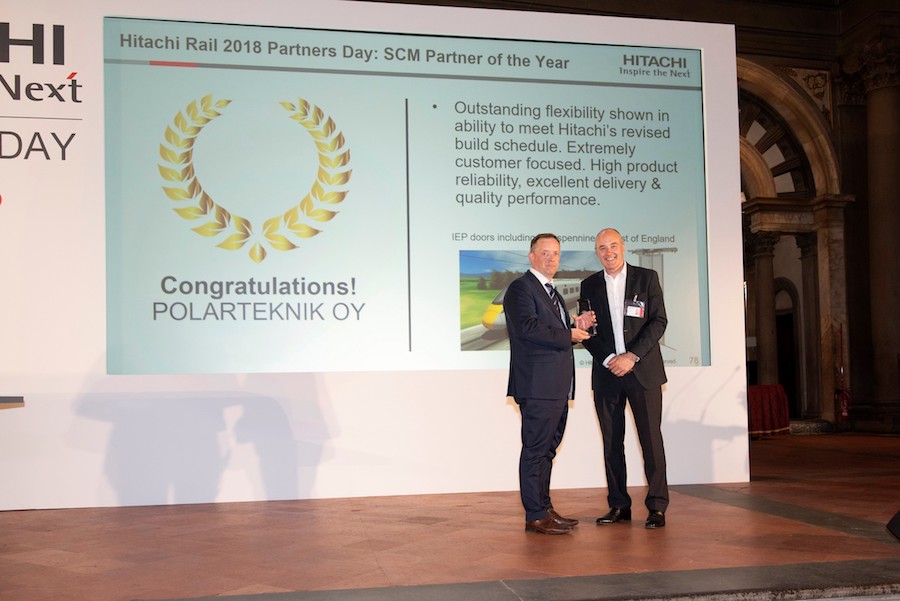 The foundation for this success is based on hard work and concrete actions. In 2016 Polarteknik formulated a strategy that placed a lot of emphasis on improvements regarding supply chain performance. Decisions were made to in-source machining for extruded profiles, new members of personnel were hired that had a dedicated role in sourcing and manufacturing improvements.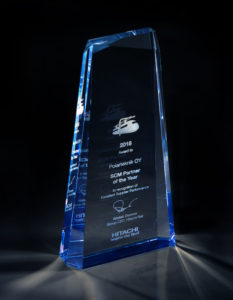 Polarteknik also introduced additional storage to facilitate buffering of incoming goods and finished products for order flexibility. Polarteknik has also passed the new TS22163 also known as IRIS rev.3.
New PDM system is now introduced facilitating better control over design changes and modifications and currently Polarteknik is in the process of applying a new ERP system that even better suits the needs of a project-based business.
Rory Lamont, Procurement Director, Hitachi Rail Europe, said:
"Polarteknik is a valued partner to Hitachi Rail in the supply of interior doors, and we were pleased to recognise their contribution to our business with an award at our Annual Partners' Day in Florence in July"
Although supply chain performance is important where Polarteknik really excels in is innovation. Polarteknik is constantly looking for ways to make the product perform better and provide additional value to different stakeholders. We are considering new materials, components and developing a new control unit to facilitate predictive maintenance and IoT needs even better.
Thank you, Hitachi, for this great honour and to all Polarteknik employees for your hard work. Let's Inspire the next!
Discover Polarteknik innovations and meet with our staff at InnoTrans Hall 3.1 Stand 412
About Polarteknik Oy
Polarteknik Hitachi collaboration began in 2005 with the design and supply of the doors for Class 395 trains to British channel tunnel rail link. The partnership continues now with the supply to ASR and IEP builds.
Polarteknik Door Systems product range includes complete fire barrier walls, automatic single or double leaf sliding doors, telescopic, curved, manual, sliding and hinged doors. The service portfolio includes design, installation and commissioning support, maintenance, modernisation, spare parts and technical support during the lifetime of the fleet.
Polarteknik Oy is the market leader in Europe for interior doors for medium and long-distance railway rolling stock and one of the leading suppliers for tailored pneumatic systems and components. Polarteknik belongs to Dacke Industri, which invests in innovative technology companies. It has a strong focus on designing and manufacturing customer-specified components and systems. In 2017 Dacke Industri had 970 employees and sales of 220 million euros. Since 2016 Dacke Industri has been owned by Nordstjernan AB, a family-controlled, unlisted investment company. For more information please visit www.polarteknik.fi