UK: Hitachi Building Azuma Trains for London North Eastern Railway
Hitachi Rail Europe has started constructing a fleet of 65 Azuma trains for London North Eastern Railway (LNER) to operate on the East Coast Main Line.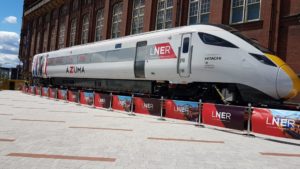 The body shells of the trains were fabricated in Kasado, Japan, but the complete units are now being assembled at Hitachi's factory in Newton Aycliffe, County Durham. The company has already tested trains which were completely constructed in Japan on the line.
The design of the bi-mode vehicles incorporates Japanese bullet-train technology and features faster acceleration than previous models used on this line. The new fleet will provide a total of 12,200 seats for passengers using LNER's services. The trains will become operational in England later in 2018 and in Scotland during 2019.
David Horne, Managing Director of LNER, said:
"We're delighted that manufacturing has now commenced on Azuma in County Durham. Our customers can expect a fleet of high-tech, modern trains that will deliver more seats and space, as well as faster journeys. Azuma will play a key role in revolutionising travel on the east coast mainline, delivering first-class service as well as extra services for Bradford, Lincoln, Harrogate and Edinburgh."
Karen Boswell, Managing Director of Hitachi Rail Europe, said:
"Newton Aycliffe continues to go from strength to strength, now building three separate fleets to serve passengers across the country. Our pioneering Azuma trains, inspired by Japanese bullet trains, will transform journeys on the East Coast main line. By building them at Newton Aycliffe, we are supporting thousands of jobs with a strong British supplier base."
Hitachi employs 730 people at its factory in Aycliffe. 50 apprentices have also recently completed their training at the site. The trains were originally intended to be operated by Virgin Trains East Coast before the franchise on the East Coast Main Line was transferred to LNER earlier in 2018.