PowerRail, North America's leading manufacturer, remanufacturer, and distributor of aftermarket locomotive parts, recently hosted staff from PowerRail Australia to discuss best practices and strategies following their latest move to a new facility.
PowerRail Australia is a stocking distributor of PowerRail, shipping parts all across Australia, as well as to New Zealand.
Due to such growth in the Australian market, PowerRail Australia has moved three times since opening their doors in 2016, most recently in November 2022. Their newest facility is more than double the size of the previous location. Equipped with plenty of growth potential, the new facility also has higher ceilings, providing more than triple the pallet and storage area.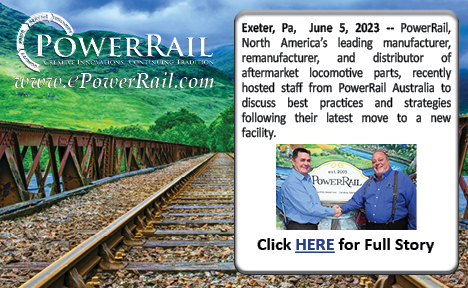 Mick Cooper, Director of Operations for PowerRail Australia, and members of his sales staff visited PowerRail's global headquarters and met with CEO, Paul Foster.
"The move to a larger facility was necessary to be able to keep up with the demand of our customers."
"A lot of the parts that Mick distributes are manufactured here in Pennsylvania or at one of our other locations, then consolidated into a container and shipped overseas to Australia."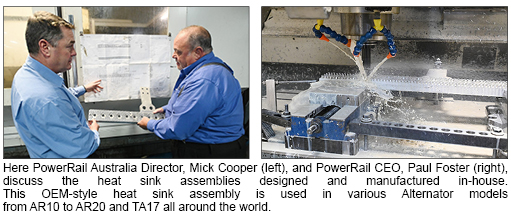 The Australian rail industry generates almost $30 billion in economic activity each year and supports 165,000 direct and indirect Australian jobs. If the rail industry was a single organization, it would be the third biggest employer in Australia, with over 21,000 miles of rail, running between 1,800 to 2,000 locomotives daily. In comparison, the United States has over 175,000 miles of rail.
Cooper said Australia's rail service handles imported containers from all over the world, as well as exporting grain, coal, iron ore, and steel.
While here, the staff from PowerRail Australia were able to visit multiple US-based PowerRail facilities. Spending time at PowerRail's more than 200,000-square-foot global headquarters in Exeter, PA allowed the team to view the processes used within the distribution center, as well as the fabrication of many of the parts they are distributing to customers back home. The Exeter location manufactures locomotive truck parts such as slack adjusters, brake levers, and gear cases, and also remanufactures bearings and journal boxes.

The team then moved on to PowerRail Manufacturing in Connersville, IN. Here they were able to see the quality processes that are used for the remanufacturing of starter motors, compressors, pumps, and more.
Next stop was PowerRail Engine Systems in southern FL for a behind the scenes look at rebuilt governors and power assemblies. PowerRail Engine System's governors, known as the most reliable on the market, are rebuilt to the original Woodward OEM standards with 100% OEM parts certified by Woodward technicians. The power assembly line includes both new and rebuilt for unit exchange. PowerRail has an extensive inventory of 567, 645 and 710 power assembly components to put together the specific configuration based on the customers' request.
Their final stop was to PowerRail Locomotive Services in Monroe, GA. Here the team was able to see the various repair services offered, such as engine change outs, traction motor repair and installs, truck rebuilds, and complete locomotive overhauls.
Originally formed in 2003, PowerRail is a United States-based company, with several locations in various parts of the world. PowerRail proudly offers a wide range of new and rebuilt rail-related parts and components including bearings and journal boxes, electrical rotating parts, engine components, compressors, pumps, and motors from their various manufacturing facilities across the US. In addition, PowerRail offers locomotive rebuilds, overhauls, and mobile maintenance at their locomotive shop. PowerRail also serves as a global supplier with locations in Europe and Australia.
This article was originally published by PowerRail.