International Rail Operators Share Fleet Maintenance & Depot Innovation Solutions, London, June 27-29
Fleet maintenance engineering directors and depot managers from rail operators including TFL, SNCF, Deutsche Bahn, GVB, Trenitalia and others will be coming together from across Europe and the world at the Rolling Stock Maintenance & Depot Innovation Europe Congress (June 27-29, London). They will discuss new solutions to increase efficiency and deliver more capacity while controlling costs, including adopting relatively low-cost new technology, data analytics, and transitioning to condition-based maintenance.
Pat McNamara, Head of Production, Eurostar International, said:
"This conference gives us the opportunity to share insights amongst peers, and more importantly the ability to ask any questions to be able to really understand how we need to adapt to survive."
The leading industry event for the rolling stock maintenance industry, this Congress is backed by industry sponsors including Siemens (Digital Maintenance Sponsor); Lucchini (Rolling Stock Innovation Sponsor); Instrumental (Condition Monitoring Partner); CPC Project Services (Digital  Delivery Sponsor); and Talgo (Predictive Maintenance Sponsor).
Congress At A Glance
27 June – Day 1: Cost Saving Innovations in Fleet Maintenance to Improve Availability.
28 June – Day 2: Maintenance Planning & Handling Obsolescence. Phil Dubery, Director and Alex Barber, Software & Data Lead from CPC Systems will be making a presentation on the Elizabeth Line: Going Live With A High Performing Modern Integrated Digital Railway.
29 June – Day 3: Future Proofing New and Existing Depots.
30 June – Optional Depot Tour to the Elizabeth Line Old Oak Common Depot – spaces strictly limited and on a first come first served basis. Prospective attendees/attendees should email [email protected] if they are interested in attending this tour as part of their Congress attendance.
As in previous years, this year's Congress is attracting rolling stock, fleet and maintenance directors and depot managers with delegates from UK & Europe, as well as from across the globe including France, Germany, Portugal, Netherlands, Spain, Italy, Finland, Sweden, Austria, Greece, Egypt, India, Japan, China, USA, Australia, and South Korea. They will hear real world data on rolling stock operators' latest technology investments, with case study information delivered and practical insights shared on the results of their projects.
This congress will help attendees investigate cost-cutting measures through the lens of delivering service capacity and learn about new strategies for improving the efficiency of maintenance regimes, providing new ideas, solutions, and innovations on how to save money on rail.
For full information visit: rolling-stock-maintenance.com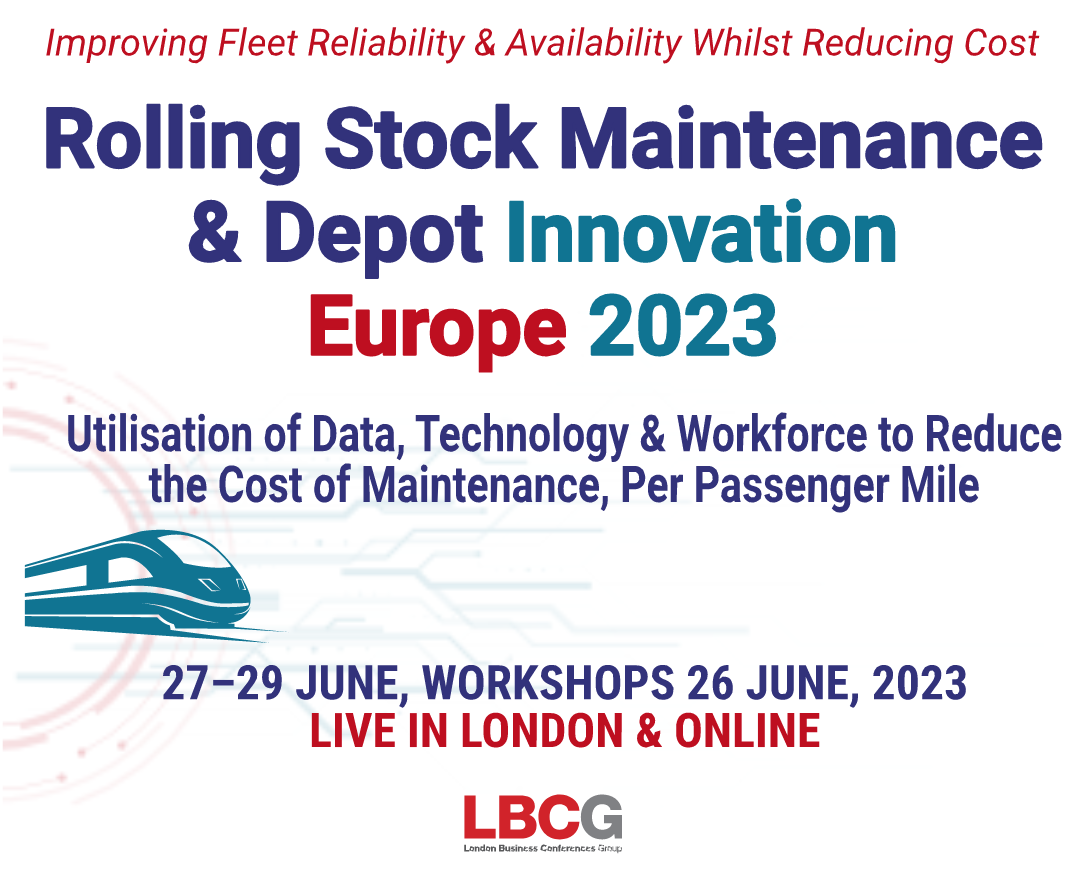 This article was published by LBCG.