Hitachi Rail will build the new intercity trains for First Trenitalia, who won the bid to operate the West Coast Partnership franchise. First Trenitalia will operate under the name Avanti West Coast and take over the franchise on Sunday, 8 December.
Avanti West Coast has entered into a contract with Hitachi Rail worth more than 350 million GBP for 23 new intercity trains (135 carriages). Hitachi Rail will build these intercity trains at its site in Newton Aycliffe in County Durham. It will also provide the maintenance services for this fleet. The intercity trains will enter passenger service in 2022.
"Based on Japanese bullet train technology, our new trains have proven to be the modern intercity train of choice, increasing passenger satisfaction wherever they run. We're delighted to continue our excellent relationship with FirstGroup and Trenitalia, for whom we've delivered hundreds of trains across Italy and the UK. This new order, which will be built at our factory in the North East, is another vote of confidence in the success of our trains, which are both green and reliable."
Intercity Trains for Avanti West Coast
The contract breaks down into two different trains. Hitachi Rail will build 10 seven-car electric trains and 13 five-car bi-mode trains. The electric trains will run between London, the West Midlands and Liverpool. The bi-mode trains, meanwhile, will operate on the London-North Wales route. These electro-diesel multiple units can switch seamlessly between electric and diesel operation.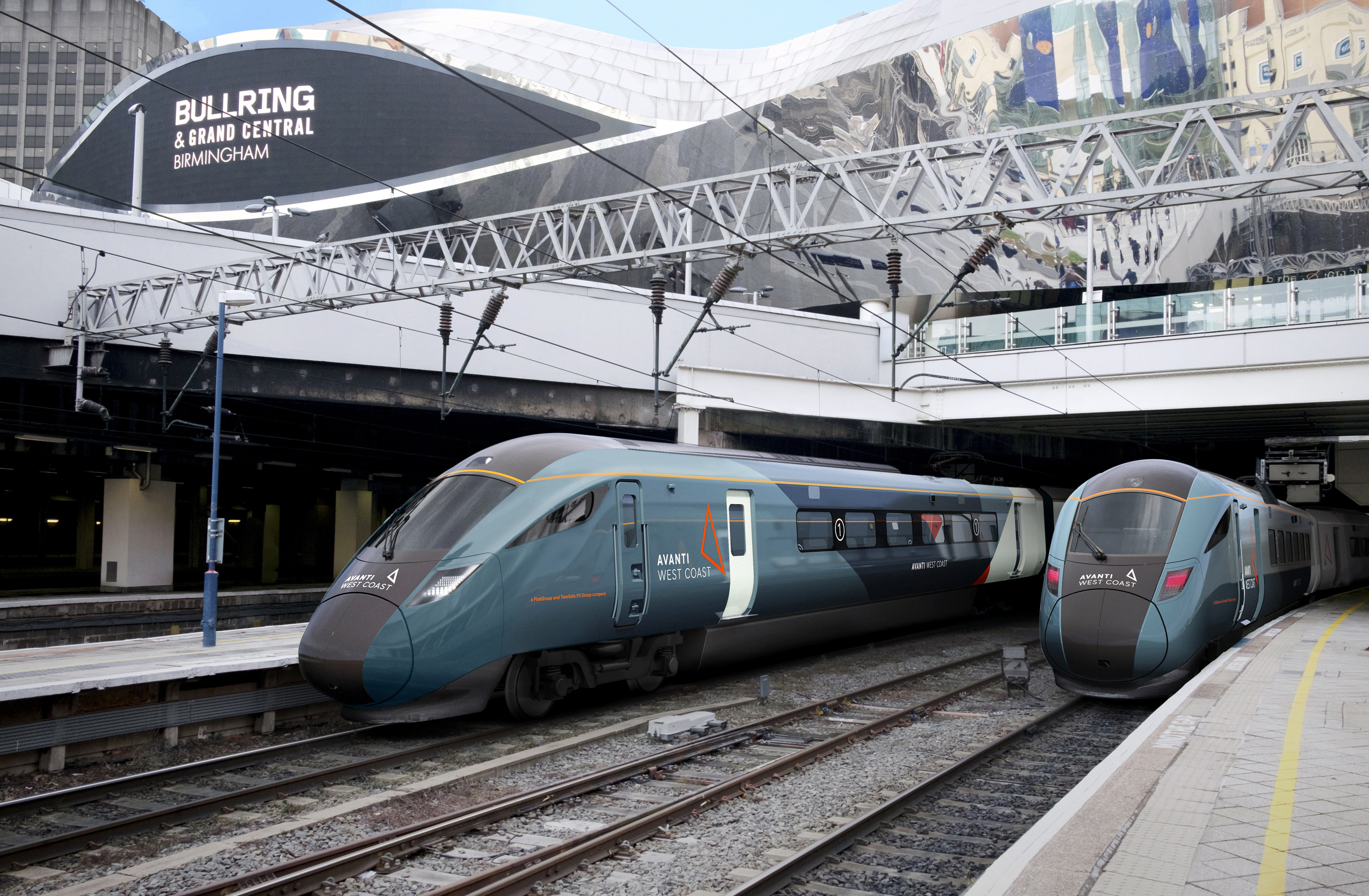 Hitachi Rail will base its design on Japanese bullet-train technology. They will travel at 125mph (200km/h) and will be quieter than the diesel-only trains they are replacing. Passengers will enjoy the more reliable wifi as well as the wireless at-seat charging facility. There will also be plug sockets and USB slots. The real-time passenger information system will let passengers know about connecting rail services.
Hitachi Intercity Capacity
The 7-car trains will have 453 seats, and the 5-car trains will have 301 seats. To compare, the Class 221 Bombardier Voyager trains these new intercity trains are replacing have 258 seats. Hitachi says its 7-car electric train exhibits a similar seating capacity to a 9-car Class 390 Alstom Pendolino because Hitachi carriages are 26m longer.
Emissions
The diesel engines in the bi-mode trains are cleaner and more efficient than the rolling stock they are replacing. For example, they will emit 90 percent less particulate matter and 60 percent less nitrogen oxide (NOx). Given the large amount of non-electrified lines in the UK, bi-mode technology is a good stepping stone towards reducing the carbon footprint in the transport sector. The bi-mode trains will run on electric power whenever overhead catenaries are available. As a result, Hitachi expects the carbon dioxide emissions to be reduced by roughly two thirds across the franchise. One major air quality concern has always been in stations. The new fleet will improve air quality within stations such as Birmingham New Street and Glasgow Central.
"We are pleased to announce this new fleet which highlights our commitment to innovation and desire to constantly improve our services. We are delighted to provide more efficient and modern trains which are sustainable and environmentally friendly, reducing CO2 emissions by 61%, including new comfortable seats for an improved customer experience."
Newton Aycliffe Manufacturing
Hitachi will manufacture the new fleet in Newton Aycliffe. With both manufacturing and servicing / maintenance Hitachi Rail says it tries to go with UK suppliers whenever it can. Consequently it has spent over 1.6 billion GBP with UK suppliers since 2013. For example, Hitachi has sourced wheelsets from Manchester, windows from Newcastle, door handles from Leeds and overhead panels from County Durham.
First Trenitalia and Alstom have also signed a maintenance agreement. This means that Alstom and Hitachi can jointly maintain the fleet at the Oxley depot in Wolverhampton.
Funding
Rock Rail West Coast, a joint venture between Rock Rail and Aberdeen Standard Investments, will finance the new trains and lease them to First Trenitalia.
Also read: