Abellio, which won the East Midlands franchise in April this year has started operating the line, which serves the Midland Main Line. Operating as East Midlands Railway, major calling points include London St Pancras, Leicester, Nottingham, Derby, Sheffield, Leeds, York and Scarborough. The franchise contract is set to run for eight years.
Luton Airport Express
Operating as East Midlands Railway (EMR), Abellio will invest more than 600 million GBP in improvements. One of them will be the introduction of regular electric trains between London and Luton Airport. Described as the 'Luton Airport Express' EMR will operate a new all-electric fleet that will call at London St Pancras and Luton Airport as well as Corby, Kettering, Wellingborough and Bedford.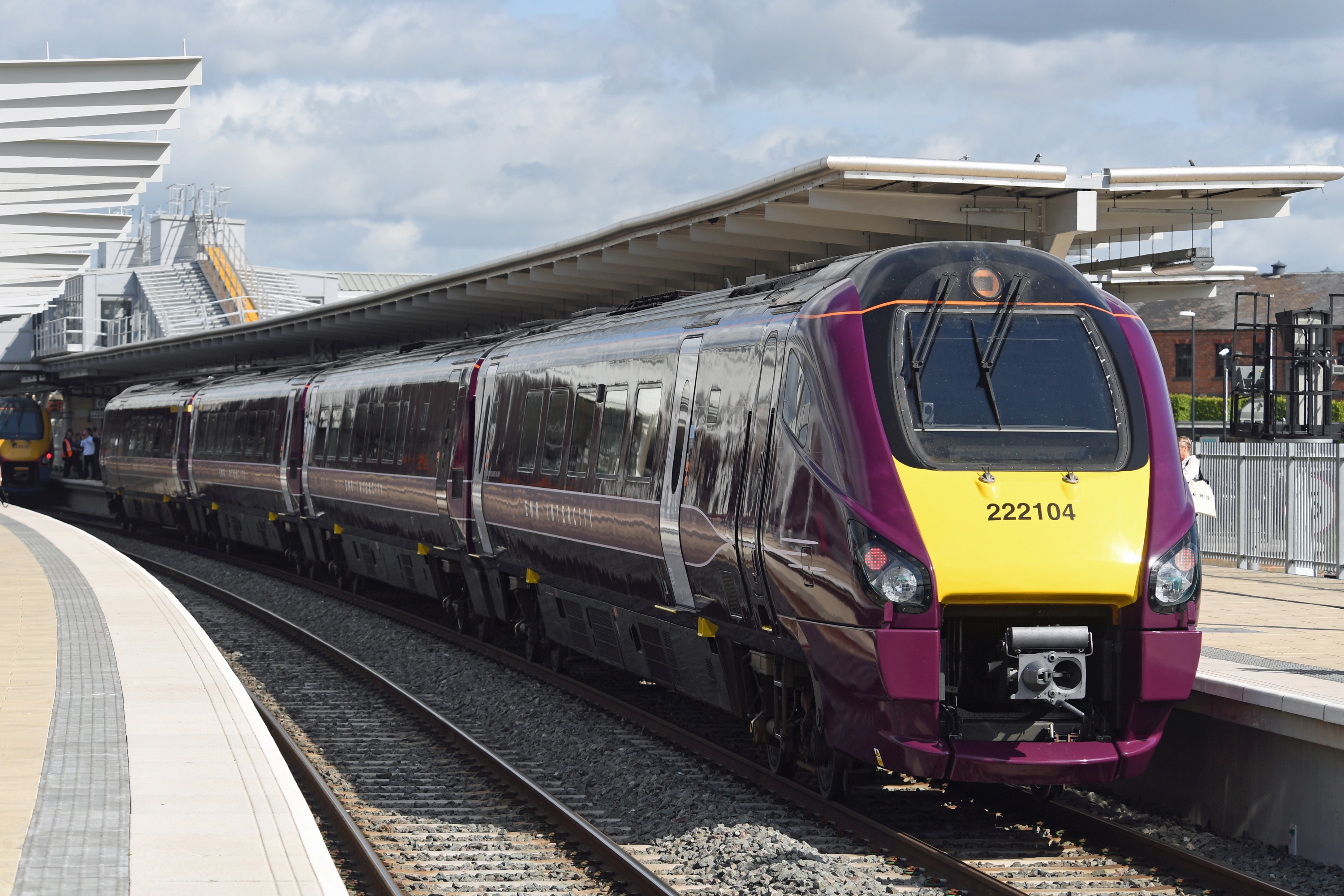 Fleet Replacement & Services Contract with Bombardier
Old Intercity: EMR has inherited the entire East Midlands Trains fleet. For Intercity services they include 30 Class 43 HST locomotives along with 136 Mark 3 HST carriages. It also has at its disposal 27 Bombardier Meridian DEMUs (British Rail Class 222).
Until EMR is able to replace the Meridian trains, Bombardier will maintain them at the Derby Etches Park depot. This contract will run until 31 December 2022. Bombardier previously held the same contract with East Midlands Trains. This current contract is worth around 133 million GBP (161 million USD | 145 million euros). The site employs 130 staff. Heavy component maintenance will take place at Bombardier Crewe.
Old Regional: For the franchise's regional services EMR has 62 one and two-car diesel multiple units (Super Sprinters and Express Sprinters).
New Fleet: EMR will introduce a new fleet that includes 33 new intercity bi-mode multiple units (165 cars). Hitachi has won the contract to manufacture these. They will enter service in 2022.
As mentioned above, the operator will also introduce new electric trains on the London St Pancras–Luton Airport route.
East Midlands Railway Investments
EMR will make additional investments. For example, it will put 20 million GBP into stations. EMR customers at St Pancras will get new waiting areas with more seating and better lounge areas.
East Midlands Railway says it will double capacity into London St Pancras. It will also reduce journey times on intercity services.
Furthermore, EMR has signed partnership agreements with HS1 Ltd, which terminates at St Pancras, and London Luton Airport Ltd, in order to improve rail services for passengers.
Beyond this, EMR says it will invest in more cycle and vehicle parking and roll out smart ticketing by 2020.
Dominic Booth, Managing Director of Abellio UK, said:
"Abellio is delighted to have been entrusted to operate East Midlands Railway and we've already started on our £600 million investment package to transform rail services from towns like Corby, Bedford and also Luton Airport into London St Pancras station."
Rail Minister Chris Heaton-Harris said:
"Abellio's exciting plans for East Midlands Railway will make a real difference to passengers, delivering state-of-the-art trains with more seats, station improvements and trialling hydrogen fuel cell technology to ensure that East Midlands Railway becomes one of the most environmentally-friendly in the UK.

"This investment will also lead to more punctual journeys for passengers and play a major role in building a railway that's fit for the future."
Alberto Martin, Chief Executive of London Luton Airport (LLA), said:
"We welcome the arrival of EMR and the commitment to provide an express-style service to the airport every half an hour from December 2020. Along with the arrival of the £225m Direct Air-Rail Transit service in 2021, linking Luton Airport Parkway station directly with the airport terminal, we will see a step change in rail connectivity between London and its fastest-growing airport."
Also read: