Alstom's first Citadis tram for the Île-de-France T9 tram line, which connects the Porte de Choisy metro station in Paris with the centre of Orly, was inaugurated in Orly on 3 December.
Valérie Pécresse, President of the Île-de-France region and President of Île-de-France Mobilités; Christian Favier, President of the Departmental Council of Val-de-Marne; Anne Hidalgo, Mayor of Paris; and Michel Lepêtre, President of the Grand-Orly Seine Bièvre EPT, all attended the ceremonious event.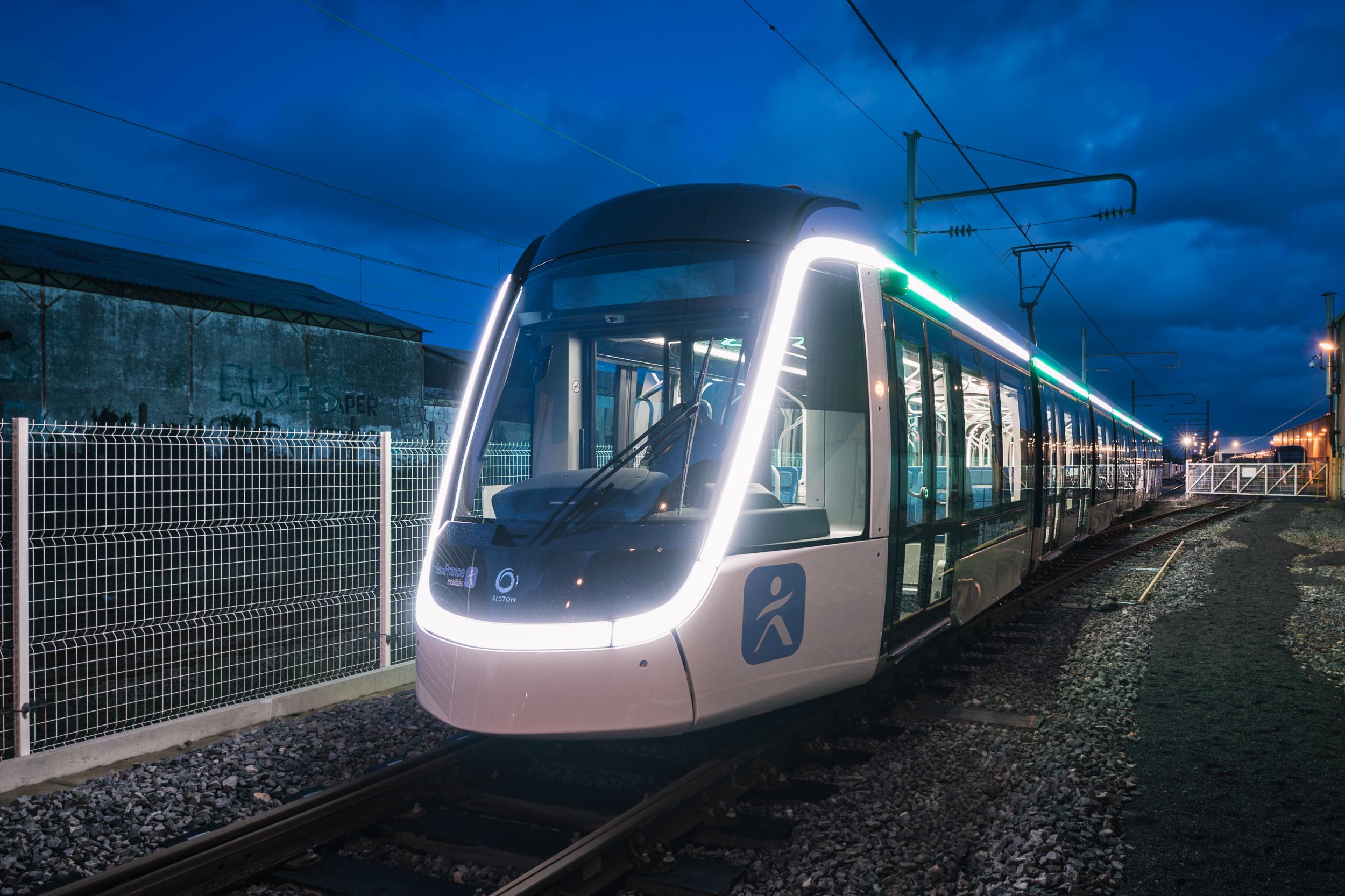 Île-de-France selected Alstom to supply 22 Citadis X05 trams in November 2016. Alstom has designed and manufactured the trams, which will enter service in December 2020, at its La Rochelle site. Delivery of the Citadis trams started in November 2019 and will continue until October 2020, in time for the line's opening.
Alstom Citadis X05 Tram for Île-de-France T9 Line
Each tram will be 45m long, with a maximum capacity of 314 passengers. The tram will have eight double doors on each side with an open, spacious interior to optimise efficient passenger flow. Alstom says the passenger exchange rate of this tram is 20 percent higher. Alstom and the agency Design Saguez & Partners have worked closely on the look of the tram. 45 percent of its surface is made of glass, while 100 percent of the lighting is LED. The lighting design is intended to make it easier for passengers to see the doors opening and closing.
Additional features for passengers include the eight extra-wide multimedia screens that will display the route map and the tram's location, and USB sockets.
Alstom has managed to improve the tram's energy efficiency. For example, it has achieved a 25 percent reduction in energy consumption with the lighting system and a 15 percent reduction in energy consumption with the air-conditioning system. Alstom says it has also managed to cut the overall cost of preventive maintenance by almost a fifth. 99 percent of the materials in the trams are recoverable.
"Alstom and its teams are proud to be present at the inauguration of the first Citadis trams for line T9. With their particularly innovative design, we have total confidence in the ability of these new trams to meet the high standards of comfort and reliability expected by the residents of Paris and Île-de-France."
Alstom has 13 sites in France, of which 8 are working on this project.
The T9 line will have a total length 0f 10.3km with 19 stations. Keolis will operate the line.
Also read: