Thameslink Siemens Desiro City Train Delivered
The first of a fleet of Thameslink Siemens Desiro City Trains began operating this week for Thameslink in Greater London. The trains will be run by Govia Thameslink Railways (GTR) between Bedford and Brighton and later to Cambridge and Peterborough and Kent and Sussex. A fleet of 115 trains with a total of 1,140 cars, will be delivered by the end of 2018. Thy will deliver 80% more seating in peak periods. Siemens will also be responsible for the total long-term servicing and maintenance of the fleet.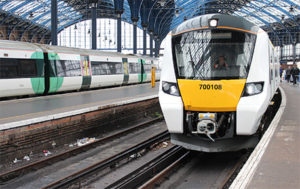 Siemens Desiro City Trains will meet the increasing demand on the Thameslink network. Passenger numbers have gone up by 40% in the last decade alone, with a further increase predicted in the next few years. In order to meet this increasing capacity in central London, the publicly funded Thameslink Programme was launched. £6 billion have paid for new stations, infrastructure upgrade and extended rail routes, as well as longer trains. Improved signalling systems will deliver underground service. It is hoped that trains will run at two or three minute intervals through the city centre at peak times, equating to 24 trains an hour.
Siemens Desiro City Trains are around 50% longer than the existing Thameslink fleet, with a total capacity of 1,750 passengers. They feature wide doors to allow rapid embarkation and disembarkation, and electronic displays which show available seats for passengers.
Siemens will take on the trains' availability with a long-term service maintenance contract with two purpose-build depots. The Three Bridges depot in south London has already started operating. The Hornsby depot, in North London, will open later in 2016. Siemens' use of predictive maintenance systems will digitally monitor the performance and wear of individual train components. The contract represents a £300 million investment in their facilities and equipment at the depots.
Jochen Eickholt, CEO of Siemens Mobility Division, said:
"When designing our trains, passenger benefit was at the center of our considerations. We wanted trains that enhance capacity on Thameslink's lines, are reliably available to our customer and improve passenger experience."
Gerry McFadden, Engineering Director, said:
"We are thrilled that our new Thameslink train is performing well. In future, as the train continues to prove itself, we will begin running it across London to Bedford. Ultimately the train will give passengers much-needed additional capacity with longer trains throughout the rush-hour, creating at least 1,000 extra standard class seats."
Siemens Thameslink Programme Director Dave Hooper said:
"This success represents a step change in cross-London commuter train experience with the latest state-of-the-art train design and on board systems equipment. This has been achieved by many people across our European in-house team and supply chain in design, testing, train manufacturing and depot construction. The service team at Three Bridges depot is very proud to take over the leadership of these new trains from the development phase into passenger service operation and we look forward to entering more new trains into service over the coming months."
Andy Pitt, Executive Chairman of Cross-London Trains, said:
"I am delighted that the new Class 700 trains are entering into passenger service. It's great to see that passengers are starting to benefit from the massive investment in this brand new train fleet which will deliver much needed additional capacity to the rail network."