Locomore Milestone: Important Contracts Signed
A message from Locomore, who are successfully progressing with their plan of running a crowd-funded train between Stuttgart and Berlin: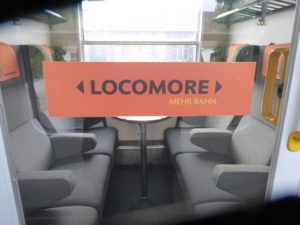 Dear Friends and Supporters!
We've done it: after final negotiations that took longer than expected, we've been able to complete the two most important contracts to implement our new train service between Berlin and Stuttgart.
Locomore and SRI Rail Invest GmbH jointly signed a contract to lease eight passenger carriages. They will undergo a comprehensive modernisation process in time for their deployment on our first line between Stuttgart and Berlin. Travelling on our train service now gives passengers different options: in addition to the traditional carriages divided into compartments planned to date, there will now also be carriages that are part-compartmentalised, part open-plan and air-conditioned. In the open-plan section new, modern seats deliver further choices when it comes to choosing where to sit. Our trains will travel at a maximum of 200 km/h and all carriages are equipped with tables, power sockets and wifi.
It now official that the Swedish line haul provider Hector Rail will partner with us in operating our service. We are pleased that Hector Rail will use its own modern Siemens locomotives (Class 182) and its own rail staff for operating Locomore's daily rail service.
Crowd-funded train to begin service in December
After we were able to secure the necessary basic funding of €539,000 via crowdfunding between October–May, we now also have a set start date for our operations. Unfortunately, because of the delay in signing contracts, we are unable to keep to our original start date in September. However, we're going to start running our services from Wednesday, 14 December 2016, just after the regular changes to rail timetables. Regular tickets will go on sale in late September. From that date, ticket vouchers purchased via Startnext can be exchanged for firm reservations.

Further funding required
In order to expand and broaden our activities in sales and marketing, we need more capital before we start running our service. From June 2016 we are therefore continuing our crowdfunding and are offering new subordinated loans up to a maximum of €100,000. Find out more at https://locomore.com/en/invest.html.