Mitsu Rail Order Siemens Vectron Locomotive
Locomotive leasing company Mitsui Rail Capital Europe (MRCE) has placed an order for ten additional Siemens Vectron-type multi-system locomotives, bringing the total number of Vectrons in its fleet up to 66 locomotives. The units will be manufactured at Siemen's facility in Munich-Allach, Germany.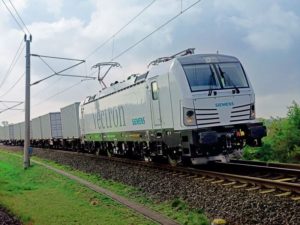 The locomotives will operate cross-border services between Germany, Austria and Italy. They will also feature the European Train Control System (ETCS) in addition to national train control systems.
The locomotives are capable of a top output of 6,400 KM and a top sped of 200km/h. The Vectron Locomotives have accumulated in excess of 35 million kilometres of service to date. The locomotives are certified to operate in Germany, Bulgaria, Italy, Croatia, Norway, Austria, Poland, Romania, Sweden, Slovakia, Slovenia, the Czech Republic, Hungary and Turkey.
Junichi Kondo, CEO of MRCE, said:
"Based on our positive experience with the Vectron locomotives so far, we have decided to make this additional purchase. They offer a high degree of flexibility. These locomotives will also have the possibility to operate in double traction with our existing ES64F4/E189 fleet."
Jochen Eickholt, CEO of Siemens Mobility Division, said:
"We have successfully partnered with MRCE for a number of years. MRCE not only orders the locomotives, but works closely with us to ensure that their service and maintenance is as efficient as possible with the help of data analytics."