ELL Orders 50 Siemens Vectron Locomotives
European Locomotives Leasing (ELL) have signed a framework agreement with Siemens for 50 Siemens Vectron locomotives. The first locomotives of this agreement have been ordered with delivery to take place from the second quarter of 2016. The agreement follows a 2014 framework agreement for 50 locomotives, which have since been ordered or delivered.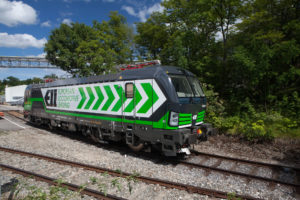 Siemens Vectron Locomotives
Siemens Vectron locomotive will carry both freight and passenger trains. The first Vectrons of this agreement will operate on cross-border services between Romania and the Netherlands, along the western corridor from the Netherland to Italy, from Germany to Romania (through Austria and Hungary) and in Germany, Austria and Hungary.
The framework agreement allows for ELL to order variants on the locomotives to operate on the corridor to Scandinavia. All of the Vectrons will be fitted with the European Train Control System (ETCS) as well as national train control systems.
The locomotives are capable of a top output of 6,400 KM and a top sped of 200km/h. The framework agreement includes an additional option to order the electric locomotives with diesel power modules.
Siemens Vectron Locomotives have accumulated in excess of 35 million kilometres of service. The locomotives are certified to operate in Germany, Bulgaria, Italy, Croatia, Norway, Austria, Poland, Romania, Sweden, Slovakia, Slovenia, the Czech Republic, Hungary and Turkey.
Christoph Katzensteiner, CEO and founder of ELL, said:
"We are providing greater value for our customers by making available state-of-the-art alternating-current (AC) and multisystem locomotives that ensure the highest reliability. With this order for an additional 50 locomotives, we will also be able to support our customers' growth in new national markets."
Jochen Eickholt, head of Siemens rail business, said:
"This renewed framework agreement with ELL shows that our Vectron locomotives have been convincing performers. The flexibility of our locomotive platform enables ELL to order tailored variants for cross-border service in Europe."