Industrial Ethernet Switches for Reliable Communication in Harsh Environments
With its new Scalance XP-200 product line, Siemens offers compact Industrial Ethernet switches for the setup of electrical line, star and ring structures. The devices feature a low-profile, robust metal enclosure with a high degree of protection (IP65/67) and a wide operating temperature range from -40 °C to +70 °C. This provides flexibility to be deployed outside the control cabinet, both indoors and outside.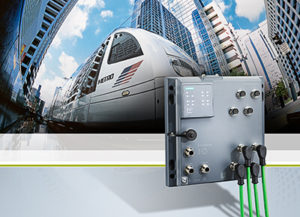 In addition, the layer 2 switches offer a choice of industry-specific certifications. For example, they are approved for hazardous locations in zone 2 (ATEX, IECEx, cULus HazLoc) and therefore suitable for the oil and gas industry. Furthermore, particularly rugged versions are available for use in rail or road vehicles.
Scalance XP-200 Products
There are two versions available with different numbers of ports: Scalance XP208 has eight ports while Scalance XP216 has 16. In addition to Fast Ethernet ports using the M12 connection system (D-coded), Scalance XP216 also offers up to four Gigabit ports in M12 connection technology (X-coded).
Both versions are available as particularly robust EEC versions (EEC = Extended Environmental Conditions). The devices are certified in accordance with the EN 50155 and EN 45545 railway standards and are suitable for use both trainside and trackside. They are also approved for use in road vehicles with e1/E1 requirements. To supply end devices with energy, Scalance XP208PoE EEC and Scalance XP216PoE EEC offer a total output of 120 watts in accordance with the Power-over-Ethernet (PoE) standard IEEE 802.3at Type 2.
All of the switches in this product line feature a redundant power supply which enables reliable operation even if one power supply system fails.
As in the case of all managed layer 2 switches of the Scalance X series, users can transfer configurations from one switch to another when replacing a device by simply plugging in the C-plug. This minimises downtimes. The device status can be quickly and easily determined on site by means of the clear LED indicators, without the need for additional devices such as PGs.
A five-year warranty applies to the new Scalance XP-200 devices, as for all Scalance products.
Please see Siemens for further information and original article.