Hector Rail Purchases Siemens Vectron Locomotives
Independent line haul provider for the European transport market, Hector Rail, has purchased five new Siemens Vectron locomotives, with an option to extend the order by 15 additional locomotives until 2021. Two of the five locomotives are already built, and will be delivered this year. The remainder of the order will be filled in 2017.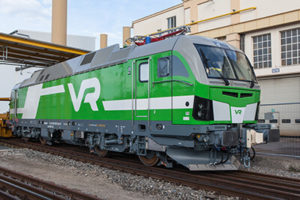 The agreement will enable Hector Rail to build their fleet up to 20 locomotives. The additional locomotives will be made available in more international versions, so that they can be operated in Sweden, Denmark and Germany.
The electric locomotives are designed specifically for the Scandinavian market and are fitted with a last-mile function, enabling them to switch to a diesel engine and allowing them to be operated by remote control. This means they can be efficiently shunted into and out of terminals without needing to be shunted by a separate shunting locomotive.
They will also be fitted with the European Train Control System (ETCS) for optimal safety. They also have conventional safety systems. Siemens Vectron locomotives also are fitted with a function to re-generate electricity to the power grid during braking. The locomotives have four axles, are 90 tons, have an installed power of 6400 kW and can reach a maximum speed of 200 km/h.
The locomotives are capable of hauling heavier trains than former generations of locomotives. This will translate into a greater payload. With this order, Hector Rail will make an advancement towards innovation, efficiency and environmental compatibility.
Hector Rail
Hector Rail locomotives cover around six million train km every year in Sweden, Norway, Denmark and Germany. They deliver line-haul traction between facilities and terminals, as well as supplying wagons and shunting locomotives. Hector Rail services industrial shippers, forwarders, intermodal operators and conventional railway companies. Hector Rail currently transports goods including timber and wood products, as well as operating passenger services for Transdev Sverige AB.