Rise in Finland–Russia Cross-Border Rail Travel
In the period from January to July 2016, passenger numbers between Finland and Russia was approximately 254,500, representing a 1% rise on the number of passengers transported between the same months in 2015. The majority of the increase took place the high-speed Allegro service which connects St. Petersburg to Helsinki.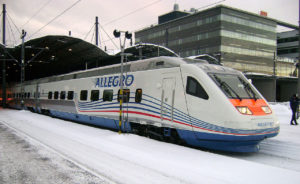 From January to July 2016, 219,100 passengers used the high-speed service, which represents a 3.6% rise in the same months in 2015. Allegro trains transported 86% of passengers between Finland and Russia. 70% of Russian passengers travelling abroad travel to Finland.
Allegro High-Speed Train
The high-speed Allegro train is an international initiative between Russian Railways and Finland's VR-Group Ltd, who are both national carriers. The service was launched on 12 December 2010, to reduce the travel time from Helsinki to St. Petersburg from 6 hours 18 minutes to 3 hours 36 minutes. In that time, the service has steadily increased in popularity, with more services being added to meet demand.
The travel time has since been reduced to 3 hours 27 minutes as a result of the two carriers working together. Allegro trains consist of seven carriages, and accommodate all border and customs facilities on board so that they may be carried out en route to save travel time further.
The Allegro has a top cruising speed of 220 km/h. It features tilting technology which allows it to maintain its speed on bends, and also mitigates against centrifugal forces making the passenger experience more comfortable. The train's equipment is fully compliant with Russian and European Union technical standards.
Finland's VR-Group currently transports around 60 million passengers a year, and is currently investing in testing new Siemens rolling stock which meets European safety standards, while at the same time being robust enough to operate in the cold northern European climate. The Allegro trains have been adapted to withstand the very low temperature on the route between Helsinki and St. Petersburg.