Iberian Rail Development Conference Comes to Madrid
The sixth annual Iberian Rail Development Conference will take place in Madrid on 7 June 2016. The conference brings together major passenger and freight operators and rail infrastructure managers from Spain and Portugal to discuss the most pressing issues facing the rail industry in the region.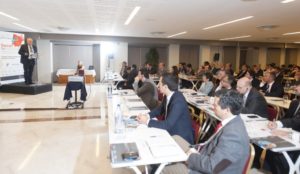 The focus of the conference will be on the development of regional cooperation in areas including intermodal planning to make rail the primary mode of transport for freight goods. Passenger transport will also be under discussion, looking at cross-border interoperability and reciprocity and the development of a high-speed network. The future of rail in the region will also be looked at, focusing on ERTMS, innovations in rolling stock, safety and security and infrastructure maintenance.
Delegates include high-level executives from Alstom, Bombardier, CAF, Nokia, Hitachi, Goldschmidt Thermit GmbH, Siemens Mobility and UNIFE. There will be plenty of networking opportunities to meet operators, infrastructure managers, public sector organisations, suppliers and manufacturers and consultants, as well as leading academics in the sector.