To celebrate the Snowdogs Support Life art trail across Kirklees, fabric manufacturer Camira has collaborated with TransPennine Express (TPE) to bring the beloved character on board.
Organised by The Kirkwood, in partnership with Wild in Art and Snowman Enterprises Ltd, Snowdogs Support Life, Kirklees is a free art trail inspired by the much-loved animated film, The Snowman™ and The Snowdog, the sequel to Raymond Briggs' classic picture book and film The Snowman™.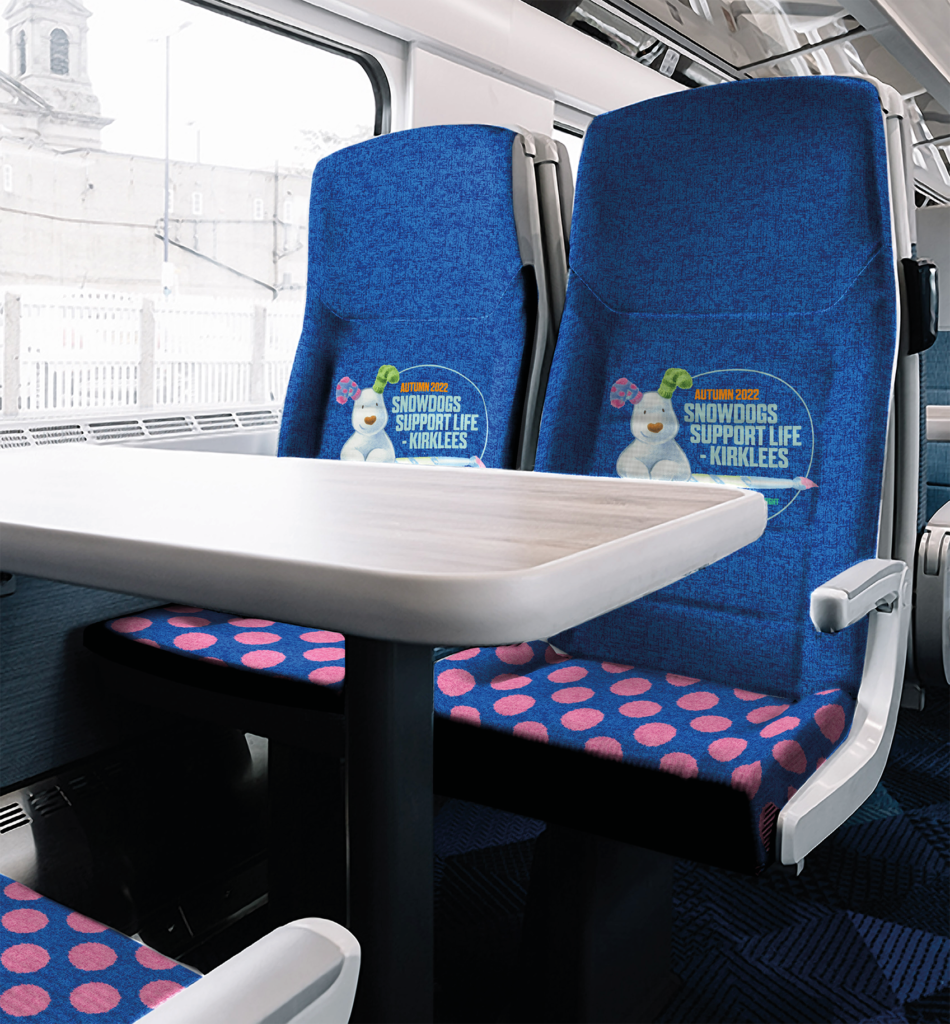 There are currently 67 dazzlingly decorated Snowdog sculptures installed across towns and villages in Kirklees. Through this exciting collaboration, the Snowdogs now also appear on some TPE train seats.
Featuring a fabric designed and produced by Camira using their new digital print technology, passengers can look out for the specially covered Snowdog seats dotted across a number of trains for the duration of the trail, which runs until 31 October.
With the fun, spotted fabric set to be popular with the Kirklees commuter, the collaboration has been made possible by the kindness of the following companies: Siemens, Grinsty Rail, Camira, and TransPennine Express, who all provided their services free of charge.
Hosted in collaboration with event experts, Wild in Art, the spectacular event will help raise awareness and essential funds for The Kirkwood as it continues its work to help and support those living with a life limiting illness in Kirklees.
"We're delighted to have played a role in the incredible Snowdogs Support Life project. All the money raised by the art trail goes to a brilliant cause, and we hope this specially commissioned fabric will help to promote it to commuters, and let more people know of the amazing artwork which is quite literally on their doorstep this Autumn."
"We are thrilled to be not only sponsoring a sculpture but working in collaboration with Camira to bring the Snowdogs on board.
"Along with raising money for a worthy cause, Snowdogs Support Life also brings people together as a way to help the economy grow while encouraging visitors from far and wide to explore new parts of the region."
Proud participants in Snowdogs Support Life, Camira's sponsored sculpture can be found in Cleckheaton Memorial Park, and TPE's is located outside Huddersfield Train Station.
This article was originally published by Camira Fabrics.