Camira: Made for Travelling in Style
With the ever-increasing demand on rail networks and operators striving to design trains that offer more for passengers, suppliers are being put to the test and asked to up their game in what they can provide to the rail sector.
It all comes down to what defines a good train journey and creating the optimum passenger experience for travellers and commuters on public transport. The contributing factors are based on a combination of efficiency and reliability, customer service, cost, safety, the interior look and feel as well as the comfort of the train they are travelling on. These all need to be considered as they can impact the first and lasting impression of a passenger's experience on any journey.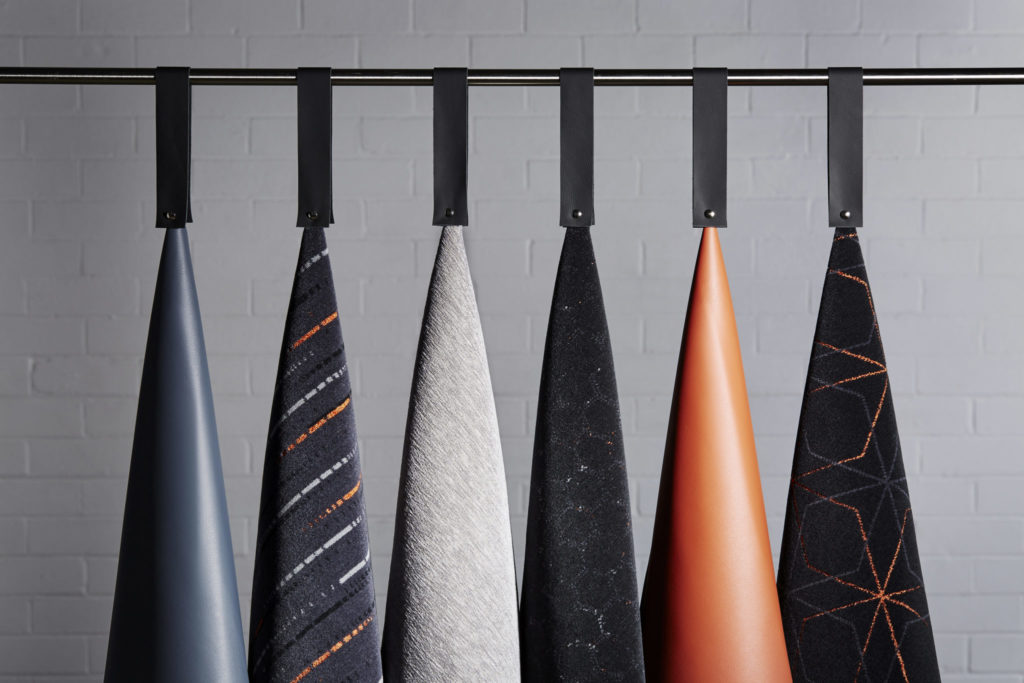 As a global textile manufacturer, Camira's priority is to create an interior fit for purpose with design, comfort and performance in mind. Camira designs and manufactures fabrics for seating, piping and headrests, curtains and wall sides, bringing interiors to life with different capabilities to suit any requirement and specification.
We work with many fabric constructions and techniques to design and make moquette, wire-woven, flat-woven textiles and have a portfolio of complementary vinyl and leather ranges.
Our Design Approach
Our design studio is brimming with textile talent – textile designers, colourists and technical experts – who not only understand the intricacies of fabric design and construction, but are immersed in the latest trends in colour, pattern and material textures and finishes.
The company's in-house design team understand the textile capabilities for rail interiors, the importance of design and aesthetic appeal whether this is through colour, design and pattern or the weaving construction to create distinctive surface effects. The fabrics can define the overall design and presentation of the interior, with durability and performance built in at the design stage.
Working in close partnership with professional design houses and operators, Camira's designers and technical team create specific fabric solutions. The designers use their weaving expertise and manufacturing skills to interpret design briefs into what is possible in textiles, reflecting a brand identity, priority designs or features, developing new designs and colours to elevate the design of an interior and meet the necessary standards. This allows manufacturers, designers and operators to push the boundaries on the future of rail travel.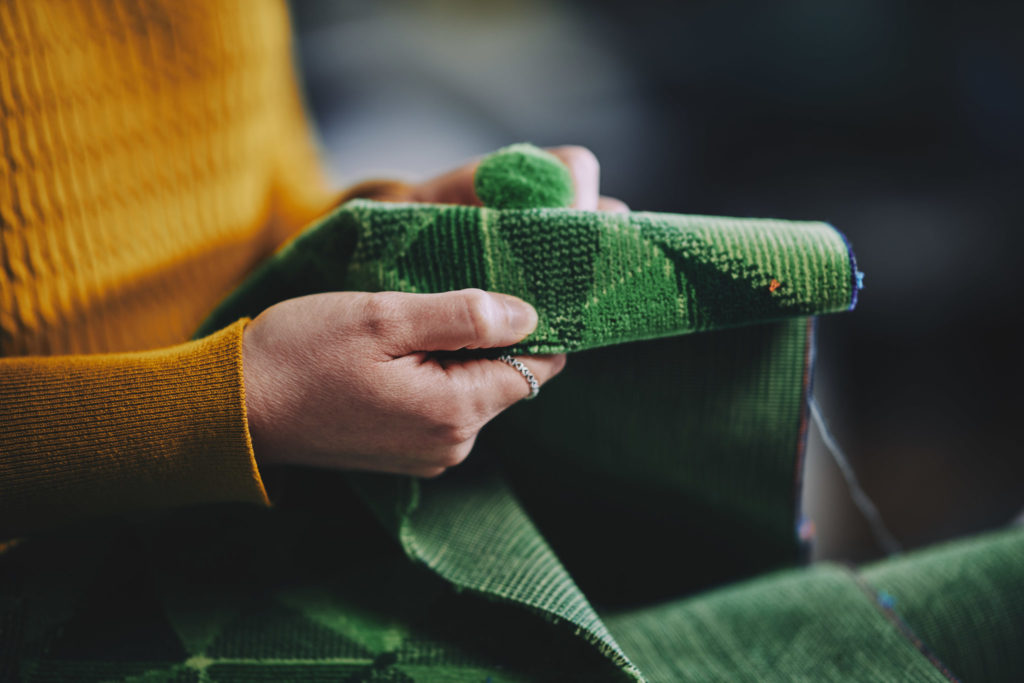 Fabrics Made to Last
Camira has been making fabrics for Transport for London for over 150 years, since the London Underground began. Custom-made moquette fabrics are used across the Underground and on several overground train routes throughout England's capital and are part of the well-known Transport for London brand.
One of the most recent developments is for Crossrail (the Elizabeth line), named in honour of the Queen, which is the new east-west railway set to transform travel across London. Running for more than 60 miles, the new Elizabeth line promises to cut most journey times by at least half and bring an extra 1.5 million people within 45 minutes of central London. The 14.8 billion GBP project, one of the biggest infrastructure projects in Europe, sees the addition of 10 new stations to the network and major upgrades to another 30 in order to cope with the extra passenger demand.
In keeping with the royal name of the line, regal purple is the dominant colour on Elizabeth line branding which is carried right through to the new fabric design which came from British design studio Wallace Sewell. The fabric is woven by Camira on wire looms to create a moquette with both cut and loop textured pile.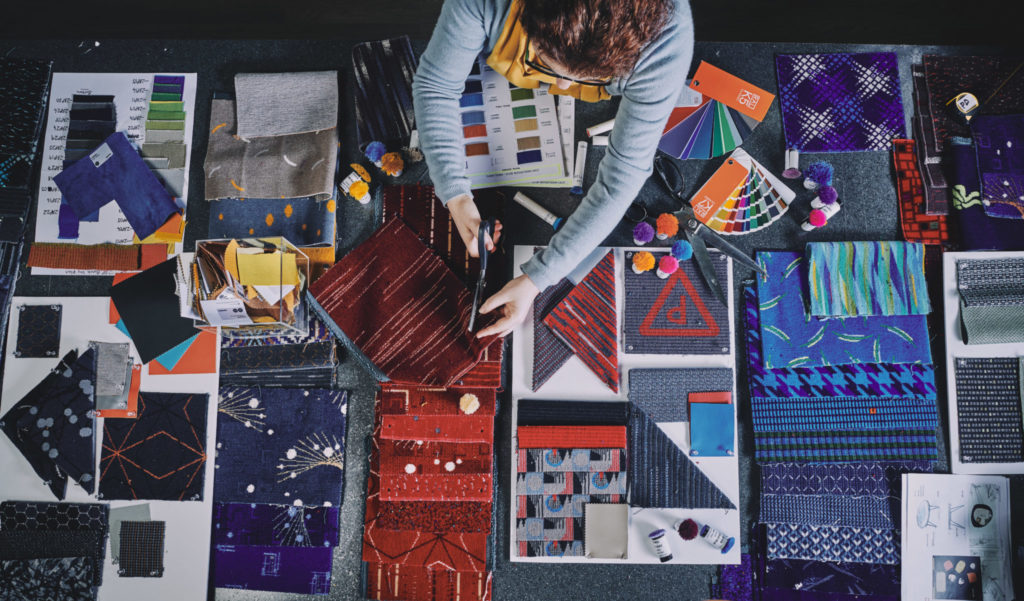 About Camira
Camira are makers, designers and manufacturers of textiles, developing fabrics for passenger transport on bus, coach and rail, as well as commercial interiors.
Camira is a privately-owned UK textile group founded in 1974 under the name Camborne Fabrics. In 2007, the company acquired John Holdsworth & Co Ltd, a West Yorkshire textile manufacturer specialising in transport fabrics. This acquisition strengthened Camira's expertise and capabilities in producing textiles for bus, coach and rail, and it has continued to grow this area of the business.
Today, Camira has an annual turnover of around 100 million GBP and employs over 800 people. It produces more than 9 million metres of flame-retardant materials annually and markets them in over 80 countries. Headquartered in Mirfield, West Yorkshire, England, the company has manufacturing facilities in the UK and Lithuania, offices and showrooms in Europe, North America, Australia and China and a global network of account managers and specialist dealers.
The name behind a number of iconic transport designs, Camira's fabrics are installed in cities across the globe – from Queensland Rail to the London Underground – and it has firmly established its position as leader in the transport textiles industry.
Camira has received numerous awards to date. The company has won five prestigious Queen's Awards, including the Queen's Award for Sustainable Development for the second time in 2015 and for International Trade in 2016.