With almost limitless potential, the creation of the ideal fabric for your rail interior can be a daunting, if exciting, task. From choosing the perfect shade and establishing an on-brand pattern to navigating global flammability standards, there is a myriad of considerations to take into account – and it can be difficult to know exactly where to start.
In this article, Aimee Larson, Senior Designer at Camira – the UK's leading manufacturer of transport textiles – explains everything you need to know about creating the perfect fabric for your railway.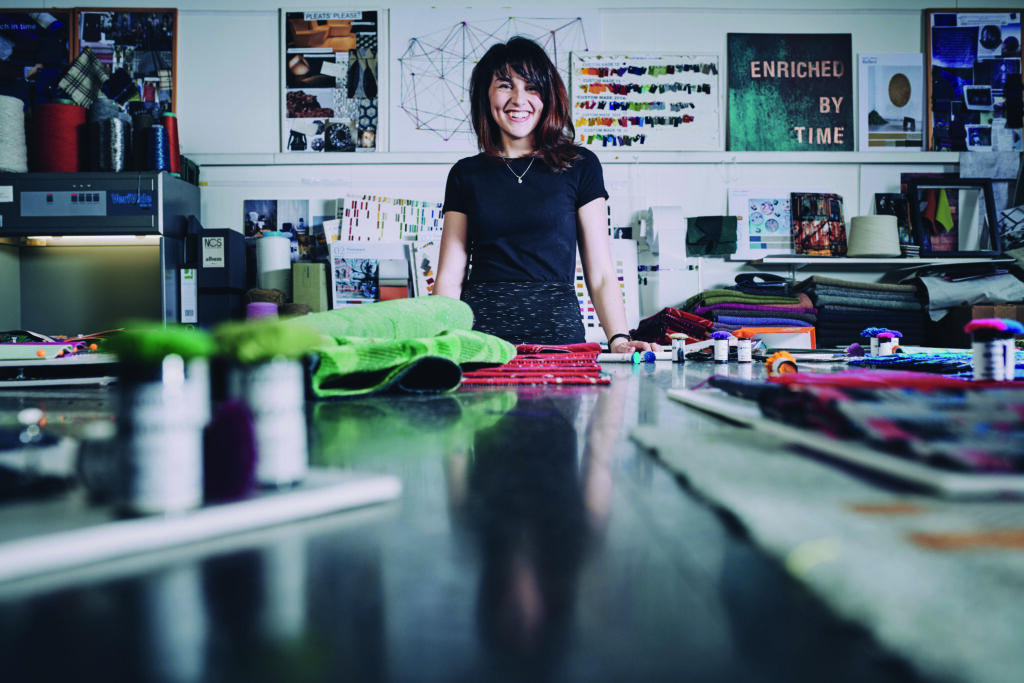 First Things First, Construction
To begin, I always recommend identifying the aesthetic you'd like to achieve, and the priority of your key concerns – are you looking for a traditional or contemporary interior? A sleek or textured finish? Is practicality at the top of your list? Once you've established the answers to these questions, you'll be in a much better position to begin identifying which construction is the best fit for your needs.
In short, there are four types of construction from which to choose your railway's upholstery, and these can be summarised as follows:
Plush: In plush fabrics, the yarn threads stand upright from the ground structure of the fabric, with the individual ends cut at an even height to create a completely levelled surface finish. Highly effective at dispelling dust, plush fabrics offer the ultimate in practicality, and are a timeless, ultra-comfortable, upholstery choice
Wire woven: Taking their name from the metal wires which are inserted during the weaving process between the raised pile threads and the fabric ground to form loops of pile above the foundation, wire-woven fabrics are perfect for interiors which want a sleek look, without compromising on durability. Also available in Hybrid, an innovative wire-woven fabric construction unique to Camira, the double density all loop face is designed to withstand the demands of today's transport world, making it a robust yet stylish option.
Flat woven: Characterised by their flat, two-dimensional surface, flat-woven textiles are created by interlacing warp and weft yarns which construct a fabric where the yarns lie flat rather than upright. A contemporary choice, flat woven fabrics provide a sleek aesthetic, in keeping with the automotive trend.
Leather: An alternative upholstery option, pure leather, such as our Elite range, provides the ultimate in luxury and can be used alone or in combination with woven fabrics to create accent areas on side panels, bolsters, headrests or piping.
Now, Let's Talk Colour
Many railways opt for their upholstery to be designed in their brand colourways – whether as a piped accent to a base neutral, integrated into a woven pattern, or embroidered as a logo – there are a number of different approaches. At Camira, we specialise in custom-made fabrics, working in close collaboration with specialist design houses to turn their design concepts into woven realities; from developing exact colour matches to creating perfect pattern repeats, our in-house design studio has the expertise to translate ideas into reality.
In terms of general colour advice, we always recommend avoiding pale shades, such as pastels or taupes, on seating upholstery – simply due to their susceptibility to staining and scuffing – and instead using them as delicate accents on trims, e.g. curtain tiebacks or piping. There's a reason that so many railway interiors opt for darker shades or vibrant tones – they really do hide a multitude of sins, and with intelligent, considered pattern designs, there is no limit to the visual detail they can offer.