Clean and Green – in Conversation with Camira Fabrics about COVID and the Future
Railway-News: What are some rail projects Camira has worked on?
Camira: As a global brand, we work with operators across the world including Queensland Rail, RATP in France, Belgian Rail, LA Metro and Belarusian Rail. Closer to home, we've most recently completed a project with Avanti West Coast and we are proud to have produced fabrics for LNER Azuma, Northern Rail, TransPennine Rail, TfW – Wales & Borders, West Midlands, Govia – Thameslink and Southern, GWR and Mersey Rail, to name a few! Here in the UK though, we're best known for supplying wire-woven wool moquette fabrics to TfL for the London Underground and Overground. Most recently, we were commissioned to produce a wire woven moquette for the Elizabeth Line, which we developed alongside British design studio, Wallace Sewell. In keeping with the royal name of the line, regal purple is the dominant colour on the Elizabeth Line branding, which is carried right through to the fabric design itself. For us, we pride ourselves on our transport capabilities. Our inhouse design studio works in close partnership with professional design houses and operators to create the most appropriate fabric solutions, not only in terms of colour and appearance, but also in meeting specific technical requirements, most notably flammability performance. For operators looking for something special, a bespoke design or branded fabric can add personality and flair to a vehicle interior.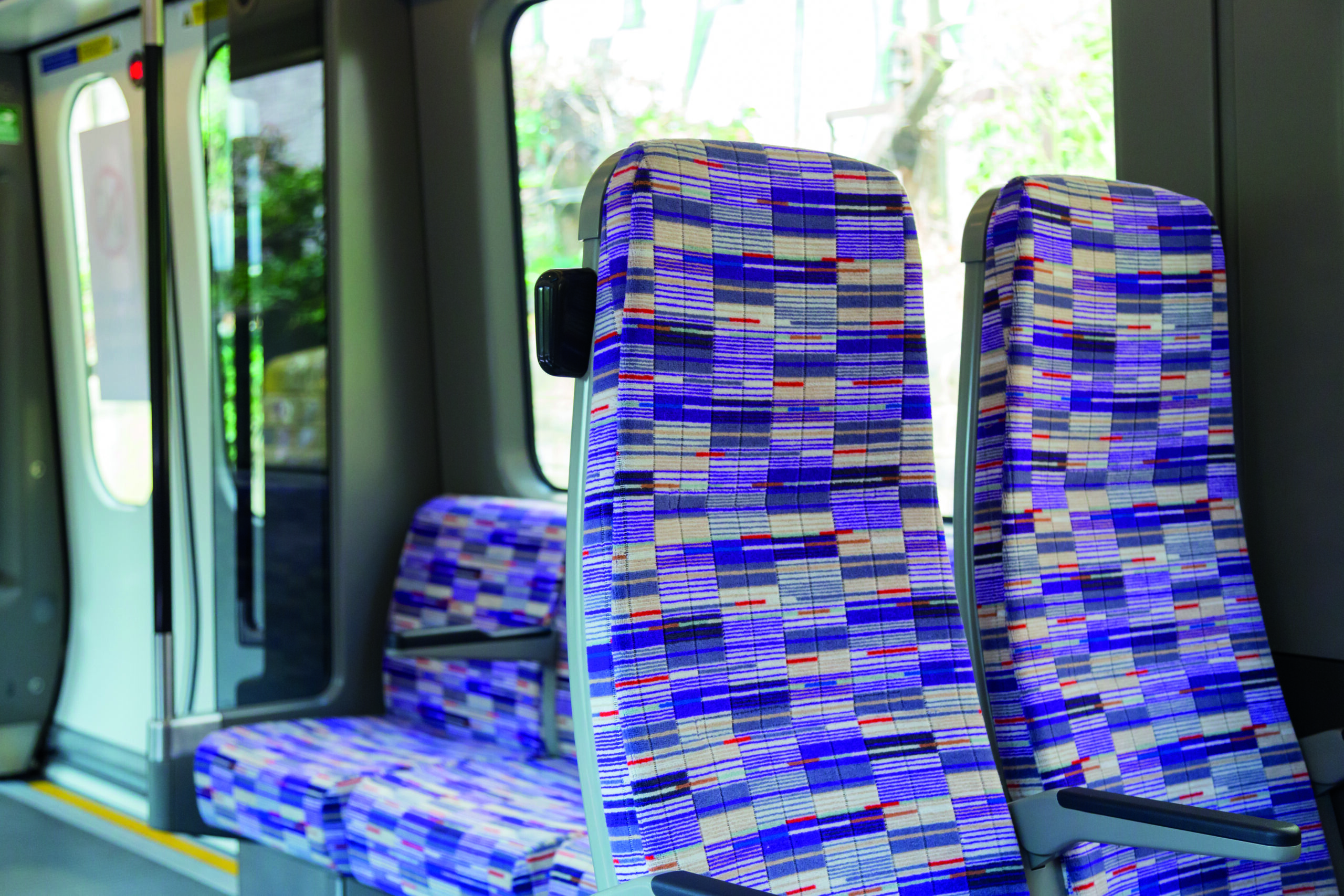 RN: Can you give us an overview of how production has been affected for Camira as a result of coronavirus?
C: Clearly, while it hasn't been "business as usual" during this period, we have been able to maintain ongoing service throughout, continuing to distribute fabrics into all regions, and – apart from two brief interruptions in the UK and in Lithuania – continuing to produce fabrics to demand. Different segments have been affected to different degrees – in Commercial Interiors we have seen more demand for vertical fabrics for privacy screens, while we've also benefited from the move to home office working; in Transport, we've seen a dip in coach-related sales due to the effects on tourism and travel, while rail projects due to their longer-term nature have remained on track (no pun intended).
RN: Hygiene is a major talking point now on public transport, as one of the tools we have to keep each other safe. Have you seen a shift in enquiries towards more hygiene-oriented fabrics? You have published a cleaning and disinfecting guide and all of your fabrics can be cleaned and disinfected with soap and water, for example, but your wool products won't take bleach.
C: Understandably, cleaning and disinfection have become hot topics in the wake of Covid-19, with a new emphasis on hygiene as an important way in which to help prevent the spread of the virus, especially on public transport. As the industry works to reassure passengers that it is safe to travel by bus, coach and rail, we've made it our duty to educate our customers on how they can clean and disinfect our fabrics effectively. Most recently, we have released a dedicated guide to cleaning and disinfecting our transport fabrics, which can be found on our website. Perhaps contrary to popular belief, viruses do not survive as well on fabrics, as they do on frequently touched hard surfaces such as plastics, laminates, metal and glass. On textiles, viruses can get trapped and therefore have reduced likelihood of spreading. Subsequently, operators will need to ensure more attention is given to the regular cleaning and disinfection of grab handles, seat trays and door release buttons, for example. Of course, there are further ways to reduce the risk of textiles with similar protocols. As you rightly flag, bleach is not suitable for use on woollen products but what wool does love is steam. What we have to remember is that wool is nature's ultra-intelligent fibre type. It has in-built health properties making it allergy and asthma safe as well as this, it improves interior air quality. With this in mind, it makes sense that this fibre type would prefer an all-natural, chemical free disinfection method. With steam cleaning, its high-pressure and high-temperature water vapour not only disinfects, but also revives the inherent spring and elasticity of wool, so it looks far superior to other types of fabric when steamed. Wool also has enhanced flame-retardant properties – especially in relation to spread of flame and smoke density/ toxicity, so it wins out in this area compared to vinyl.
RN: What, generally, has the knockon effect of coronavirus been for you? Rail projects often have long implementation periods – have you seen a big change in order volumes?
C: As you say, rail projects do have long implementation periods and as such, the rail sector has probably seen the least impact from COVID-19 so far. With major projects set for completion in 2–3 years' time, they need to keep moving. Yes, there have been a few delays but the majority of projects that were in the pipeline for 2019 are still very much in motion. This is optimistic as we look ahead to the future.
RN: Has this public health crisis changed the way you do things that you will maintain longterm?
C: The pandemic has certainly prompted us to home in on our top priorities as a business. Having to respond to rapidly changing circumstances within over 80 countries, we have had to move at a faster pace – pulling together educational tools such as our transport cleaning guide, collating our anti-microbial fabrics and conducting webinars, for example. Projects have very much been based around what our customers need here and now. To understand this, more regular communication between multiple departments has been essential and therefore this will be pivotal moving forward, as we start to flex our new work lives between both the home and the office.
RN: What have been the major take-aways with regards to how you do business?
C: Looking at the bigger picture is an obvious takeaway. We cannot simply focus on developing new products; we need to constantly strive towards innovative solutions to everyday life. Now that the virus is set to be a part of our life for the foreseeable future, hygiene and sanitation will continue to be a focus whilst sustainability and flame retardancy will be fundamental design principles. Ultimately, we need to retain a dynamic approach that allows us to be flexible to our customers' changing needs.
RN: Many companies time product launches to coincide with InnoTrans, which has obviously been moved to April 2021. Are there new products Camira is bringing to market?
C: We'll be presenting our full portfolio of fabric capabilities for railway interiors and clearly have more time to create further product responses to the new world order we now find ourselves in. We're also looking forward to continuing to work with Deutsche Bahn who are showcasing the evolution of their concept train for the future (Ideenzug).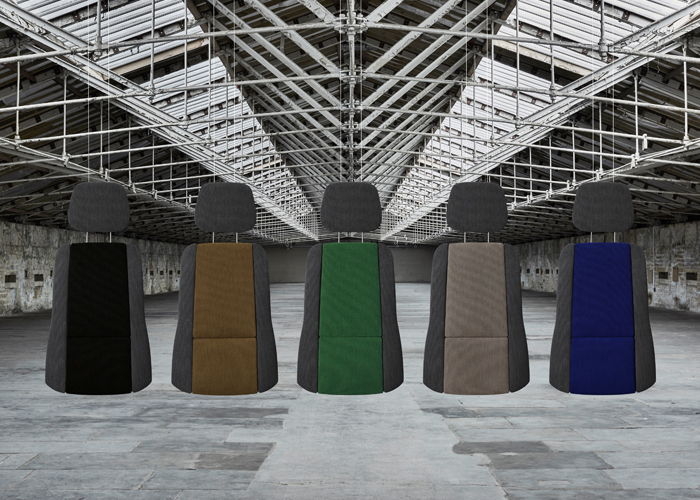 RN: What are the trends in the fabrics sector?
C: As mentioned above, our heightened sense of hygiene and sanitation will undoubtedly be a trend for months, if not years to come. As well as adopting more stringent cleaning and disinfection protocols, we expect rail operators will look to adapt carriage interiors to enable greater personal space for passengers. Ensuring a higher level of privacy and protection whilst being careful not to remove the inviting, homely atmosphere of the traditional carriage will be key. Naturally, hard surfaces will still combine with soft surfaces to create this look and feel, for example, plastic case seating with individual fabric screens. After all, part of the pleasure of train travel is comfort and design which textiles are a key part of. In terms of the fabrics themselves, operators will not only be keen to understand the anti-microbial properties of materials, we expect a greater emphasis to be placed on the wellbeing of passengers. Subsequently, wool moquette will continue to be a popular choice with its natural in-built health properties. For those looking for the aesthetics of a flat woven fabric with the durability of a plush moquette, we anticipate fabrics such as our Hybrid product being a hit. Hybrid is wire woven using wool making it robust and lightweight, with sustainable credentials. Expertly woven, its double-density all-loop face is designed to withstand the demands of today's transport world with its high-performance capabilities and enhanced strength, whilst its woolrich composition enhances the air quality of rail interiors.
RN: Are customers changing what they're asking for, a greater focus on sustainability (congratulations on winning the Green Materials category in the 2020 HiP Awards, by the way!)?
C: With an ever-increasing need to embrace sustainability in each element of our lives, operators are keen to adopt this within their designs from the offset. We strongly believe that Hybrid marks the future of transport textiles with its sustainable credentials but there are many more products within our portfolio that meet this requirement. In regards to our HiP Award win, this was actually for one of our contract fabrics. Oceanic is our very first fabric to contain recycled plastic marine waste. A revolutionary product, this takes our mission to reduce single-use plastic one step further as we have actually been producing recycled PET fabrics for over twenty years. Looking to the future, we continue to explore the possibilities of upcycling raw waste materials within our product portfolio. Watch this space!