Alstom Completes Paris RER Signalling Works
Alstom have completed a month-long series of works on Line A of the Paris RER train, on schedule. The RER signalling works required Alstom to dismantle and re-assemble signalling and speed control equipment in order for Colas Rail to carry out renewal works on the ballasted track of the line.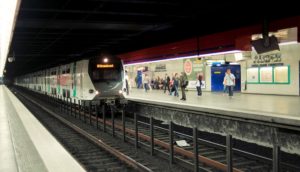 Over the course of the four-week operation which took place between 23 July and 21 August 2016, 40 members of Alstom teams shared their experience and knowledge with the client, RATP, every day of the week. The complicated operation required the teams to make allowances for the working conditions in the tunnels and the difficult access to the site. Alstom's teams subsequently intervened at several kilometres of the line. They carried out works at different sites and to tight deadlines, which allowed traffic to resume on the scheduled date. As a result, the RER A Line was reopened for passenger services on 21 August 2016, keeping to the schedule announced by the RATP Group.
Alstom's teams efficiently removed more than 150 pieces of signalling equipment, including beacons, track circuits and track24 speed control equipment. Thereafter, Colas Rail teams could begin their works on the ballasts. Collas Rail, a public works company, carried out their part of the project, working 24 hours a day, to renew the ballasted track. Following the installation of the new ballasted track, Alstom were able to re-install the signalling equipment on the line and carry out performance tests. This avoided any problems which could be linked to the opening of the line.
Benoit Pellerin, Managing Director Infrastructure France, said:
"This operation confirms Alstom's know-how in managing signalling works and demonstrates our expertise and flexibility in complex urban rail projects, at the service of our clients, and in this case the RATP."
The RER A Line is one of five lines of the rapid transit system in Paris. It is 108km long and has 46 stops, serving, among other things, Disneyland Paris.