Trenitalia Order 150 Alstom Coradia Meridian Trains
Italian national operator, Trenitalia, have placed an order for 150 Alstom Coradia Meridian Trains in a frame contract worth approximately €900 million. The contract includes an option for maintenance services. The first order relates to 47 trains, worth €240 million. The trains will be delivered the first batch of trains in 2019.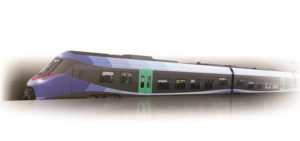 Alstom's Coradia Meridian trains are medium capacity, single decker regional trains. They will be two train lengths and have a maximum of 321 seats. The configuration of the trains is adaptable to user requirements of regional and suburban transport. The train also offers a range of combined interiors, liveries and accessories, so regions are able to personalise their trains using an interactive configurator.
More than 100 Alstom Coradia Meridian trains ar in operation in Piedmont, Lombardy, Tuscany, Umbria, Lazio, Marche, Abruzzo. More will enter service in Trentino and Sicily in the near future. The Coradia Meridian is an evolution of the traditional Coradia train, maintaining the successful characteristics of the originals and benefiting from innovations of the later models. This makes them particularly successful in satisfying the requirements of various Italian regions.
The trains offer enhanced comfort, space, brightness and exceptional services, including a wifi network, audio/video information and entertainment services and live video surveillance cameras for passenger and staff safety.
The Coradia Meridian is also the most environmentally sustainable of regional trains, offering a significant reduction in energy consumption per passenger. This is despite an air conditioning system which requires more power than its predecessors. All consumable materials on the train are 95% recyclable.
Andreas Knitter, Senior Vice-President for Europe at Alstom, said:
"This award confirms the excellent work done by our company in the field of regional transport over the last 15 years. Alstom has had an excellent return on experience with its Coradia Meridian, a successful train that fully respected delivery times, product quality and reliability. This new order offers us the opportunity to reinforce our customer proximity and continue working with the Italian Regions and Trenitalia to improve local transport in the country."
All three Alstom facilities in Italy, in Savigliano (1,000 employees), Sesto San Giovanni (340 employees), and Bologna (600 employees), will help to design and manufacture the trains. The contract will also enable Alstom to develop its network of Italian suppliers.