Chengdu Metro Line 3 Enters Service.
The first phase of Chengdu Metro Line 3 entered service on 31 July 2016. Phase One of the line, which is in excess of 20km long and features 17 stations, runs from the General Hospital of Chengdu Military Region to Taipingyuan, diagonally linking Northeast Chengdu with Southwest Chengdu. Chengdu Metro Line 3 is being constructed in three phases. When complete, it will run for 50.4km, calling at 37 stations.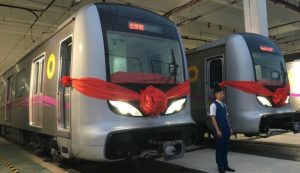 Traction systems for the metro were provided by Alstom's local joint venture Shanghai Alstom Transport Electrical Equipment Co. Ltd. (SATEE) in China. Alstom will deliver traction systems for 432 metro cars for the new line. 144 of these metro cars are for Phase One. The remaining 288 metro cars are for Phases Two and Three, which will begin trial runs in 2018.
Traction systems for all three phases of the metro are being constructed by Alstom in France and Belgium, with components supplied by Tarbes and software supplied by Charleroi.
SATEE will deliver its metro traction system OptONIX, which is designed and developed especially for the Chinese Market. OptONIX is a high-performance, highly reliable traction system designed to enhance operational performance and minimise life-cycle costs.
Ling Fang, Managing Director of China & East Asia, Alstom, said:
"We are pleased of the opening of the Chengdu metro line 1. This will significantly shorten the commuting time of passengers through a transport solution that is reliable, efficient and environmentally friendly.  With the objective of developing greener transport solutions, Chengdu can rely on Alstom's urban mobility solutions and its partnership through its valuable local JV SATEE, to achieve this goal."
Alstom has delivered traction systems to 18 metro lines across eight cities in the People's Republic, including Beijing, Shanghai, Nanjing and Qingdao as well as to the special administrative region of Hong Kong. Alstom and SATEE have worked in China delivering traction systems for over 15 years.