Lima Metro Line 1 Orders Alstom Metropolis
Alstom has won a contract worth approximately €200 million with Graña y Montero Ferrovias for 120 Metropolis cars (20 trainsets) to operate on Lima Metro Line 1 in Peru, and 19 new cars to complete existing trainsets, originally supplied by Alstom, which are already in service on Line 1. The total order is for 139 Metropolis cars. The order is expected to be completed by 2019.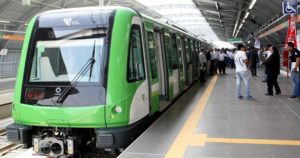 The Lima Metro Line 1 is a 34 km long, 26 station line. It transverses the city from the south, 'Villa El Salvador', to the northern 'San Juan de Lurigancho'. The line has grown in popularity since it opened in 2011. It carries around 320,000 passengers a day.
The 20 new Metropolis trainsets in the order are each composed of six cars. The 19 additional cars in the order will extend the trainsets already operating on the line from five cars to six. With this acquisition, Graña y Montero Ferrovias will more than double current capacity, increasing ridership from 20,000 passengers per hour to 48,000.
Michel Boccaccio, Senior Vice President Alstom Latin America, said:
"We would like to thank Graña y Montero Ferrovias for another vote of confidence. With this new order, more passengers will be able to commute aboard a metro solution that is reliable, comfortable and environmental friendly. Well established in the Latin American region, we are committed to make this project a success and to accompany Peru and the region in their different mobility projects."
The Metropolis trainsets will be made at Alstom's facility in Santa Perpetua Barcelona (Spain), where the trainsets already in service were produced. The trains feature large doors, low floors and extra wide seats. Dynamic information displays and an interior design which promotes natural light will improve passengers' safety and comfort.
Alstom Metropolis trainsets are already in operation in Panama, Barcelona, Istanbul, Singapore, Shanghai, Nanking, Buenos Aires, Santiago de Chile and Santo Domingo, among others.