Weighwell Supply Static Train Weighing Systems for Miami and Honolulu
Weighwell have supplied two PTW2 500X's for Hitachi Rail USA and Ansaldo Honolulu with the portable train weigher's (PTW's) initially operated by Hitachi Rail Italy. Having previously supplied portable weighing systems as far back as 2009 (formerly through AnsaldoBreda) Hitachi Rail Italy have prior knowledge and experience on our static weighing systems at their Pistoia plant but also other locations throughout the world such as Holland and Brazil.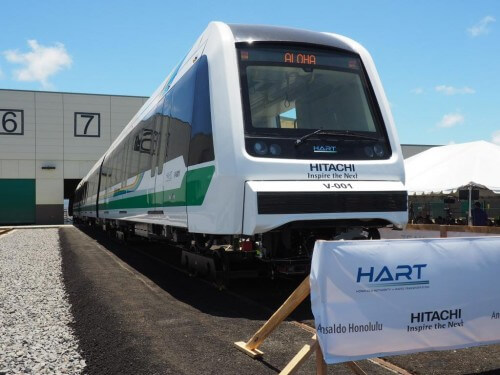 The PTW2 500X static train weighing system weigh's each axle of the rail vehicle and allows for highly accurate individual wheel weights. The rail scale can be used at a variety of locations due to its portability and ease of use. An added benefit of the single axle weighing system is that with a length of only 500mm the system conveniently installs between rail fastenings, requires no track modifications or civil works and is ready to weigh within 15 minutes.
The Reason for Single Axle Static Weighing
One of the static systems will be used at Hitachi's custom designed manufacturing facility in Miami. This facility will manufacture and assemble 136 metro cars primarily for Miami-Dade County transit (metro). The first of the metrorail vehicles will likely to go into service late 2017 after testing.
The other static system will be used for the Ansaldo Honolulu transit system with Hitachi Rail Italy responsible for the manufacturing and testing of 20 trains. These four car trains are a major component in what will be the USA's first driverless rail transit system. Due to the portability and flexibility the rail scale can also be used at Hitachi's Pittsburg facility where the final assembly will take place.
Paul Horsfall, Managing Director commented:
"we have a longstanding and significant relationship with Hitachi Rail Italy and this project demonstrates our ability to provide an intuitive cost effective solution and help contribute to the latest generation of rail vehicles"
For further information on portable train weighing systems please contact Weighwell.
News article © Weighwell