Hitachi Intercity Trains Begin Digital Signalling Tests
Hitachi's Intercity trains, bound for passenger service on the Great Western route from 2017, have begun testing digital technology designed to create extra capacity and relieve overcrowding on the country's rail network. Intercity trains fitted with digital signalling technology carried out tests at Network Rail's state-of-the-art signalling facility ENIF (ERTMS National Integration Facility), in Hitchin.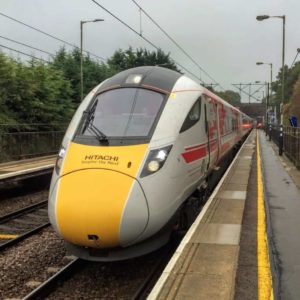 Digital signalling systems feed more continuous information from track side equipment into the driver's cab, enabling trains to run closer together and creating more regular services. The digital system tested by Hitachi, known as European Train Control System (ETCS), will inform drivers about how to change their speed as well as about potential hazards ahead.

The potential long-term benefit of introducing new signalling systems is the ability to unlock significantly more capacity. This will help address rising passenger numbers, which have doubled in the past 20 years and are set to double again over the next 25 years.

The Intercity trains will carry out further tests at ENIF to ensure they are ready to use ETCS. Hitachi's Baseline 2 ETCS has already achieved regulatory approval to run on passenger services, however further tests are required for Baseline 3's regulatory approval.

Hitachi's Intercity trains will begin running passenger services on the Great Western main line from 2017 and the East Coast main line from 2018. The trains are being built at Hitachi's UK manufacturing facility in Newton Aycliffe, County Durham.

Andy Rogers, Projects Director of Hitachi Rail Europe, commented on the testing:
"Only by linking new trains to new signalling systems can rail delays and cancellations truly be cut in a meaningful way. Testing of new signalling technology on our Intercity trains is another step forward to realising our goal of transforming the UK rail network".

"We've ensured our new Intercity trains include the latest in signalling technology to maximise their long term potential. Our Intercity trains will offer millions of passengers more seats, more space and modern technology. By introducing these new trains, Hitachi is bringing Intercity travel firmly into the 21st century".

"With the country's railways currently undergoing the biggest investment since the Victorian Era it is essential we modernise both our trains and signalling systems".
For the original article, please click here.