Hitachi Unveils First UK Built Intercity Express Train
Hitachi Rail Europe (HRE), a global rail specialist with over 100 years of industry expertise, today celebrates the first Intercity Express Train (IEP) to be built in the UK at its manufacturing facility in Newton Aycliffe, County Durham. Hitachi will be joined by the Secretary of State for Transport, Chris Grayling, Minister for Northern Powerhouse, Andrew Percy, and Ambassador of Japan in the UK, Koji Tsuruoka.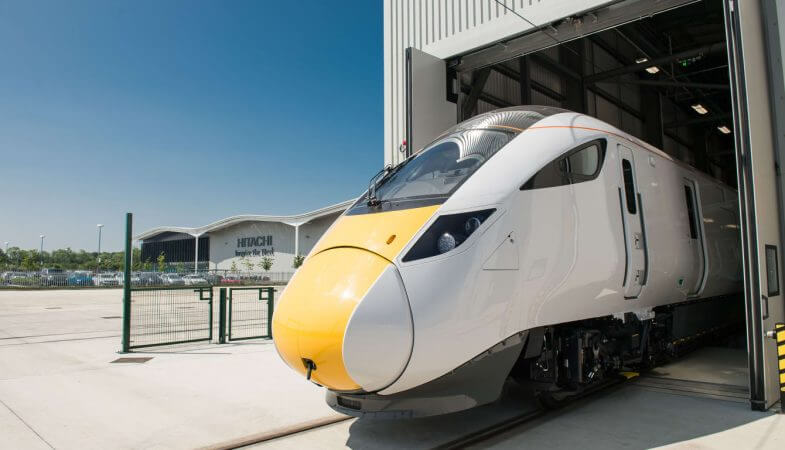 HRE opened the state-of-the-art £82m facility in Newton Aycliffe in September 2015 as part of its ambition to develop a hub of industry and innovation in the North East. By Spring 2017, Newton Aycliffe will employ approximately 900 people. By 2019, HRE will employ 2,000 people across 14 UK sites, including manufacturing and maintenance facilities. A host of British businesses will continue to supply parts for new trains, supporting thousands of additional jobs countrywide.
In addition to building new fleets, Hitachi will maintain the trains at newly built facilities. By 2020 Hitachi will become one of the largest maintainer of UK trains. In total Hitachi will have 281 trains running on the UK network, carrying millions of passengers along intercity and commuter routes.
Today's event at Newton Aycliffe will be an opportunity to view and board the first of the British-built new IEP trains and see trains being built at the facility. Attendees will witness first-hand the engineering skills that Hitachi is proud to be investing in, and will also meet with members of the team working on IEP, including some of the 50 apprentices employed at Newton Aycliffe.
The first train leaving HRE's UK production line marks a major milestone ahead of the introduction of IEP, the £5.7bn Government-funded programme to modernise UK intercity travel. By the end of the programme, HRE will have supplied 122 modern intercity trains for passengers travelling on the Great Western and East Coast main lines, offering vastly improved levels of capacity, reliability and comfort.
Hitachi unveils first UK built Intercity Express Train
Transport Secretary Chris Grayling said:
"We are determined to take the big decisions for Britain and are investing record amounts to modernise the rail network, deliver better journeys for passengers and drive economic growth.

"This first train to roll out of Hitachi's new factory in Newton Aycliffe shows we are open for business and will provide a real economic boost to the North East, not only by providing jobs but also by investing in the skills needed to provide the transport network our country needs for the future.

"These new trains will give passengers more seats, greater comfort, better reliability and faster, more frequent services."
For the original article, please click here.