GWR Orders Seven Hitachi Intercity Express Trains
Great Western Railway has announced the order of an extra seven bi-mode Hitachi Intercity Express Trains. The deal is with Hitachi Rail Europe and its finance partner Eversholt Rail Group. The seven additional trains will be added to the 57 Hitachi Intercity Express Trains already being delivered to GWR.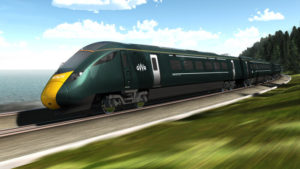 The purchase is part of the UK government's Intercity Express Programme. Delivery will take place from 2017. The 29 separately financed trains which were ordered last year will begin operating passenger services in 2018. The order will be filled by Hitachi Rail Italy at its Pistoia manufacturing plant.
Mark Hopwood, Managing Director, Great Western Railway, said:
"This complements the 86 brand new trains due to start operating across the GWR network next year. They give us greater flexibility in our fleet to deliver faster more frequent services and additional seats for customers, particularly while Network Rail completes the modernisation of the Great Western Main Line."
Mary Kenny, Chief Executive Officer of Eversholt Rail Group, said:
"We are delighted to extend our partnership with FirstGroup, GWR and Hitachi to deliver more new high-quality trains that will enhance the passengers' journey experience."
Karen Boswell, Managing Director of Hitachi Rail Europe, said:
"Hitachi is pleased GWR and Eversholt Rail Group have exercised one of the options they have with us to increase their fleet. This further strengthens our working relationship with two major customers. It is a further endorsement of our current work delivering modern, high-speed modern trains, connecting people and communities across the GWR network.

"The iconic image of this brand new, high-speed fleet operating on a railway rich in heritage will be another landmark moment for Hitachi and one we are delighted to make a reality."
Maurizio Manfellotto, CEO of Hitachi Rail Italy, said:
"This extended train order highlights the success of Hitachi Rail as a group, which includes increasing demand for our facilities in Italy. Hitachi Rail Italy is particularly proud of this further proof of trust in our capabilities, and we are working hard to deliver a train fleet that meets the expectations of Great Western Railway and its own customers".

"These new trains will be high-speed Intercity, equipped with hybrid traction, and will have on board the best technologies to meet passenger comfort and safety."