First Train for Driverless Metro Unveiled in Taipei
Hitachi Rail Italy and Ansaldo STS yesterday presented at the new Taipei maintenance facility, the first new driverless metro train for the Department of Rapid Transit Systems, the local transport authority of Taipei Municipality (New Taipei City).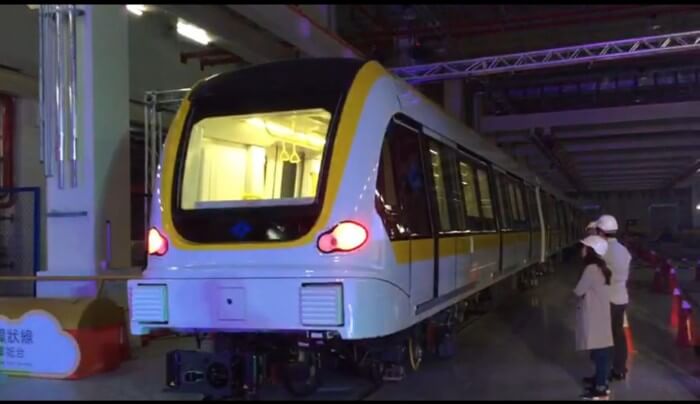 Hitachi Rail Italy has delivered the first 4 cars on time. This is part of a wider contract (in joint venture with Ansaldo STS) for the delivery of 17 trains (68 cars in total) with delivery scheduled for completion by autumn 2018. The contract value is €110 million for Hitachi Rail Italy, and €220 million for Ansaldo STS.
The vehicles, manufactured in Hitachi Rail Italy's Reggio Calabria plant and unveiled on 30th August, set off by sea to Taiwan. They landed a few weeks ago, and final finishing details were added locally prior to delivery to DORTS. Each train, made of 4 aluminum bodied cars, is 68 m long, 2.65 m wide, provides space for 98 seated and 555 standing passengers, and can reach a speed of 80 km/h.
Ansaldo STS is responsible for the supply and integration of all the hi-tech systems (Signalling, telecommunication and SCADA, electrification, AFC, equipment of train yard, etc.) making the delivery of a modern transport system with automatic, driverless trains a reality today.
Maurizio Manfellotto, CEO of Hitachi Rail Italy, declared:
"Our goal is to produce the best performing vehicles for a global market as demanded by our customers. I'm confident that following this strategy, we will continue to win projects around the world."
Andy Barr, CEO of Ansaldo STS said:
"I am very pleased to be in Taipei to see the first train on arrival here. CBTC technology is becoming an industry standard and addresses today's requirements of the metro command and control market.

This project, like others recently awarded and delivered by Ansaldo STS, puts us at the forefront of this technology."
For the original article, please click here.