Unguarded Level Crossings to be Abolished in the Netherlands
Dutch rail infrastructure manager, ProRail, has said that within a few years, there will be no more public unguarded level crossings in the Netherlands.
The are still 123 unguarded intersections in the Netherlands, a vast majority of which are located in the north-east where infrequent services previously ran. However, traffic and the speed of trains has increased, making the unguarded level crossings dangerous and "no longer of this time".
ProRail say the remaining unguarded level crossings will be lifted or secured "as quickly as possible".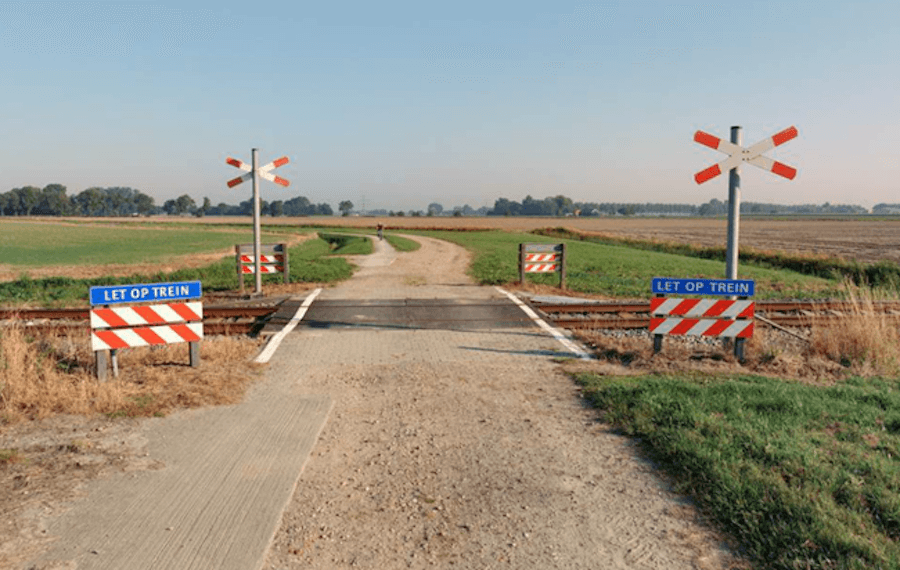 Lifting or Securing
ProRail has said it would prefer to abolish the unguarded crossings and to divert road users to a level crossing or an existing secured crossing. If this is not possible, the level crossing must be secured with barriers, bells and indicators.
Improving Safety at Level Crossings
In 2017 (up to the end of November) there have been 27 accidents so far, with several injured and five people killed. Three of the accidents happened on unguarded crossings, but fortunately did not result in fatalities.
ProRail and the Ministry of Infrastructure have indicated that action must be taken more quickly to deal with the crossing problems than the agreed 10 years.
Unguarded Level Crossings "No Longer of This Time"
ProRail President, Pier Eringa, said: "The unguarded level crossing is no longer of this time. The vast majority of the unguarded level crossings are in the north-east of the Netherlands. These crossings are on track sections where previously trains were rarely driven and where there was relatively little road traffic. This is no longer the case today. Trains run more often, at higher speeds, and have become quieter. Traffic on the road has also increased. Because there are only so few unguarded crossings in the Netherlands, not every road user is aware of this. That makes this type of crossing especially pre-eminently dangerous. On the highway, this kind of dangerous intersections have long since been out of the question. There are only level-free crossings. We are behind the track.
Original article © ProRail.
FOR ALL THE LATEST INFORMATION, NEWS, IMAGES, VIDEOS AND ARTICLES ON ALL ASPECTS OF INFRASTRUCTURE, PLEASE CLICK HERE.