Operation Lifesaver, Inc. Previews U.S. Rail Safety Week
As the first U.S. Rail Safety Week (RSW), September 24-30 approaches, Operation Lifesaver, Inc. (OLI) President and CEO Bonnie Murphy previewed the event's planned activities, key sponsors and information on how potential participants can learn more.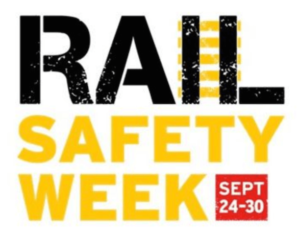 The goal of RSW is to raise awareness for pedestrians and drivers on ways they can keep themselves safe around railroad tracks and at level crossings.
Vehicle-Train Collisions
Preliminary government data for 2016 show 1,104 people were killed or injured in vehicle-train collisions, and that an additional 980 people were injured or killed while walking on or near railroad tracks.
OLI President and CEO, Bonnie Murphy, said:
"We are grateful for the positive response from our rail safety partners across the U.S. as activities for Rail Safety Week have been planned"

"We look forward to a successful RSW, with the help of our partners in law enforcement, federal, state and local government, the rail industry other community safety advocates."
Rail Safety Campaigns
Rail Safety Week will include radio and digital public service advertising campaigns, along with a number of local activities in states across the country, Murphy said. Rail Safety Week is supported by the Federal Railroad Administration (FRA), Federal Highway Administration (FHWA), Federal Transit Administration (FTA), state Operation Lifesaver programs, the Association of American Railroads (AAR), freight railroads, Amtrak, and other safety partners.
U.S. Rail Safety Week
Murphy outlined the major events that will take place across the country each day during U.S. Rail Safety Week, including:
Tuesday, September 26 will feature "Operation Clear Track," where local, state, federal and railroad police will be stationed at the top railroad grade crossing and/or trespassing incident locations in states around the country to hand out safety materials to motorists and pedestrians, and issue warnings and citations to those violating state laws.
Wednesday, September 27 will focus on crossing safety, with events and ads to promote awareness of the Emergency Notification System (ENS) signs posted near all railroad crossings. The signs have an 800-number to call to report vehicles stuck on the tracks, signal malfunctions or other issues.
Thursday, September 28 will be "Transit Safety Thursday," with events at transit, light rail and commuter rail stations and a digital ad campaign.
Friday, September 29 will focus on trespass prevention, with Operation Lifesaver urging students, employees, and others to participate in "red out for rail safety awareness" by wearing red. Operation Lifesaver volunteers will be at sporting events and other activities to distribute materials and trespass prevention safety tips.
Saturday, September 30 will celebrate "community connections" with safety blitzes and other awareness events in communities across the U.S.
Murphy added:
"We thank our RSW Champions at the FRA, FHWA, FTA and Amtrak, along with our RSW Partners, the DuPage Railroad Safety Council, and Allies, the National Safety Council"
Additional organisations are welcome to sponsor, Murphy noted, by clicking here.
Visit the Operation Lifesaver website to learn more about Rail Safety Week events, find materials, and learn how you can become part of the Rail Safety Week team.
Original article © OLI.