Transdev Orders 64 Stadler FLIRT 160 Trains to Operate on Hanover S-Bahn Network
Hanover S-Bahn Contract
Transdev Group, Germany's biggest private rail and bus operator, was awarded the contract to operate Hanover's suburban railway system following a Europe-wide tender process. As of December 2021 its subsidiary NordWestBahn will be operating the ten suburban railway lines in and around the city, which is 385km in length. This contract has been awarded for a period of 12.5 years, running until June 2034, and is worth in excess of 1.5 billion euros.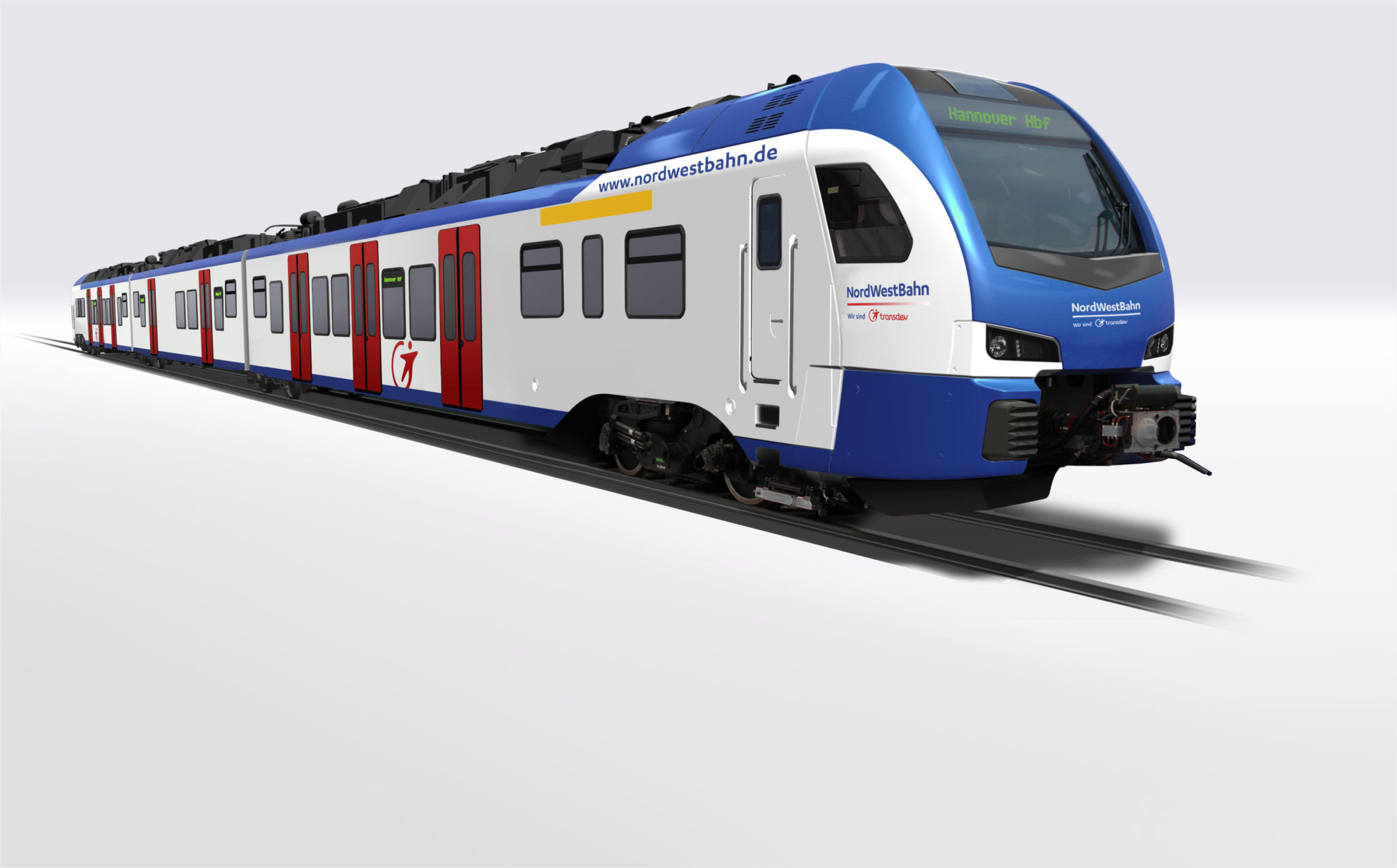 Hanover is the capital city of the German federal state of Lower Saxony. In one year, the trains on these ten suburban lines travel a total of 9.3 million kilometres, transporting more than 30 million passengers.
In order to fulfil this contract, Transdev has ordered 64 electric Stadler FLIRT 160 trains to accompany the 13 existing Stadler trains that are already part of the fleet. This order is worth around 320 million euros for Stadler.
Stadler FLIRT 160 Specs
Each 3-car train will have a total capacity of 397, of which 180 will be seated and 217 will be standing. The trains have a top speed of 160km/h. The trains will be 68 metres in length and feature eight passenger doors on each side.
The Stadler FLIRT 160 is also fully compliant with the European Union's regulation on the technical specifications for interoperability relating to accessibility of the EU rail system for persons with disabilities and persons with reduced mobility (TSI PRM). There are no steps anywhere on the train and there are wheelchair spaces.
Additional features include space for up to twelve bicycles as well as charging points for e-bikes. Large multi-purpose areas also mean passengers with pushchairs and bulky luggage will be able to use the service comfortably. Finally, the Stadler FLIRT 160 comes with on-board wifi equipment and modern passenger information systems.
Thierry Mallet, Chairman and CEO of Transdev Group, said:
"I am thrilled with the trust placed in Transdev, and that our business case and customer-oriented proposal for the Hannover regional trains has been judged as compelling.

"This award will be an exceptional accomplishment for our group, and one of the largest contracts in our Group's history. In this respect, we are strengthening our position as the second-largest rail operator in Germany. We will be delivering on our promise for improved municipal rail services and will fulfil our commitments to make this critical project a success for both our clients and customers. The announcement of this award further reinforces our position as the leading private supplier of local and regional public transport in Germany."
Thomas Ahlburg, CEO of Stadler, said:
"We are very pleased to have received the order in the Lower Saxony region and that we can consolidate our pleasant and constructive co-operation with Transdev on the Hanover suburban railway.

"This order reiterates the fact that the FLIRT, as a customisable vehicle with comfortable equipment, state-of-the-art technology and smooth running properties, is ideal for meeting all requirements of regional rail passenger systems."