Germany Launches New Alliance with Business to Promote Rail
The German Federal Ministry of Transport and Digital Infrastructure has announced that the "Zukunftsbündnis Schiene" – the partnership between politics, business and associations that was launched by transport minister Andreas Scheuer – has started work today.
Transport Minister Andreas Scheuer said:
"Our partnership for rail is going full speed ahead. We want to double the number of passengers by 2030 and get more freight on to rail. And we want to do that while providing a good service that's high quality. We want to create the wow effect and we want rail travel to be a passion. This is the biggest project in the rail sector since the reforms of 1994."
Deutschland-Takt Timetable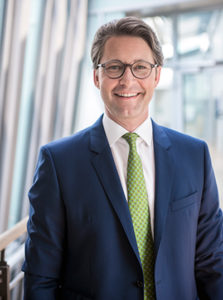 One of the items presented at the meeting in the ministry was the draft timetable for the "Deutschland-Takt" endeavour. This timetable project is a co-ordinated rail timetable for the whole of Germany, covering everything from regional routes to the main transport axes. It integrates local and long-distance travel and is being implemented with Germany's federal states, who are responsible for local transport.
The goals of the "Deutschland-Takt" timetable are:
More frequent services: a train to run every 30 minutes on all the main transport axes
Faster services: optimised connections and tailored infrastructure developments
Blanket coverage: a transport network to connect all towns, cities and regions with additional routes to make cities more accessible
The Transport Ministry says this Deutschland-Takt timetable will benefit freight transport as well. For example, there will be special lines and targeted infrastructure development for this area of the rail sector.
The expansion of the rail infrastructure in Germany will be guided by the Deutschland-Takt project, for example at stations, at entries into stations and along routes (e.g. multiple lines). The implementation of this project will now be discussed with businesses and the federal states and infrastructure measures are in planning. These will be implemented from 2020 onwards. The goal is for the Deutschland-Takt timetable to be implemented in full by 2030.
Andreas Scheuer said:
"The Deutschland-Takt makes taking the train a more punctual, faster, direct and reliable undertaking. For rail customers that means: optimal connections, shorter dwell times at stations and shorter travel times. In future our trains will be everywhere more frequently and more quickly."
Additional Goals of the Zukunftsbündnis Schiene
Increasing capacity to make rail more reliable: investments worth billions in Germany's rail infrastructure (DB Netz), technology (ETCS) and electrification (up to 70 percent of the rail network by 2025)
Increasing the competitiveness of rail to make rail more flexible: developing the rules for issuing line rights and pricing further and making tariffs interoperable for connected services
Reducing noise emissions for quieter rail services: noise protection measures along tracks and the use of quieter trains so that trains make for good neighbours
Nurturing digitisation, automation and innovation for a modern railway: autonomous rolling stock on the lines, electro-mobility (e.g. fuel cell technology)