DB Launches New App for Passengers with Impairments
Deutsche Bahn presented its new app, 'DB Barrierefrei', in Berlin today. This is a further milestone in making the services of Deutsche Bahn barrier-free. During the launch event the 15-year progress of the accompanying working group was also honoured. The event was attended by Dr Richard Lutz, CEO of Deutsche Bahn, Enak Ferlemann, Parliamentary State Secretary at the Federal Ministry of Transport and Digital Infrastructure, and Jürgen Dusel, the Federal Government Commissioner for Matters relating to Persons with Disabilities. The German Disability Council (DBR) was also represented.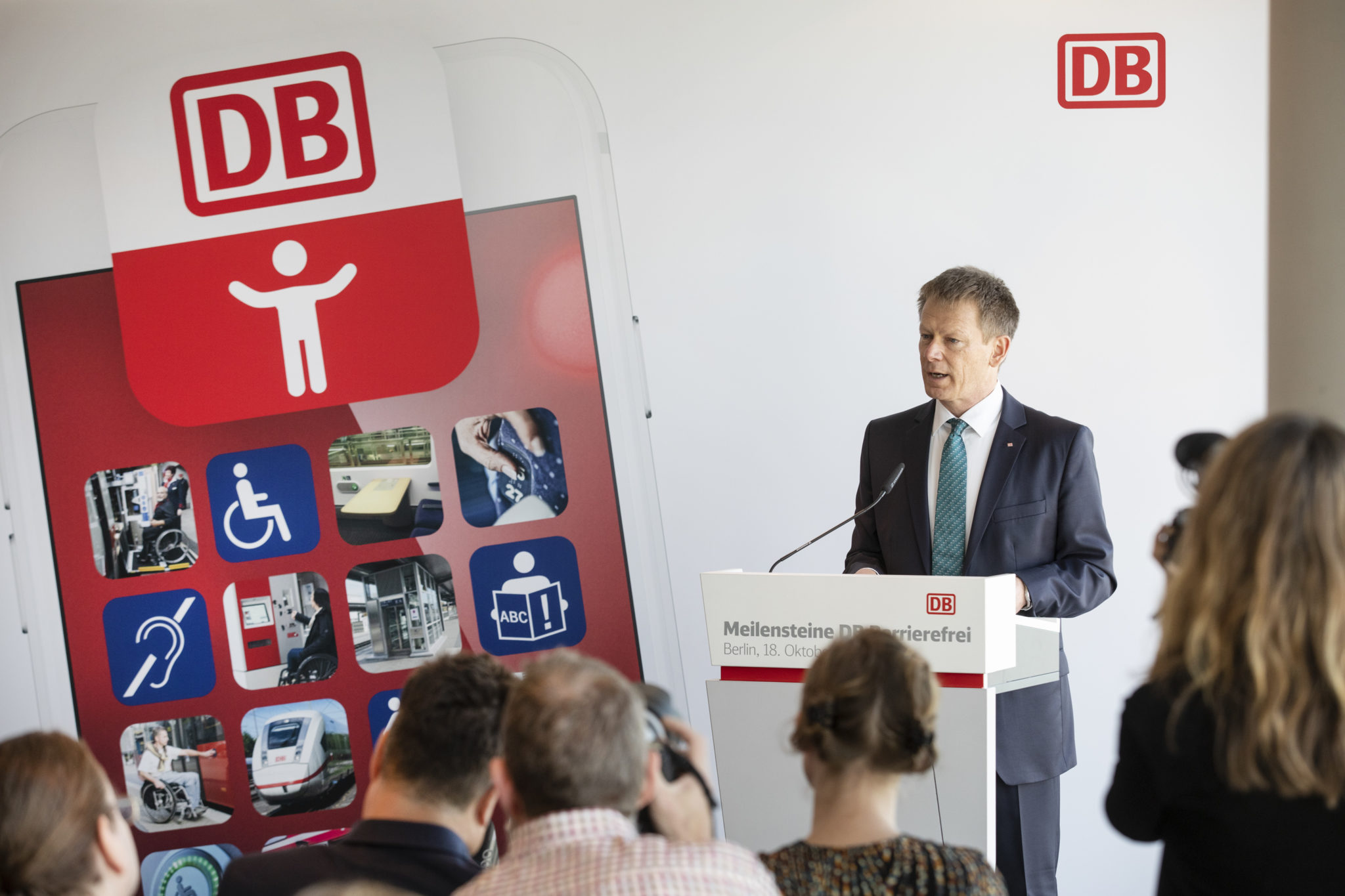 CEO Dr Richard Lutz said:
"I'm pleased that we're taking a big step towards mobility for all with the new app DB Barrierefrei! For fifteen years now the working group has been developing concrete improvements on trains and platforms for individuals with disabilities. I would like to thank everyone involved very warmly for their work as 'experts in their own reality'."
Secretary of State Enak Ferlemann said:
"What DB has done over the past fifteen years regarding improvements towards being barrier-free is really impressive. None of this would have been possible without the informed and critical participation of the expert in the working group. I would like to congratulate everyone involved."
Government Commissioner Jürgen Dusel said:
"I welcome the activities of Deutsche Bahn and the work of the working group very much. Bringing about a barrier-free world is a demanding and vital task because the group of individuals with disabilities is very diverse. The idea of design for all must be standard in the future."
A law came into effect in Germany in 2003 requiring that persons with disabilities are given equal access. It was at this time that DB established its contact point for matters relating to passengers with disabilities as well as the accompanying working group.
DB Barrierefrei App
The new app allows passengers with cognitive, physical and sensory impairments to obtain all the necessary information along their route in a form suitable for them. All the information is available in written and audio format. Travellers are able to check whether escalators and lifts are currently working or not. Important changes to the travel itinerary are passed on via push notifications. The app is also useful for passengers with pushchairs or heavy luggage. More information is available under bahn.de/app-barrierefrei.
Barrier-free Mobility
Deutsche Bahn has been paying attention to making travel barrier-free when it has purchased and modernised trains and buses. It says its ICE 4 trains are setting standards across Europe in this regard. The company's regional trains and buses are also designed accordingly.
There have been many improvements to stations. Of the approx. 5,400 stations 77 percent are also accessible without requiring the use of stairs. Around 100 stations are added every years. 4,900 of the 9,00 platforms have been fitted with a tactile guidance system on the ground.
65 DB travel centres are barrier-free. Important aspects here are tactile guidance systems, a barrier-free announcement system, proper seating modules and counters that are height-adjustable for wheelchair users or growth-restricted individuals. The counters are further fitted with induction loops for the hard of hearing.
Ticket vending machines have been given bigger screens and fonts as well as high-contrast colouring to make them more usable.
To ensure that individuals with impairments can get an overview of the specific services they need from Deutsche Bahn the most important information is arranged in a target group-specific manner. There are options for the visually impaired/blind, for the hearing impaired/deaf, for the physically disabled and for cognitively impaired.