Complete Composite Systems' eco-friendly post-mix TECHNO-CRETE® can be used on site during freezing temperatures, making it the ideal all-year-round choice of foundation material.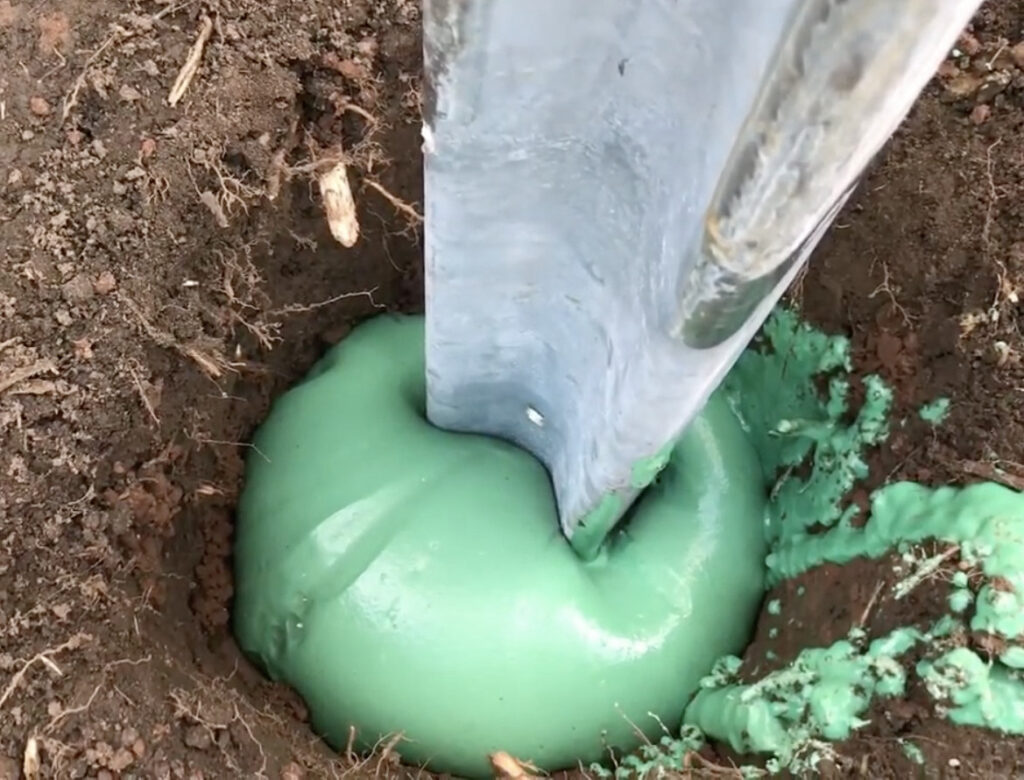 This benefit was highlighted during a recent installation project on the London Docklands Light Railway network. TECHNO-CRETE® was selected as the foundation material to support a root-mounted demarcation barrier with associated handrail system along the route, which ran between Shadwell to Bow Church, and Limehouse to Tower Gateway.
As construction began in January, temperatures plummeted to -3 degrees. In such circumstances the water required to mix concrete would have frozen, resulting in the job having to be delayed until temperatures rose. But in this case there were no such hold-ups for the on-site operatives, as the exothermic reaction of TECHNO-CRETE® still takes place regardless of ground or air temperature.
TECHNO-CRETE® is a hydrophobic polyurethane foam foundation system. Made from a blend of reprocessed oil from the catering industry and sustainably grown rapeseed oil, it is rapidly becoming the prime post-mix choice, offering a green and cost-effective alternative to concrete.
Supplied in two 1.8kg bags which are mixed together with no water required, the mixture foams to form a structurally robust, solid foam to securely hold the railings in place. One 1.8kg pack of TECHNO-CRETE®typically replaces three 20kg bags of concrete post mix, significantly reducing transportation costs and time, while that lower ratio of material used means a lesser amount of CO2 emissions is released into the atmosphere when using TECHNO-CRETE®. The larger the job, the further that environmental saving increases. The product's ease of use and minimal bulk also reduces the risk of personal injury from manual handling, and allows for quicker installation.

© Complete Composite Systems
More information about TECHNO-CRETE®, including a step-by-step instructional video, can be found on our TECHNO-CRETE® page here, while if you'd like to discuss how this foundation material can be used in all weathers for your infrastructure project, contact our team of technical experts at CCS.

© Complete Composite Systems
TECHNO-CRETE®is developed by Strucsol and the exclusive UK stockist is Scott Parnell.
This article was originally published by Complete Composite Systems.