Train operating companies have called for changes to be made to transport taxes to create a level green playing field with taxes taking pollution into account.
Currently, transport taxation does not take into account the negative externalities caused by the different modes, such as aviation. If transport taxes were to factor these costs to society in, then Britain would be able to 'build back better' via a green recovery from the coronavirus pandemic, according to the train operators.
At the moment, fuel for passenger aircraft is exempt from tax. Rail companies on the other hand have to pay levies on electricity to power their trains and these levies have more than doubled over the past four years. As a result, taxes are now almost 40 percent of the total electricity costs TOCs incur. Compared to other modes of transport, air passengers pay a much smaller proportion of the impact on the environment associated with their travel.
The Rail Delivery Group has therefore submitted proposals, part of a six-point plan, to influence the government's Transport Decarbonisation Plan. There could be an increase in taxes on air routes that are in direct competition with rail routes in order to cut prices for long-distance rail journeys. This would incentivise passengers to make more environmentally friendly choices domestically, but also when travelling to destinations such as Amsterdam, Brussels and Paris.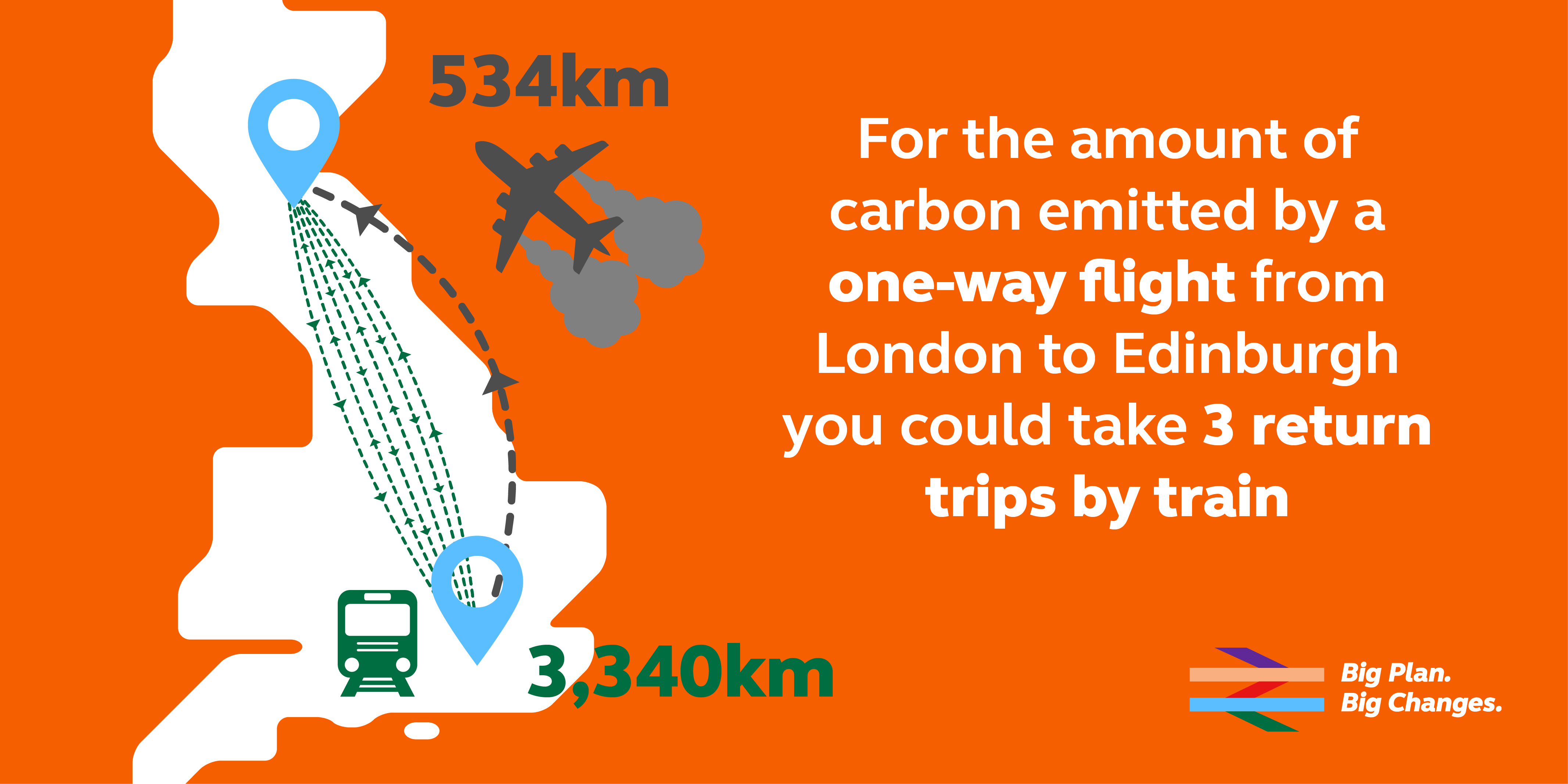 The proposals also include a repeated request for a reform to outdated rail fare regulations. The train operators say such reforms would allow them to offer substantial savings for many long-distance passengers. They could, for example, get rid of the cliff-edge between peak and off-peak prices. According to the RDG, walk-up fares would be cut for 80 percent of long-distance trains and the busiest trains would be less crowded. Both of these things would encourage 300m more people to travel by train over the coming ten years, they say. Spreading demand more evenly would allow track space to be used more efficiently and more capacity on the rails means a reduction in carbon emissions (compared to those passengers opting for a more polluting mode).
"To help Britain reach its target of net zero emissions, transport taxes should reflect how polluting a journey really is and encourage people to make greener choices. Rail is already an environmentally friendly way to travel and a fairer playing field on tax combined with reform of fares regulations could see trains play an even bigger role in helping Britain to go green."
In 2019 the British government published figures showing that carbon emissions from a domestic rail journey are more than six times lower than from a domestic flight. The Independent Committee on Climate Change (ICCC) further estimates that aviation will likely become the largest contributor to UK emissions by 2050.
"The polluter pays principle is an essential tool for getting people out of planes and cars and onto trains, buses and bikes. It can't be right that it's more costly to do the right thing for the planet. Rail and bus fares need to be cheaper and cycling made safe. The money to achieve this could come from higher taxes on flying and gas-guzzling cars."
The DfT decarbonisation plan is to be published later in 2020.
Other proposals in the plan include:
incentivising modal shift from road freight to rail freight
a rolling programme of electrification
the inclusion of carbon targets in future management contracts, with a new National Rail Body taking responsibility for carbon monitoring and environmental regulation
developing zero carbon, integrated transport hubs to promote active and low-carbon travel for onward journeys
Rail delivers 11 percent of total journey miles in the UK, but is responsible for only 2.5 percent of transport emissions.
Also read: