PowerRail, an AAR M-1003 quality certified company, has designed and engineered, in partnership with Smart Light Source, an LED headlight solution for Transit and Light Rail Vehicles.
The headlight, similar in design to the AAR-approved locomotive headlight, is currently being utilized at a major Transit Agency on the east coast. It offers high and low beam settings, and serves as a direct-fit retrofit when upgrading existing halogen or incandescent lamps to LED.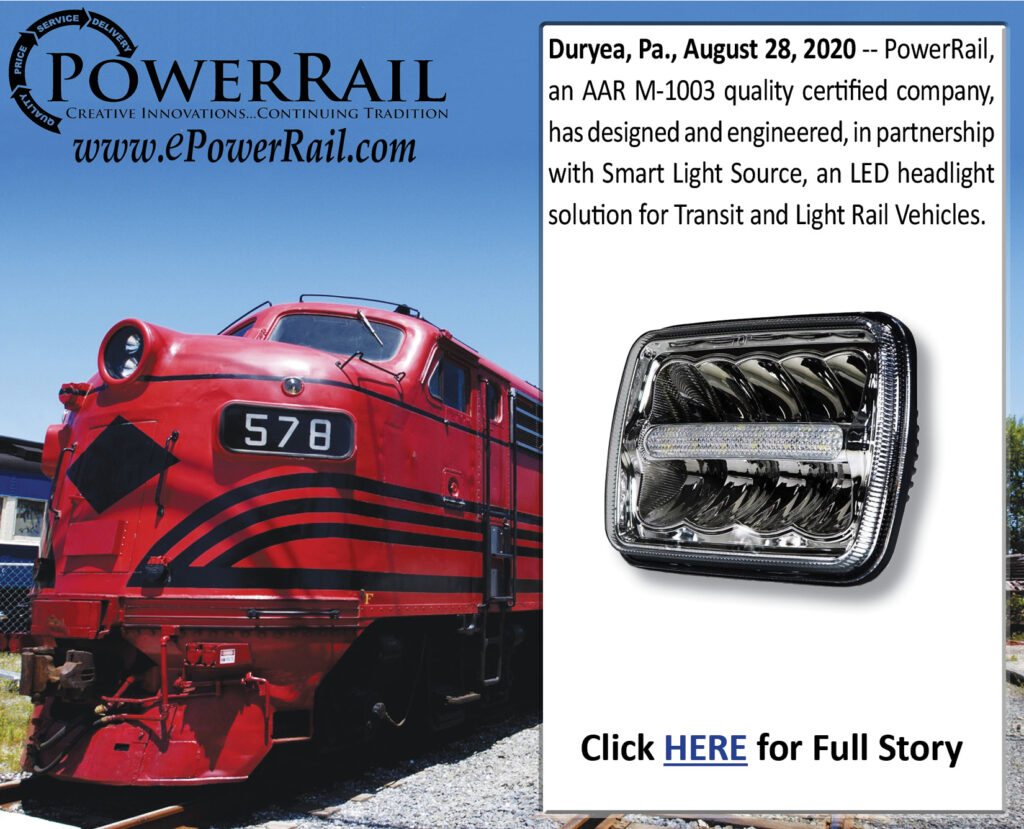 In addition to the new Light Rail LED headlight, PowerRail is changing the face of lighting inside the transit cars, as well. PowerRail has converted the interior lighting of transit cars for multiple agencies across the country. With their T8 LED and T8 LED Emergency Backup Tube Lights, these are the direct replacements for both T8 and T12 fluorescent lighting, providing an instant clip-in solution that gives operators ultra-long life and exceptional energy efficiency.
"The T8 LED and T8 LED Emergency Backup Tubes are perfect for refurbishment projects where energy consumption and long-life reliability are important. The T8 LED Emergency Tubes have a 90-minute illumination life if the main power source fails. These lights provide optimum light distribution for interior spaces and help create a more desirable lighting environment."
PowerRail, Inc.
PowerRail is a United States-based company, with additional locations in various parts of the world. Originally formed in 2003 in Wilke-Barre, Pa., the PowerRail Corporate Offices and Main Distribution Center are now located on a 7+ acre site in Duryea, Pa. The PowerRail Family of Companies proudly offers a wide range of rail-related parts and components. Locations include PowerRail Corporate, Avoca Rail, and PowerRail Industries all of Duryea, Pa; Cooper Bearings of Georgetown, Del; PowerRail Manufacturing, PowerRail Electronics Technology, and Rail and Traction North America all of Connersville, Ind; and PowerRail Locomotive Services and Mobile Maintenance of Monroe, Ga. International locations include PowerRail Europe and PowerRail Australia.
This article was originally published by PowerRail.