Delays when travelling can happen, and while the delay can't always be avoided, making sure you have the right information as soon as its available is widely expected.
Mistral Data have developed a solution that identifies travellers with impacted services and sends alerts about changes to their travel and what options they have to replan.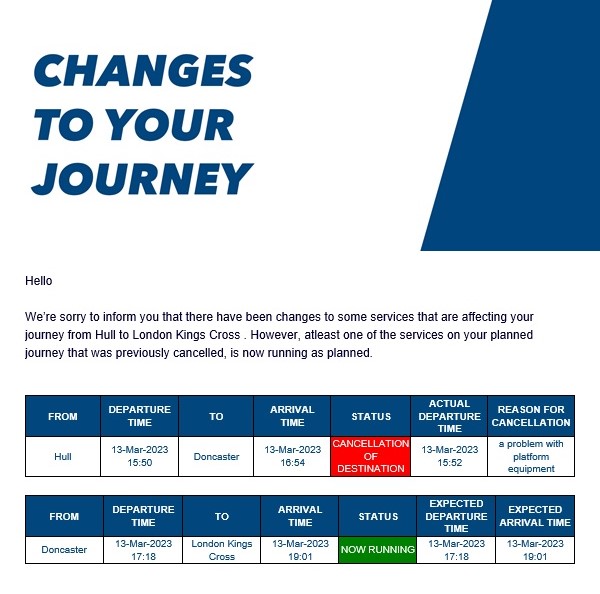 The solution identifies both planned timetable changes in the days leading up to travel, and real time on the day cancellations due to disruption.
Within the industry and without this solution, customers are not informed in advance and the onus is on the customer to seek out the relevant information themselves, creating a significant source of frustration for customers and a customer service challenge for Train Operators.
Using Mistral Data's communication platform Kamet, customers receive an email notification identifying changes to their booked travel. The customer's entire journey is replayed in the email notification, indicating the impacted legs, minimising confusion for the customer regarding which part of their journey is disrupted. Alerts are sent out as soon as industry systems are updated, giving customers as much time as possible to adjust their plans.
Using Kamet's easy to use template builder, the email also provides further information on validity of the customer's existing ticket for use on other services that are running, and where to go for help and advice on replanning their journey.
Kamet is a customisable and scalable communication platform – both easy to use and capable of handling high volumes of data within a second, and latency down to milliseconds – essential for communicating critical information during times of disruption.
Both Hull Trains and Lumo are using the service to make sure changes and cancellations reach travellers quickly.
"...has enabled us to make contact with customers when their train service is cancelled or delayed, which has really improved our customer experience and gives us more confidence to sell tickets for trains in advance of travel. There are also key benefits to our on-board colleagues who have less difficult situations to deal with when customers have tickets for a service that no longer exists. In addition, our call centre now experiences less call volumes as these issues have already been dealt with through an automated system, giving our agents more time to clear more complex customer issues."
Mistral Data are now looking at expanding the channels used to reach customers, such as Push Notifications into the customer app, and further real time use cases to develop.
This article was originally published by Mistral Data.