IMA Dresden – The Test Centre for the Rail Vehicle Industry
We are the independent and accredited test centre for rail vehicles; we support manufacturers and suppliers in the development process and assist transport companies with damage analysis and product optimisation.
Specifically, this means that we test and validate bogies, railcar bodies and lots of other rail vehicle components in our testing halls, including electrical components. If required, we also uncover structural damage using non-destructive testing techniques and analyse damage and material properties.
In addition, we conduct measurement runs, assess measured data and use these to define test programmes all over the world. We calculate and create virtual simulations of loads, assess the strength of products and areas of stress, and carry out strength and lifespan assessments. We also provide support for product development, taking strength-related, technological and structural boundary conditions into consideration.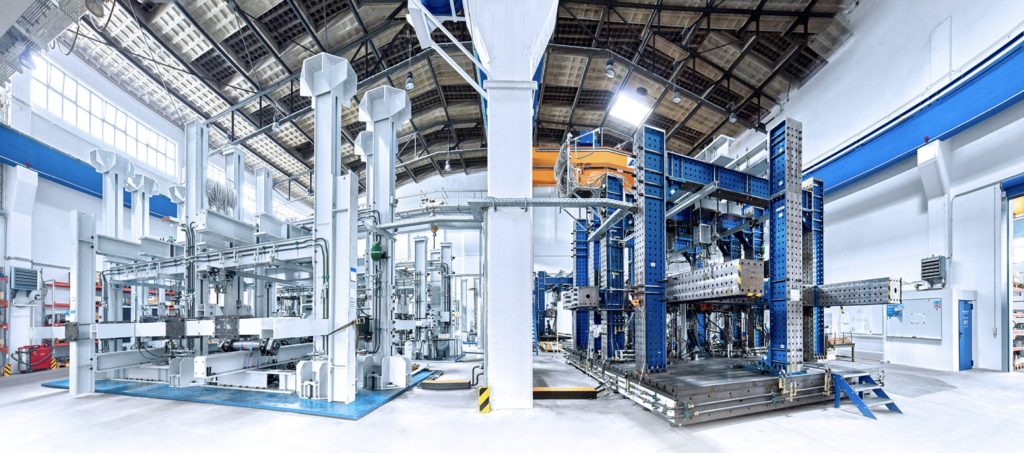 We Are the Market Leader:
In terms of material and component testing, you are in the best hands with us. Every year, bogies and railcar bodies fill the IMA test halls. They come to Saxony from Europe, America and Asia for experimental tests and approval tests. They are in good company here, with many further rail vehicle components such as axle-bearing housings, springs, swing arms, stabilisers, interior components, etc.
In Focus: Strength Tests on Bogies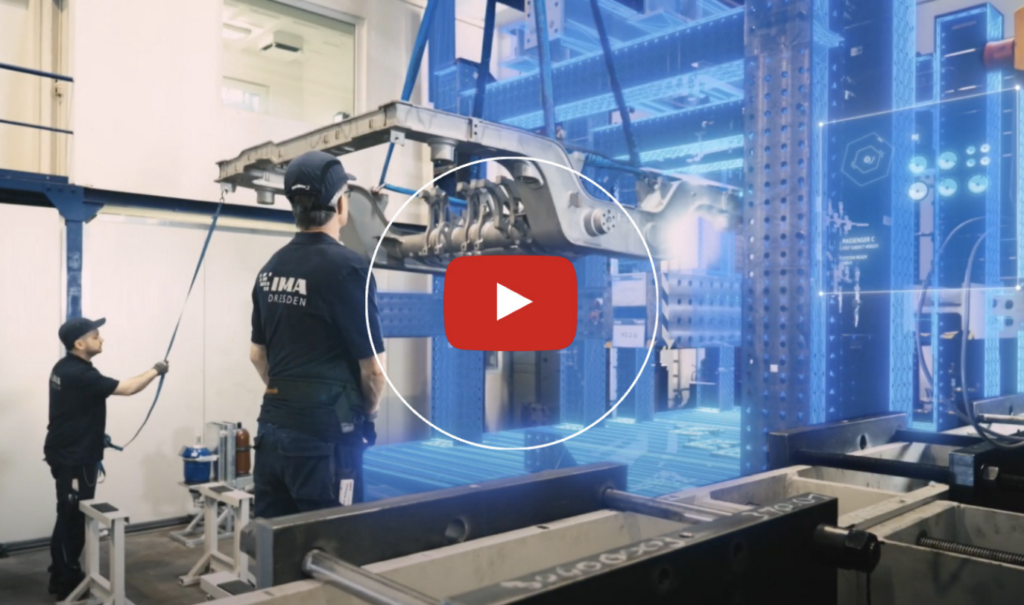 13 test benches on a test area of over 3,000 sqm especially for bogie frames
Whether you need carrying or motor bogies for locomotives, freight or passenger trains, we offer complete execution of strength testing, including transport and structural analysis, for the approval and development of bogies and bogie frames.
But even during the development and construction phase, our operating load tests, also called dynamic or endurance tests, provide clear readings and reliable results for potential product or manufacturing adjustments.
In this way, optimisation potential is leveraged and follow-up costs caused by weak points or structural deficits are avoided.
In Focus: Strength Tests on Railcar Bodies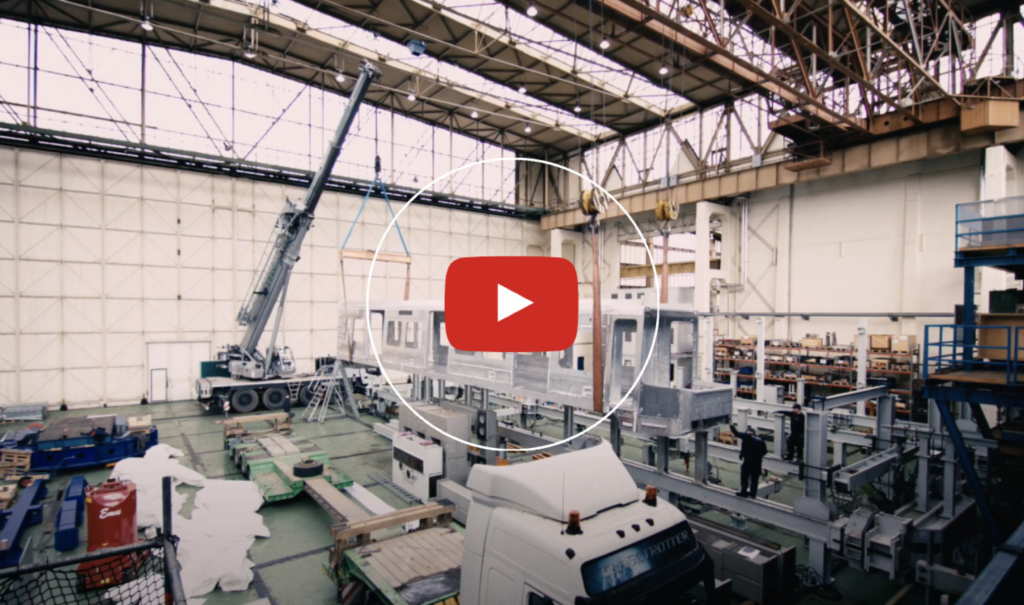 3 separate test tracks for railcar bodies to guarantee a high capacity. Sometimes it's like being at a railway station: a car body drives out and the next one drives in.
On average, we test between 10 and 12 car bodies on our premises every year. The focus is primarily on structural aspects, manufacturing techniques and lightweight construction.
We perform static and dynamic testing, with or without temperature load.
Whether double-deck car, tramcar or centre coach, our experience in strength testing is uniquely extensive, just like our testing capacity including three test tracks.
From Test Planning to Test Report: Rail Vehicle Components
In order to ultimately prove the strength of the components and guarantee their stability, we devote the utmost attention to railcar components, examining every detail you require and providing optimised testing scenarios.
We not only implement computational and theoretical but also experimental simulations for static and dynamic loads on components, develop test concepts and individual testing devices and elements for load introduction.
From the dimensioning and design to the verification of stability our test and calculation engineers co-operate intensively – in terms of reliable results.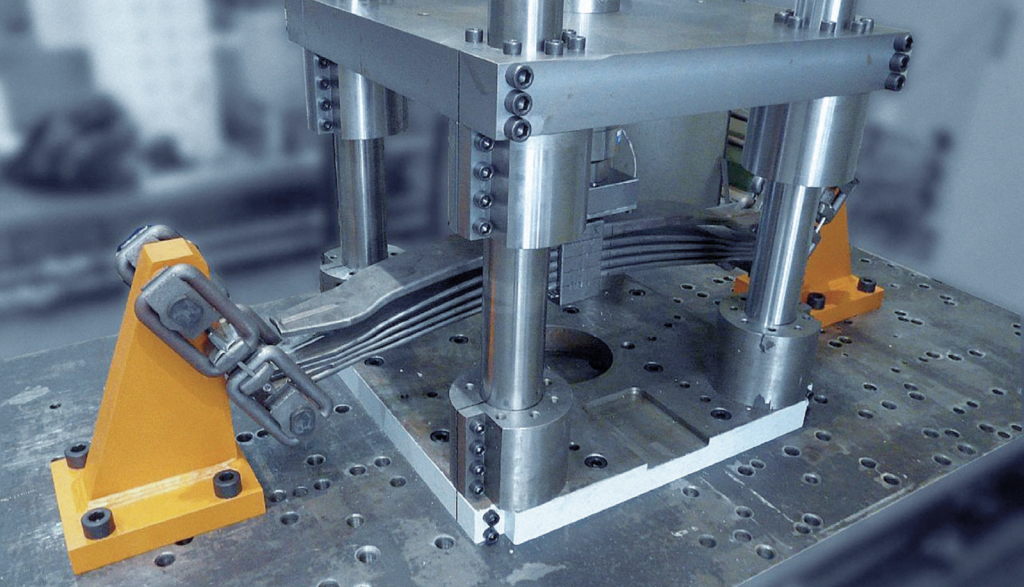 Damage Analysis
Despite new, innovative production technologies and manufacturing routines, damage can still occur as a result of product defects, installation errors or incorrect operation.
Causes may be material based and/or production related. In addition, a faulty design can cause product failure, while damage can result from loads or external influences.
Through a rigorous systematic approach, we can examine the direct cause of the damage by utilising material analysis methods.
We will identify the type of damage and determine the reason why it has occurred. In doing so, we also utilise mechanical technology, related, physical, material analysis and materialographic examination methods.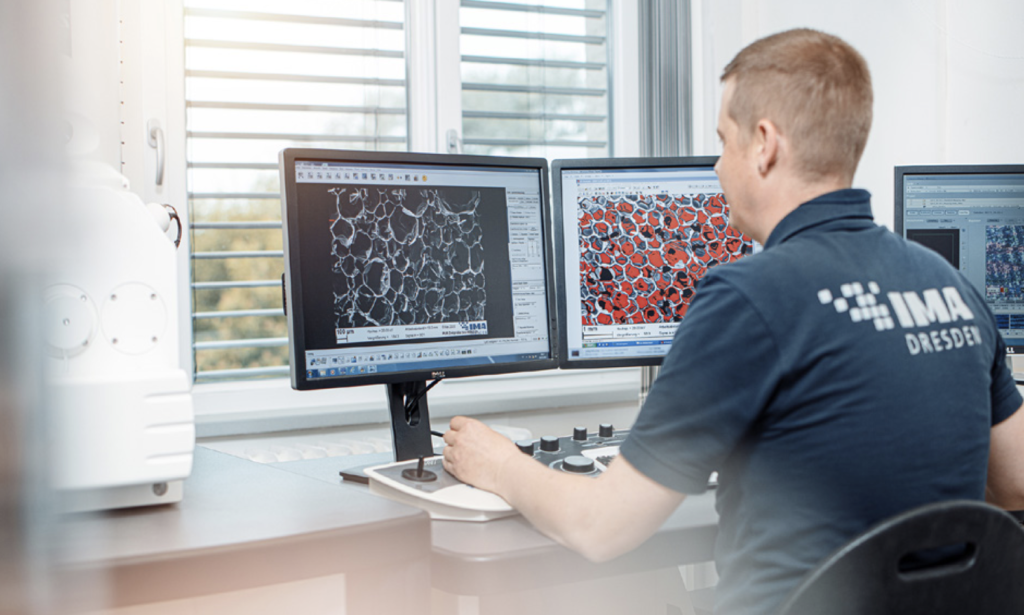 IMA Dresden – And It Works:
Structure and component testing
Material testing
Damage analysis and materialography
Non-destructive testing
Electrical testing
Simulation and strength assessment
Software systems for test and laboratory data