HEAR Accessible Passenger Announcements App Honored with the 2023 APTA AdWheel Grand Award
Championing Accessibility and Inclusivity in Transportation
GoMedia's grassroots educational campaign, has been presented with the prestigious Grand Award in the American Public Transportation Association (APTA) 2023 AdWheel Awards for Best Marketing and Communications Educational Initiative using Electronic Media.
The AdWheel awards aim to honor public transportation systems and business members for their "outstanding marketing and communications efforts that contributed to strategic organizational goals." Our instructional video on HEAR, Accessible On Board Train Announcements, demonstrates a prime example of educational communications that empower public transportation decision makers to make informed choices.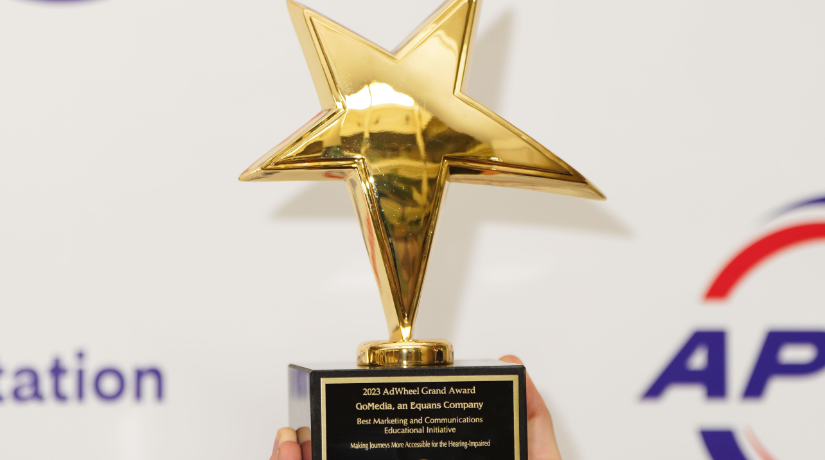 After facing a final round of judging of the 49 First Place winners, GoMedia was one of the APTA Business Members presented with a Grand Award at APTA's TRANSform Conference and EXPO on October 10, 2023, in Orlando, Florida.
"Making public transport inclusive is not just about fulfilling a function, it's also about instilling confidence in all passengers, regardless of their abilities. It's especially important for people with hearing loss, who may need assistance when navigating through a transit station, platform, vehicle, and eventually their destination. Therefore, on behalf of the team at GoMedia, I am deeply humbled to receive the Grand Award to recognize us for our accessibility work."
The video was created to:
1) educate deaf and hard of hearing passengers on how to use HEAR on board trains;
2) empower those passengers to travel independently and,
3) highlight the need for investment in accessible passenger announcements.
The video was narrated and produced by Sven Koster, GoMedia's Head of New Business & Innovation, using his keen eye for storytelling and his own mobile phone.
The story is never completely told; we need to continue to create compelling campaigns that explain the pressing need for accessible journeys, ensuring that transportation infrastructure and technological advancements cater to the diverse needs of all individuals.
The video was used in tandem with a survey with NGO partners for people with hearing impairments to discover the ease of travel and boost confidence. Of those surveyed, 96 percent of the people were more confident during their journey and hoped to utilize public transit for more of their travel – rather than on-demand transit.
HEAR, short for Hearing Enhanced Audio Relay, is an onboard digital service that delivers personalized journey information announcements to passengers with hearing loss. It addresses the pressing need for accessible passenger announcements, ensuring that transportation infrastructure and technological advancements cater to the diverse needs of all individuals.
"Winning this award is not just about recognition, it's a reminder of the importance of inclusivity in every aspect of transit. It's about making sure that everyone feels welcome and empowered to travel independently. We are committed to continuing to make a real difference in the lives of people with hearing loss, so we will continue to improve HEAR with the hopes of expanding its reach to other transportation systems across the world. Once again, we are humbled by this recognition and grateful for the opportunity to make a positive impact on the lives of others."
As narrated in the educational video, the HEAR application enables passengers connected to the onboard Wi-Fi to receive personalized journey announcements to their smart devices in real-time. These notifications can be specifically tailored to passengers' preferences, for example only informing them of announcements relating to their destination, in both audible and readable formats.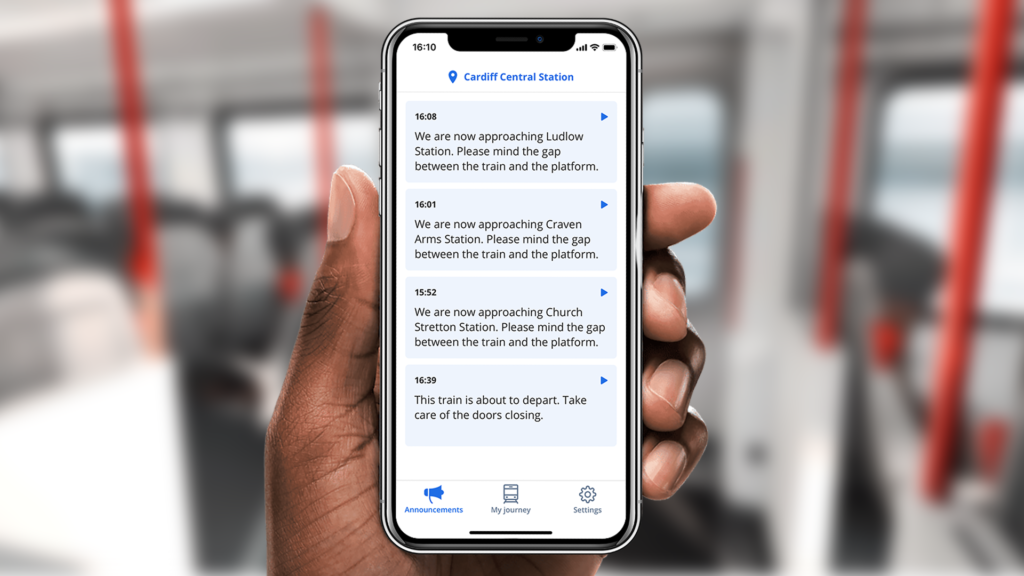 Trials of HEAR on Transport for Wales trains on the Rhymney line yielded remarkable results. Passengers with hearing loss received real-time, personalized announcements tailored to their preferences, available in both audible and readable formats, ensuring they did not miss crucial information about their journeys. Inspired by this success, the HEAR campaign was launched to showcase how effective HEAR is compared to traditional hearing loops.
According to the U.S. Department of Transportation, Bureau of Transportation Statistics, as of 2022, 11.2 million people, age 65 and older, have self-reported travel-limiting disabilities. According to the National Institute on Deafness and other Communication Disorders, one in eight people in the United States (13%), aged 12 years or older has hearing loss in both ears, based on standard hearing examinations.
"As an industry, we must continue to strive towards a future where accessibility is not an afterthought, but a fundamental aspect of passenger experience. We recognize that our work is far from done, and we remain fully committed to our mission of enhancing accessibility and inclusivity in transportation. Thank you, APTA, for this important recognition, which inspires us to continue working towards a more accessible future for all."
GoMedia – a subsidiary of Icomera and of EQUANS – developed the technology with support from non-profit organizations such as Hearing Link and Hearing Dogs with the aim of alleviating the challenges that passengers with hearing loss face. Through educational initiatives, community engagement, and advocacy efforts, this partnership is making significant progress in creating a more inclusive and welcoming environment for everyone.
HEAR was funded by the Department for Transport through its £9m 'First of a Kind 2021' competition, delivered by Innovate UK (part of UKRI).
To view all the APTA AdWheel 2023 Grand Award winners, click here.