GoMedia Transport Accessibility Solution Wins Two Categories at SPOTLIGHT Rail Awards
Icomera subsidiary GoMedia has won 'Service of the Year' and 'Delivering for the Customer' at the SPOTLIGHT Rail Awards for its accessible wayfinding solution for passengers with sight loss, 'Visor'.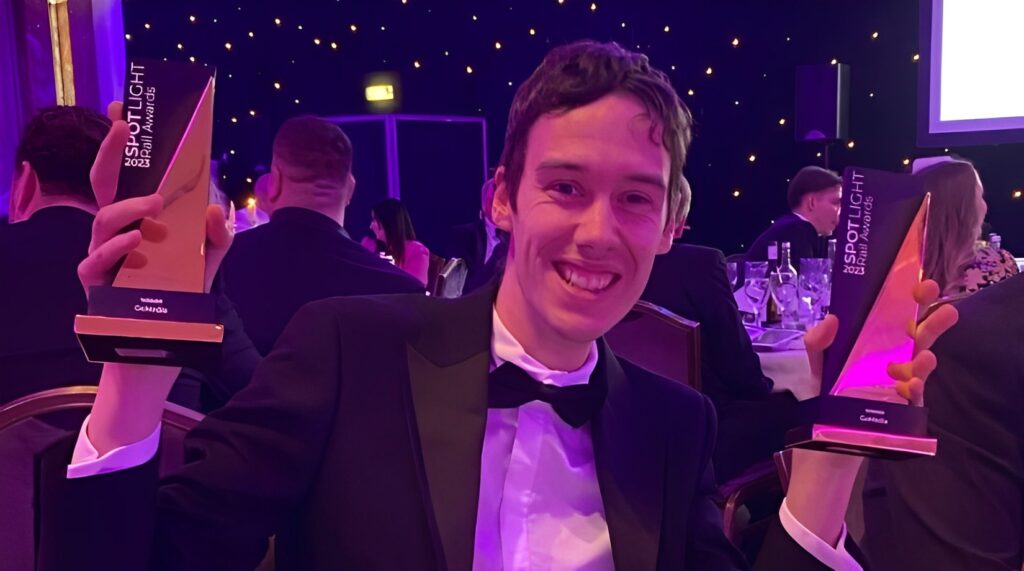 The SPOTLIGHT Rail Awards ceremony was hosted at the Royal Lancaster Hotel in London on Thursday 13th April, recognising members of the rail industry who are innovating to meet the key challenges presented by the post-COVID future of transport.
Transport systems, pavements, and built environments are often not designed to be fully inclusive for blind and partially sighted people, making them difficult to navigate, particularly if the environment is unfamiliar. The Royal National Institute of Blind People (RNIB) reports that 4 out of 10 blind or partially sighted passengers cannot make all the journeys they need or want to make.
Developed in partnership with RNIB, Visor enables passengers with sight loss to receive relevant navigation assistance in real-time directly to their personal smart device. Visor leverages NaviLens BIDI codes and GoMedia's live cloud-based passenger information system to display directions in the NaviLens and NaviLens GO wayfinding apps already adopted by the blind and visually impaired community.
Passengers simply hold up their smartphone. The device automatically recognises any BIDI codes in view and displays location- and context-specific directions in an accessible format, helping passengers navigate transport environments – both at stations and on board vehicles – independently and with confidence through the entire user journey.
Closed tests, conducted over the last two years at Euston station and on West Midlands Metro, by participants with a range of abilities, showed 94% of users could locate elements they were previously unable to find. 75% of the testers classified Visor as a fully inclusive service, and 86% felt it would reflect positively on transport operators if implemented.
"We are immensely proud to have been recognised at the SPOTLIGHT Rail Awards for the role we are playing in improving the quality of transport experiences for visually impaired passengers.
"Visor does not require the installation of any additional physical infrastructure aside from BIDI code stickers, presenting a fast and cost-effective accessibility win for transport infrastructure owners and operators."
"Navigating busy train stations can be tricky for everyone, especially for passengers with sight loss.
"This trial has enabled us to push the boundaries of technology to transform the passenger experience for everyone, through the lens of people with sight loss. Technology like this allows blind and partially sighted people to maintain a greater level of independence and choice."
This article was originally published by Icomera.