New Report Highlights Future Role of Connectivity in Passenger Transport as Onboard Wi-Fi Usage Surpasses Pre-Pandemic Levels
Mobile connectivity specialist Icomera is seeing more rail passengers connecting to its onboard Wi-Fi services than ever before – 134% of pre-pandemic levels
Travel patterns are changing too, with weekend travel now accounting for a greater percentage of weekly Wi-Fi sessions (25%) than during the same period in 2019 (21%)
This data and more has been made available through a new 48-page industry report – 'The Connected Journey Through Transport's Transformative Decade'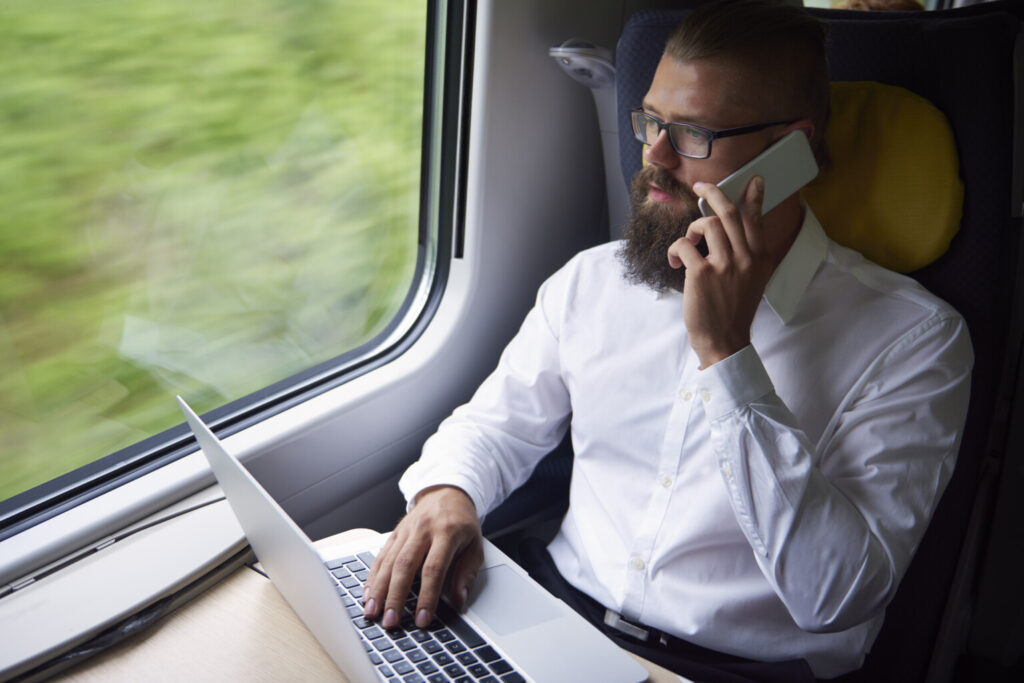 Icomera, the mobile connectivity specialist, and subsidiary of EQUANS, world leader in multi-technical services, has published a new report highlighting the trends and challenges shaping the future of passenger transport, and the role connectivity will play in achieving the industry's overarching goals.
Through its core competence of providing fast, reliable wireless connections to moving vehicles, Icomera is now seeing record Passenger Wi-Fi usage levels on trains – 134% of pre-pandemic levels – as new and returning travellers look to use their journey time more efficiently – contributing towards their day, and not disrupting it.
The report looks at factors that will influence the way we travel over the next decade, from pandemics, global conflicts, and climate change, to ageing populations and the blurring of boundaries between the physical and digital worlds.
"The future of transport will not develop in isolation. It will be important to understand the interplay between every area of smart connected modern living as it evolves."
Supported by data and insights gathered from transport authorities, operators, and technology companies around the world, the report posits that the transport industry needs to simultaneously pursue three objectives to attract passengers in a post-pandemic world, and meet the increase in demand that comes from shifting society's travel habits further towards sustainable, green mobility:
Catering for the evolving needs of business and leisure commuters, regardless of age or disability
Offering a safe environment that minimises the spread of disease, and guards against physical and cyber threats to individuals and to wider infrastructure
Achieving the above in a cost-effective and resilient way that also allows the industry to adapt to rapidly changing environmental, societal, and economic needs in the future
As a digital partner of many of the world's leading transport operators, Icomera supported numerous innovation trials and technology upgrade programmes through the pandemic, aimed at keeping pace with society's shifting approach to travel.
While Passenger Wi-Fi has historically been the most obvious application for 'Internet on board', the report also examines the potential of other connected applications, based on real-world deployments over the last 24 months. Examples cited include:
Real-time monitoring of vehicle occupancy levels with AI software-enhanced cameras, making it easier for passengers to choose less crowded environments to travel in, and feeding back into operators' fleet and staff capacity planning
On-demand remote access to onboard sensor data measuring the condition of infrastructure along a route, supporting a 'predict and prevent' maintenance strategy
"Today we're connecting more passengers to onboard Wi-Fi than ever before, but we are only offering them a glimpse of the many ways in which the industry will serve them in the years to come.
"One thing that many of the technologies and strategies underpinning the future of travel have in common is the importance of, and reliance on, real-time or on-demand access to information for all parties – Restoring confidence from door to destination, making every ride time-efficient for the passenger, and cost-effective for the operator.
"With an increasing number of onboard devices or systems requiring connectivity, the increasing value of the data they generate, and the increasing importance of its timely availability, ensuring the reliable and secure transmission of the data that all these systems generate and utilise, to and from the moving vehicle, is key."
This article was originally published by Icomera.