Great Western Railway Electric Train Tests
The first Great Western Railway electric train tests have been a success this weekend, following trial runs between Reading and Didcot. The test run was saw a new Hitachi-built electric train run from Reading to Didcot. The achievement marks a key milestone of the electrification project.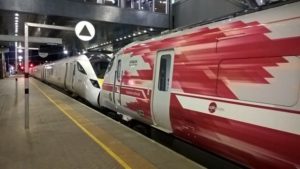 Hitachi Rail's new Class 800 Intercity Express Train ran from Reading to Didcot on Saturday 16 and Sunday 17 July 2016. The series of exercises was to test the new overhead electric power system. The train hit speeds of 200 km/h between the two stations. The test was overseen by Network Rail, the infrastructure manager in charge of electrification works on the entire line between London Paddington Station and Bristol, Cardiff, Oxford and Newbury. The train itself was supplied by Agility Trains and Hitachi Rail Europe.
The electrification works between Reading and Didcot were completed as a priority, in order to act as a testing ground for the power systems and the trains themselves. The train, a Hitachi Class 800 train designed especially for Great Western Railway, is part of the government's InterCity Express Programme (IEP). The programme is worth an estimated £5.7 billion, and will create 700 direct jobs and thousands of support jobs as part of its supply chain.  The fleet, which will be made in the UK, will total 57 trains, delivering greater capacity and an improved passenger experience.
Mark Langman, Route Managing Director for Network Rail Western, said:
"This is a great step forward, and I'd like to pay tribute to the team who have worked very hard to make this happen.  This is the future of rail being built before our eyes and it's a very exciting time to be involved in this project.  This weekend we've come a big step closer to providing faster, quieter, and more efficient services to the people of the region who depend on railways."
Testing will now continue as construction continues on the Greater West programme, with passenger operations scheduled to begin from summer 2017.