Britain, the EU and the Rail Industry
This article was first published in the Railway-News magazine, issue 3 / 2016:
In recent weeks, many, many people, politicians, businesses and unions have expressed their views about Britain's membership of the European Union. We've heard arguments and wild claims about a gamut of issues, from the economy, immigration and the NHS. However, what about the rail industry? How will the businesses, workers and passengers in this sector be affected?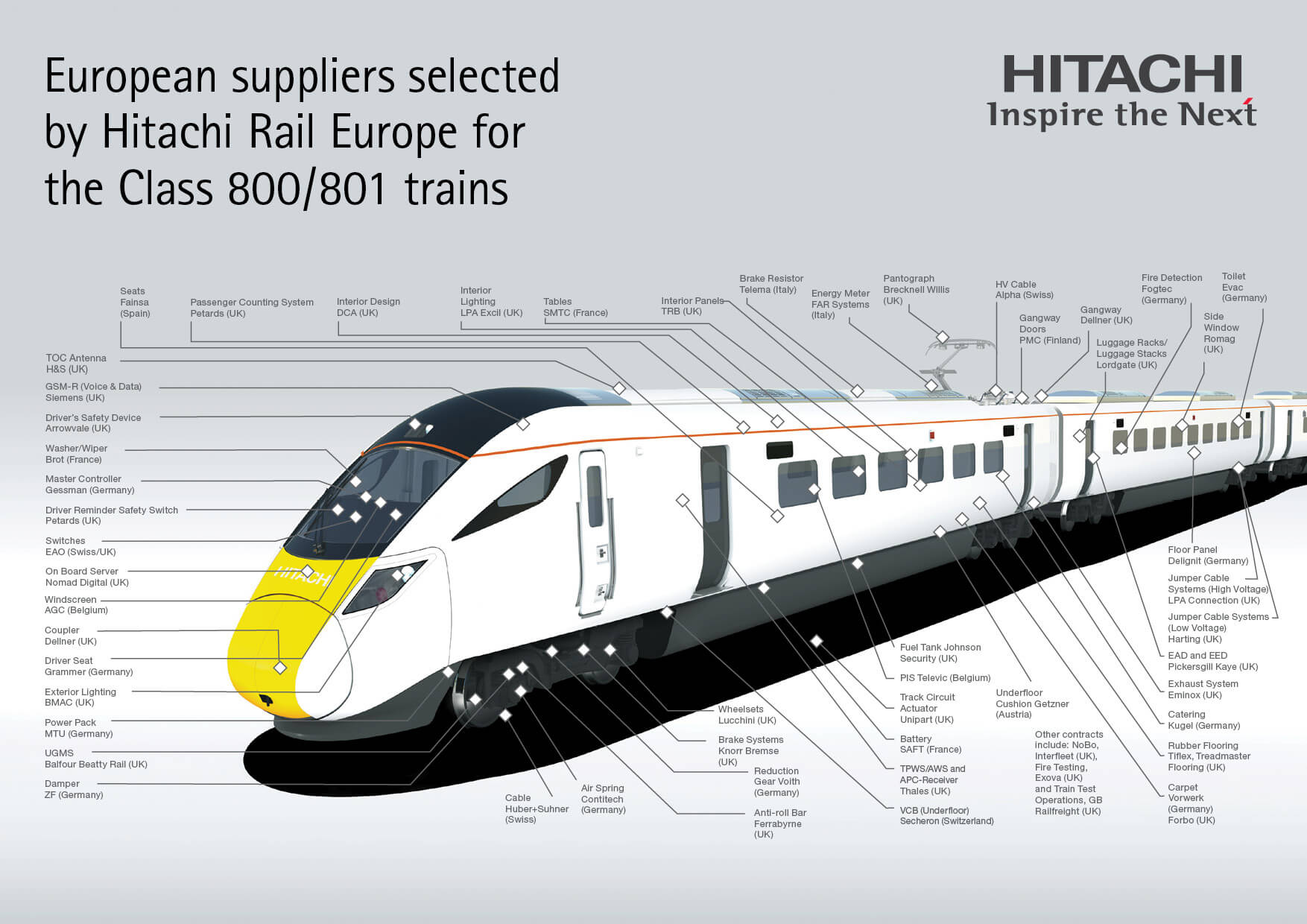 Of course, the main problem is, there has been absolutely no outline of what strategy the government would pursue in case of a British exit from the European Union. We by and large know what we're getting as an EU Member State, we know what powers and vetoes we have – it's a known entity. On the Leave side, however, things like immigration could go up or down, the economy according to countless experts is most probably going to get worse, some say irreparably, some are more optimistic than that. And then there are the countless little things the EU does that are far too numerous to mention here. One example comes from the MTM Power article in this magazine:
"The fire safety requirements were particularly complicated for trains used across international borders. Different national regulations had to be taken into account for various European countries."
In 2013 then, an EU-wide set of fire regulations was released to harmonise them across all Member States. National fire regulations become invalid in March this year.
Rail Industry Players
So what is the business opinion? Various industry players have spoken out.
Hitachi Ltd said:
"Hitachi, like other multinationals, invested in the UK in order to access the whole of the EU market, and unimpeded access to the EU market is fundamental for our position in the UK.

"We have made significant investments here across many of our businesses, in part, because of the UK's strong economic fundamentals, rich access to talent and position as a springboard to other European or EU markets. A potential departure from the EU creates uncertainty in terms of economics, trade, skills and talent – particularly in manufacturing, and would affect the stability that we need for continued investment and long-term growth.

"We believe that a strong and united Europe with the UK in a single, open market will be better for Europe's prosperity, and therefore for Hitachi's business. So, whilst we recognise that this is a decision for UK voters, Hitachi hopes the referendum will result in a positive decision to remain in the EU."
Siemens, who are involved in railway electrification, rail automation, and all manner of trains, from regional to high-speed an intercity, said:
"We see the main benefits of EU membership as: tariff-free access to the UK's biggest export market; a common set of rules between 28 countries that reduce business costs; and access for British businesses and universities to EU-wide innovation and research initiatives, which are helping to shape the industries of the future. These advantages help to make Britain a better place to do business, not just for Siemens, but for companies across our supply chain and beyond.

[…] A new trade deal with the EU could take many years to conclude and it is impossible to predict the terms that will be agreed and at what price. This uncertainty, and threat of increased costs, could make the UK a less attractive place to do business and may become a factor when Siemens is considering future investment here."
Airbus, who also make train simulators, have likewise issued a statement in favour of Remain. Richard Branson, CEO of Virgin, said:
"Leaving would be very damaging for Great Britain."
BT, whose subsidiary, BT Cables, is active in the rail industry as indicated in their contribution to this magazine, has also come out in favour of Remain.
Remaining neutral on Brexit matters other than the economy, these companies are saying that they choose the UK as a location because it gives them access to the single market. They are multinational corporations. In the EU, workers and goods can move easily between countries, allowing companies to draw on the skills of a much larger EU-wide workforce and giving them the ability to manufacture and sell their goods competitively.
Of course it would be possible for the UK to negotiate access to the single market in the event of a vote to leave. However, even the uncertainty surrounding this issue and the final terms the UK will end up with will cause economic woes, as illustrated by pound sterling falling by nearly 2% to its lowest point since 2009 when former mayor of London, Boris Johnson, announced his support for the Leave campaign.
Uncertainty is, however, the best-possible outcome. Many on the Leave side have stated they do not want the UK to be part of the single market. Ardent Leave campaigner and Justice Secretary Michael Gove said quitting the EU would mean quitting the single market.
Economists for Brexit propose that the UK would be better off outside of the EU if it opted for the solution of unilateral market liberalisation. That would mean no import tariffs and no protections for jobs in the UK, as illustrated by the recent events with Tata Steel and the problem of too much steel from China ruining UK steel production. This is obviously bad news. In January 2016, Network Rail stated:
"As passenger numbers grow and the number of trains running on Britain's railway continues to increase each year, so too does the need for Network Rail to replace worn out track – and it's British steel which does the job. A five-year contract with Scunthorpe-based Tata Steel UK ensures that 96 per cent – or 120,000 tonnes – of the steel rail procured by Network Rail is made in Britain."
Yet, Vote Leave's economist Patrick Minford, writing in the Sun, does not seem perturbed, admitting that a vote to leave would mean the following:
"Over time, if we left the EU, it seems likely that we would mostly
 eliminate manufacturing, leaving mainly industries such as design, marketing
and hi-tech. But this shouldn't scare us."
How would workers be affected?
Companies in the rail sector that have gone on record have spoken out in favour of Remain, avoiding uncertainty and giving them access to the single market. In addition, many businesses vital to the rail industry could face ruin.
Obviously, if companies are losing revenue or are even struggling to get by, this is bad news for workers. Indeed, Leave campaigner Michael Gove said:
"I can't guarantee every person currently in work in their current job will keep their job."
And despite the majority of unions, including Unite, Unison, GMB and Usdaw, coming out in favour of Remain, RMT, the transport union, said in April: "It's a myth that the EU is in favour of workers." On 8 April, the Financial Times reported:
"The RMT, which has long been Eurosceptic, said that the EU was attacking collective bargaining and other workers' rights in countries such as Greece that had been bailed out. It also said that EU rail policies would make renationalisation impossible."
(As a side note, this last claim is odd, because other EU Member States have nationalised rail companies, such as France with SNCF, Germany with Deutsche Bahn and Italy with Trenitalia, and Network Rail in the UK is also in public hands.)
The TUC on the other hand commissioned a legal report by Michael Ford QC, in which he said:
"It is easy to contemplate a complete reversal of the gradual increase in social regulation protecting workers, which has taken place since the 1960s."
The fear is that the EU is not supportive of workers, as evidenced by the austerity measures put on countries such as Greece and Portugal as a result of the Eurozone crisis. However, it is important to remember that a vote to leave the EU might not alleviate workers' concerns about their rights. The general secretaries of Unite, Unison, GMB and Usdaw wrote a letter to the Guardian in which they stated:
"Throughout the 1980s and early 1990s the British trade union movement worked in solidarity with our European partners and fought hard to secure valuable working rights legislation at EU level," adding: "To this day these rights – including maternity and paternity rights, equal treatment for full time, part-time and agency workers and the right to paid leave – continue to underpin and protect working rights for British people.

"If Britain leaves the EU we are in no doubt these protections would be under great threat. Despite words to the contrary from figures like Iain Duncan Smith and Michael Gove, the Tories would negotiate our exit and, we believe, would negotiate away our rights. We simply do not trust this government if they are presented with an unrestricted, unchecked opportunity to attack our current working rights."
It seems to me that there is a safety in not having one national government have the ability to remove such rights.
Vote Leave and the Government Response
Railway-News contacted Vote Leave for a statement regarding their position on the rail industry. A spokesperson for Vote Leave said:
"The UK rail network is suffering from a crisis of overcapacity and under-funding. And our membership of the EU is doing nothing to help either of these.

"Brussels bureaucrats are planning to create a new international rail freight corridor on the West Coast Mainline, putting even greater pressure on an already overstretched service. The UK Government challenged this decision but was rejected by the European Court, demonstrating how much control we've handed over to the EU.

"Every week we send £350 million to the EU. After we Vote Leave we can take back control of our rail industry and spend this money on our priorities like investing in our transport infrastructure."
First of all, the £350 million per week figure has been debunked. The Institute for Fiscal Studies puts the figure at around £150 million per week, when all aspects such as the rebate have been considered. Furthermore, the IFS says that the economic impact of a Brexit would more than offset any money the UK sends to the EU.
In addition, there is nothing stopping Britain from investing in the UK network as a member of the European Union. Indeed, Rail Minister Claire Perry said at a speech given to the Rail Engineers Forum Technical Seminar 2015:
"So, our plan is to invest record amounts in infrastructure. More than £70 billion between now and 2020. On the railways, we are building HS2, Crossrail, and pressing ahead with plans for Crossrail 2. But we are also funding the biggest investment in our classic rail network since Victorian times."
Further, it would seem that if we are currently suffering from overcapacity, then that is good in the sense that there is real demand for rail travel and therefore investment in this area will pay off. Railway-technology reported in September 2015 that
"Over the past ten years, Spain's railways have been expanding at a rapid pace, thanks to huge national investments and European grants. Currently struggling with feeble passenger demand, the country is trying to reclaim dwindling profits by dedicating millions of euros to construction and improvement works across key sectors of its rail network."
In addition, the EU is contributing funding to rail projects in the UK. UK rail companies have been awarded more than £80 million in EU funding from the Connecting Europe Facility. Here's a list:
DB Schenker UK Ltd: €1 million
DfT and HS2: €39.2 million
Department for Regional Development (Northern Ireland): €24.1 million
Network Rail: €6.5 million (partially a joint application)
Transport for London: €4 million
Siemens PLC UK (joint application): €5.7 million
West Midlands ITA: €0.9 million
The Department for Transport told Railway-News:
"UK Rail projects also benefitted from the CEF's predecessor, the Trans-European Transport Network (TEN-T) programme. From 1996–2013 over 60 rail projects received around €500 million in funding. HS1 was the largest beneficiary with over €250 million.

The European Investment Bank (EIB) has also made over 30 loans to UK rail and light rail projects totalling over €10 billion."
Now, the Vote Leave campaign reference an instance where the UK government challenged an EU decision in the European Court of Justice and lost. This is correct. The case in question is case C – 121/14. Essentially the UK government was required by the EU to spend money developing a rail freight corridor all the way to Scotland. Instead, the UK government wanted the extension of the corridor to go only as far as London. It seems odd that Vote Leave say on the one hand they want more investment in rail, and yet the one case they cite against the EU is one where an EU regulation requires the UK government to spend money on rail. This reminds me of something a colleague once said to me:
"Brexiteers prefer bad decisions made in Westminster over good ones made in Brussels."
Because it seems to come down only to who is making the decisions, not whether they are good or not.
A government spokesperson meanwhile told Railway-News:
"Our membership of the European single market makes us stronger, safer and better off. This ruling will have no impact on existing passenger services.

"Damaging our economy by leaving the EU single market will mean less money for public services and important infrastructure like rail. Rail connections to Europe are vital and the rail freight industry is worth around £1.6billion a year to our economy, reducing traffic and improving safety on our roads and delivering environmental benefits. We are also investing record amounts to modernise our own rail network to make it fit for the 21st century."
Rail Passengers
And last but not least, what about passengers?
Membership to the European Union currently means the freedom to live, study and work anywhere within the EU and to go on holiday of course. With Britain outside of the Schengen Area, rail travel between Britain and mainland Europe requires a passport, but not more. The EU is also pushing to open up the rail market in the same way it opened up the aviation market. With increased competition come better services and cheaper prices. With a reduction in red tape thanks to harmonised regulations throughout the 28 Member States, it is cheaper for Train Operating Companies to register and manufacture their trains, and therefore rail travel overall is cheaper.
That is not to say that a UK government in the event of a vote to leave would not continue its efforts with the ERA, aiming to install ERTMS and create a Single European Railway Area. But whenever the Leavers are asked about a specific policy and whether they would abandon that one post-Brexit, they say no, we can keep that. Well, if we can keep it all and, more, we want to keep it all, why would we want to leave? The EU is built on four freedoms – the freedom of movement of people, goods, services and capital and the rail industry epitomises those freedoms. It is, ultimately, a very European industry.