Hitachi Rail and RCA Announce Vehicle Design Competition Winners
Hitachi Rail Europe and the Royal College of Art have announced the winners of the vehicle design competition. The contest requires students to create new concepts for London's deep tube and high-speed rail trains. The winners were announced at an event at the London Transport Museum on 18 May 2016.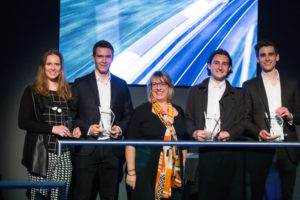 The winning design for the high-speed train was Team Hive, consisting of Andrei Nour, Kaize Zheng, Anna Ekstrom and Rosie Green. The winners of the deep tube award was Team Revitalise + Empower, consisting of Cas Dahmen, Sam Philpott, Kate Webster and Oliver Dixon.
This is the sixth year running that Hitachi Rail Europe and the RCA have joined forces to work on the Vehicle Design Studio Partnership. The initiative was intended to inspire the next generation of designers to address the pressing issues for rail passengers at the moment, and in the future, and to improve the experience of rail travelers.
Karen Boswell, Managing Director of Hitachi Rail Europe, presented the awards, said:
"This is the sixth year Hitachi has collaborated with the RCA to find innovative solutions to challenges in train design, and I am delighted that this year's students have developed exciting new concepts for London's Tube as well as high-speed trains. As a business we are continuously looking for new sources of inspiration and innovation to improve fare-paying customer journeys, and collaboration of this kind acts as the starting point for transforming rail travel here in the UK."
Professor Dale Harrow, Head of the RCA Vehicle Design Programme, said:
"We are fortunate to have had Hitachi Rail Europe partnering with us for our third vehicle design competition around London's deep tube and high-speed rail travel. Working with a leading train manufacturer means that our students have access to up-to-date technology and expertise in rolling stock design as they develop their own innovative ideas."
The winning designs will have their work exhibited at MetroRail at the Business Design Centre in London, and also later in the year when it will form part of the Hitachi exhibition at InnoTrans in Berlin. The winners have been awarded paid research project trips to attend InnoTrans, and two winners, Andrei Nour and Cas Dahmen, will take part in an internship at Hitachi's Design Division Office in Tokyo.