All-in-One Railway Resource: Simplified Guide to Design & Install Using 3D GEOWEB® Geocells
Stabilize your toughest, chronic maintenance areas using the GEOWEB® 3D Soil Stabilization System with lower cost and higher performance.
Use our Rail e-binder to find resources to evaluate, design and install the GEOWEB® 3D system for:
Track sub ballast over poor sub grades
Grade crossings, intersections + bridge abutments
Unpaved yards and under pavements
Vulnerable slopes and walls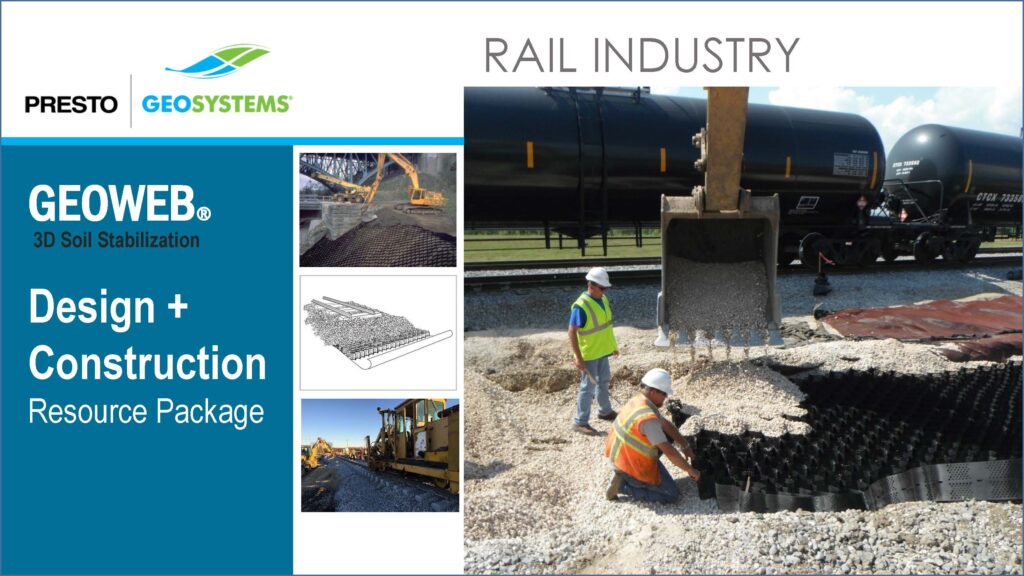 About Presto Geosystems
Originally invented in the late 1970s by Presto Geosystems in collaboration with the U.S. Army Corp of Engineers, the GEOWEB® 3D Cellular Confinement System (Geocells) was developed for support of heavy military vehicles over weak subgrade soils. Four decades and thousands of successful installations later, GEOWEB® Geocells have stood the test of time and have evolved to become a trusted geosynthetic solution for a variety infrastructure-related applications, including those of the railway and port industries.
Presto's GEOWEB® Geocells have been successfully deployed in the railroad industry worldwide to assist with ballast reinforcement, intermodal/port stabilization, subgrade improvement, and erosion control. Whether for new construction or repair work, the GEOWEB® Soil Stabilization System is a trusted, versatile solution to solve soil stabilization problems challenging the railroad industry.
This article was originally published by Presto Geosystems.