Geosynthetics combine to create stiffened trackbed and increase critical velocity of track in soft soil area.
Featured Project:
Borders Railway, ScotRail Edinburgh to Tweedbank
Project Background:
The area approaching the Galashiels Rail Station was found to have particularly wet and marshy peat ground requiring additional trackbed stabilisation.
The GEOWEB® 3D Confinement System was chosen to stabilise this area of track by creating a stiffened ballast layer which reduces sub ballast depth requirements by at least 50%. Using the GEOWEB system in railway track bed improves track quality performance, reduces maintenance intervention and significantly reduces site excavation requirements where sub-grade stiffness improvements are required. The GEOWEB material carries Network Rail approval for track drainage with PADS numbers covering 100mm, 150mm, and 200mm depths.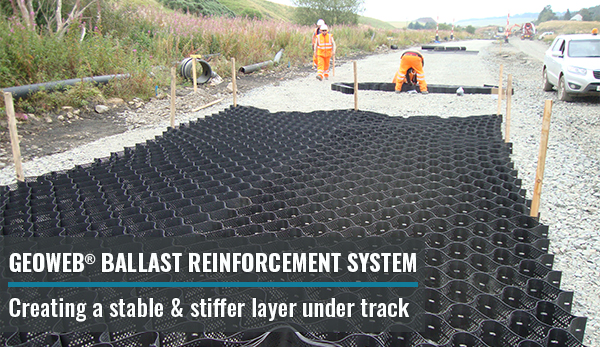 Evaluating a Solution:
Product Selection
Greenfix UK worked with main contractor BAM Nuttall Limited, a construction and civil engineering resource for the rail industry, to establish the most appropriate grade and depth of the GEOWEB® 3D system to perform with the exceptionally soft ground conditions. The GEOWEB system's ability to perform in soft subgrades and suitability for this application was supported by test results from the Transportation Technology Center in Colorado.
Design Phase
Design work was performed by Greenfix UK in conjunction with local track engineers. The use of the GEOWEB 3D system would create a stiffened ballast layer and reduce ballast depth requirements at least 50%. Two layers of 150 mm GEOWEB material were selected as the most suitable depth for this challenging site.
Installation of the Ballast Reinforcement System:
Ballast Strengthening Layers
A geotextile separation layer and geogrid reinforcement layer were laid over the prepared aggregate base, followed by another layer of aggregate. Next, GEOWEB panels were expanded and positioned two panels high and two panels wide across the trackbed to cover a width of 5.2 meters.
Efficient Construction
GEOWEB sections were installed end-to-end and side-to side with 'turn and lock' ATRA® keys. The connection keys are fast and easy to install—and assure a secure connection at each GEOWEB joint for optimal performance.
ATRA Keys are also permanent connections—3X stronger and faster to install than stapling, and safer. Made from corrosion-resistant polymer, ATRA keys will not degrade over time.
About Greenfix UK
Greenfix UK's technical staff provided support to the designers and client as required and were onsite to train and advise the contractors responsible for the installation. (Project information and material supplied by GREENFIX UK.)
This article was originally published by Presto Geosystems.