Webinar Announcement—March 14, 2023: Rail Ballast Stabilisation with the GEOWEB® 3D Geocells
Ballast degradation can rapidly occur under heavy axle loadings over soft subgrade soils. Ballast failure can lead to speed reductions, track downtime, and costly maintenance and repairs. Using the GEOWEB® Ballast Stabilisation System reduces the vertical pressure reaching the subgrade and provides a high-stiffness foundation. GEOWEB stabilised ballast significantly reduces ballast movement, aggregate rotation, and rail settlement—resulting in increased ballast life and long-term performance.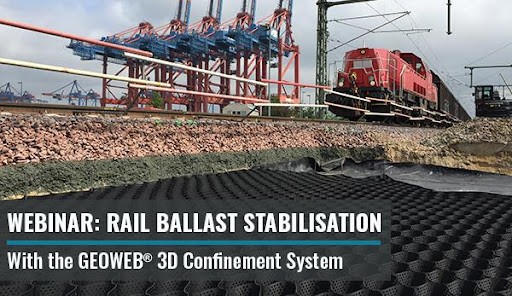 Learning Objectives:
Understand the benefits of GEOWEB-stabilised ballast from accredited research and testing.
Learn how the GEOWEB stabilisation system can reduce vertical ballast pressure and ballast movement.
Understand the typical applications for GEOWEB ballast stabilisation.
Learn how to apply GEOWEB stabilisation to extend rail life and reduce maintenance.
Reserve your seat here today.
This article was originally published by Presto Geosystems.