GEOWEB® 3D Geocells Provide Pavement Base Reinforcement Solution at Auto Storage Yard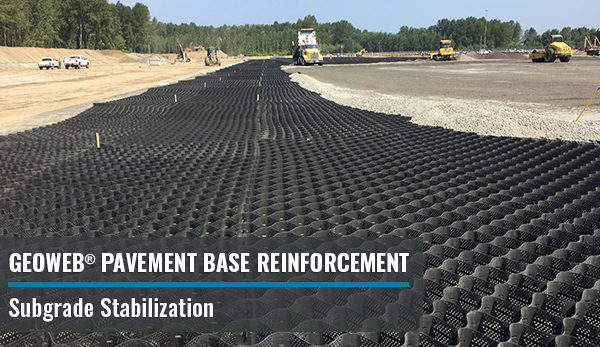 Project Location:
Renton, Washington
Project Background:
In 2018, BNSF Orillia Railway began making extensive upgrades to its automotive distribution facility in Renton, Washington. The upgrades were required to support the increased demand for new automobiles.
The 20-acre storage yard's poor subgrade soil consisted of a layer of sand, clay, and silt with a portion of the area located over organic fill. The low-strength subgrade required a soil stabilization solution to reduce over-excavation and control project costs. The engineer chose the GEOWEB® 3D Soil Stabilization System for its superior load distribution, low maintenance, and cost-saving benefits.
The GEOWEB System Provides a Pavement Base Reinforcement Solution:
Approximately 900,000 square feet of Presto Geosystems GEOWEB (6-inch-deep) panels were installed over an enhanced geotextile, filled with recycled, crushed concrete, and finished with an asphalt wearing surface. By using the GEOWEB system, the facility was able to reduce the overall cross-section depth, which limited over-excavation by 80,000 cubic yards and reduced project costs. The GEOWEB system provides the ability to span unknown pockets of very soft soils, which will limit settlement while increasing the pavement life.
Read the full case study & view project photos here.