Tikhvin Freight Car Building Plant, a subsidiary of United Wagon Group, has sent a number of flat cars it is manufacturing for Deutsche Bahn for testing. The flat cars, model Sggrs80, will transport heavyweight containers. Deutsche Bahn signed a contract with United Wagon Company for 160 units.
Chief Procurement Officer at Deutsche Bahn, Uwe Günther, and Head of Asset Management & Technology at DB Cargo, Thomas Jäger, were there for the dispatch of the flat cars, as was UWC's Chief Executive Officer Timofey Khryapov.
Flat Car Testing
Over the course of several months the flat cars will be put through their paces. They will undergo both stationary and dynamic testing. UWC says key aspects will be the longitudinal and vertical stress tests on the frame structure, testing shock absorption for both empty and loaded cars, testing the performance of the braking system, and testing the safety of the cars' movement along winding routes.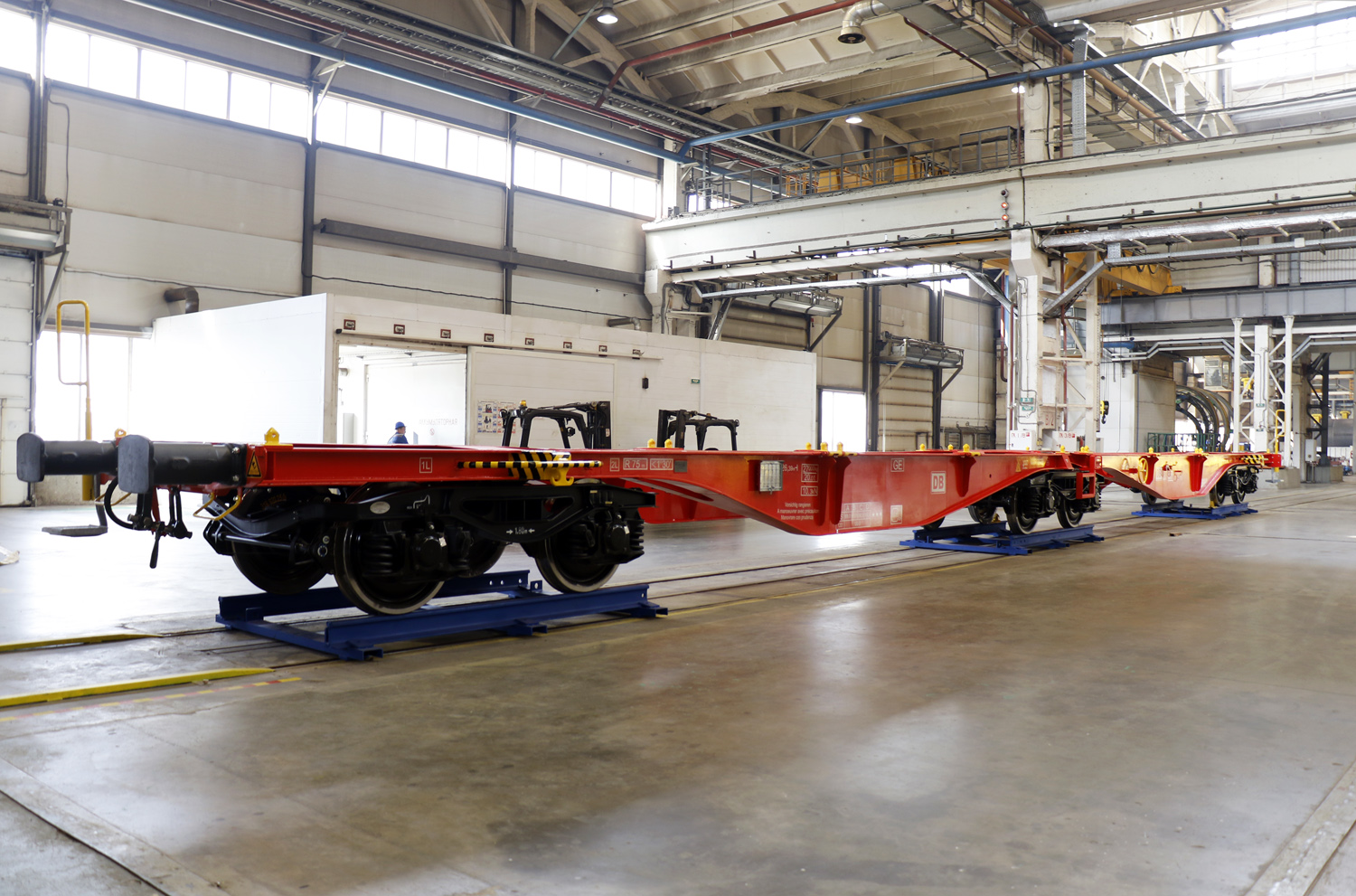 Uwe Günther, Chief Procurement Officer at Deutsche Bahn, said:
"As we are planning to develop our freight shipment division, we will soon need an additional fleet of freight cars and railway engines. Since German manufacturers cannot fully meet our demand for rolling stock, we seek to collaborate with other companies, including Russia's UWC. When choosing a supplier, we look first and foremost at the quality of the product being offered to us, and whether the car manufacturer meets the requirements of certification bodies and of our customers. I would like to point out that UWC meets all of these requirements. The cars we saw today received high praise from our team and will now be able to undergo a full series of tests at our testing facility. We hope the results will meet our expectations."
Timofey Khryapov, Chief Executive Officer at United Wagon Company, said:
"The UWC Group considers strengthening its positions in foreign markets as a global strategic goals. Collaboration with Deutsche Bahn is an important step towards achieving this objective. We hope that our engineering and production competencies will be highly valued by European consumers."
Sggrs Flat Car Development and Manufacture
The UWC subsidiary All-Union Research and Development Centre for Transportation Technology has been developing the articulated flat cars. The UWC Group manufacturing facility in Tikhvin is producing them. Once complete, they will go through the certification process to guarantee their compliance with European TSI standards. This should be in place by the end of the year.
The Sggrs flat cars are 80 foot six-axle units. Their loading capacity is 108.6 tons. They are able to transport ISO containers, tank containers and swap bodies of various sizes with a gross maximum weight of 36 tons.
The flat cars for Deutsche Bahn weigh less than the conventional rolling stock of this type in Europe. The flat car bogies each have an axle load of 22.5 tons and are for use standard-gauge tracks.
Also read: