United Wagon Company Delivers 60 Heavy Duty Flat Cars to TransContainer
Russian freight car manufacturer United Wagon Company (UWC) has completed a contract for 60 flat cars. The customer, TransContainer, required these bogies to have an enhanced axle load. UWC won the contract following an open tender process. Intended for the transport of heavyweight containers, the entire order was delivered to the customer in December 2018.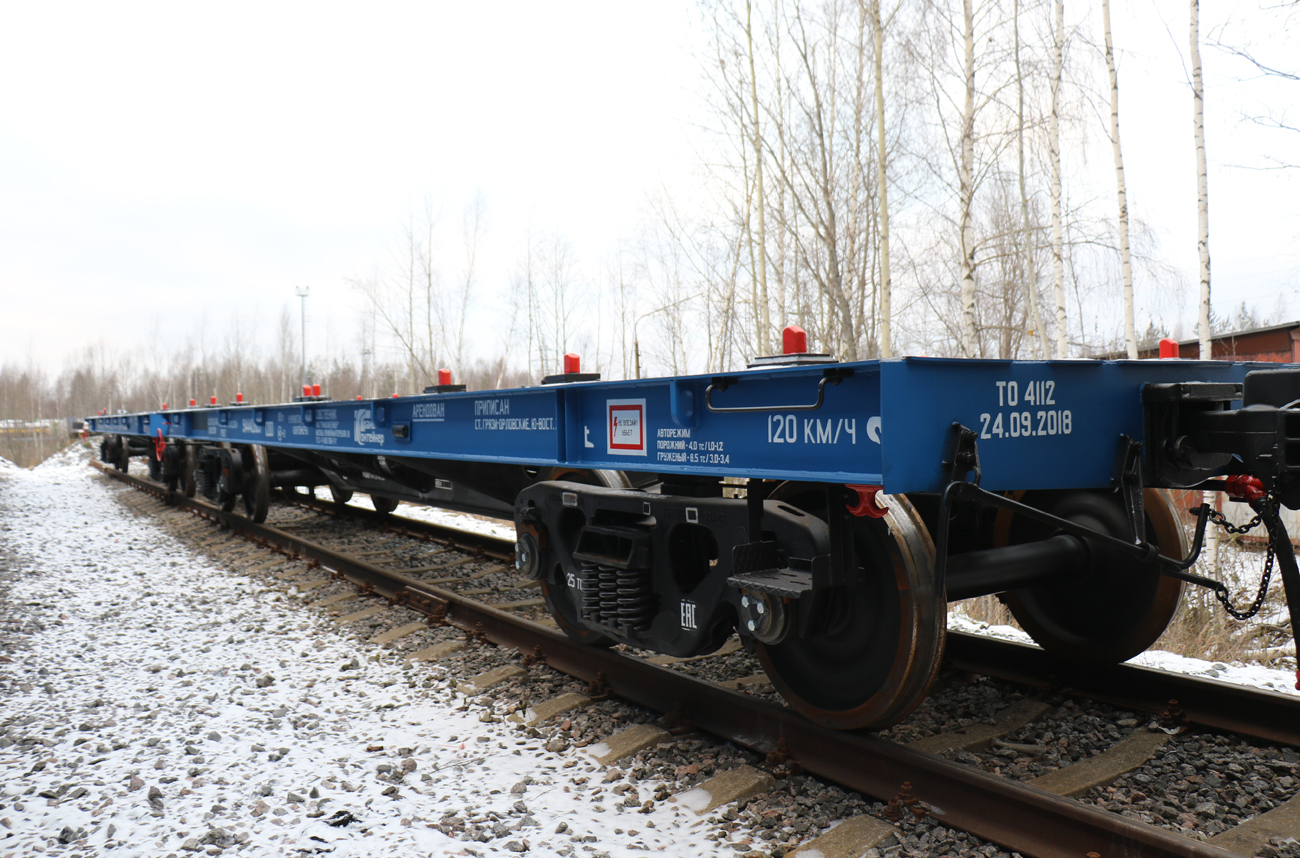 Heavy Duty Flat Cars
TransContainer ordered 30 flat cars type 13-6851-05 (40 feet / 12.2m) and 30 flat cars type 13-6903 (80 feet / 24.4m). United Wagon Company has now delivered both of these models. They feature innovative bogies with an axle load of 25tf. This means they can carry heavier loads. Specifically, they can cope with freight and tank containers with a gross weight of up to 36 tons.
These flat cars offer safe and reliable service thanks to how the design of the bogies and centre sill. The customer also benefits from added flexibility. The quantity and location of the twist locks means there are various configurations in which containers can be loaded.
Flat Car Model 13-6851-05
The 40-foot model has a load capacity of 80 tons. Its energy-intensive draft gear allows it to carry containers filled with hazardous waste. The expected service life of this flat car is 40 years.
Flat Car Model 13-6903
The 80-foot model has a load capacity of 74.5 tons. It is able to transport 11 tons more cargo compared to most standard models on the market today. This flat car is unique among long-base rail cars thanks to its ability to transport containers with a gross weight of up to 36 tons. This model has also had its local technical guidelines for placing and securing heavyweight containers officially approved. The expected service life of this flat car is 32 years.
TransContainer
TransContainer is the biggest owner of specialist rolling stock in Russia, the CIS and Baltic countries. Its inventory to date includes almost 26,000 flat cars. They can transport more than 67,500 heavyweight containers.
Andrei Banshchikov, Director for Equipment Operation at TransContainer, said:
"Our company decided to make new purchases of freight cars on 25 tf bogies in order to meet the increasing demand for our services. We are also committed to the steady improvement of our rolling stock's operating efficiency , so we were attracted not just by the higher payload, but also by a longer mileage between maintenance activities increased to 1 million km, which will speed up our international transit throughput."
Extended Maintenance Schedule
One feature reducing the total life-cycle costs of these flat cars is that they have an extended maintenance schedule. Since they only need scheduled maintenance checks every one million kilometres or every eight years, they offer a substantial competitive advantage compared to previous-generation equivalents. In fact, their life-cycle cost is only a third of that of older models.
UWC has maintenance sites for these flat cars (and all its other rolling stock) throughout the Russian gauge network.
The All-Union Research and Development Centre for Transportation Technology designed the flat cars. They were then manufactured at UWC's railcar construction facilities in Tikhvin.
United Wagon Company says it is seeing a positive impact from the increase in container freight transport. In 2018 4.5 million TEUs travelled on the Russian Railways network, which is an increase of 14 percent on 2017. Domestic freight traffic, transit transports, exports and imports all saw growth.